07.10.2019
Bundesliga
Persistence pays off with 3 more points
The weather may have been changeable at the Pappelstadion on Saturday, but there weren't many changes made to Didi Kühbauer's side after last week's incredible 3:3 draw. Filip Stojkovic started for his Bundesliga debut, and Maximilian Hofmann returned to the starting XI, with Philipp Schobesberger and Stephan Auer dropping to the bench. Thomas Murg was a notable absentee, still struggling in training after an injury in the away win at WSG Tirol.
The game itself was sparked to life after only three minutes, with a thunderous Lukas Rath free kick smashing Richard Strebinger's bar, and the drama hardly died down all afternoon. Mattersburg's Christoph Halper was forced off injured in the build up to that set-piece, and of course we wish him a speedy recovery. In a decent opening period for Rapid, Maximilian Ullmann and Aliou Badji both went close, but not close enough. Cheered on by 700 fans in the newly renovated away sector, Rapid fought well, but neither side had any huge chances on goal until Badji and Stojkovic combined to set up top-scorer Taxi Fountas, but his shot missed the target (15.) from a good position.
After that we pressed harder towards the Mattersburg goal. First, Stefan Schwab went down in the penalty area, and as play continued the ball came once more to Fountas, but his hard-hit shot was too high (20.). Christoph Knasmüllner's half volley was then parried over the bar by home keeper Kuster (26.), however it was Mattersburg who drew first blood moments later. Ex-Rapid player Andreas Kuen whipped in a long cross from the left, and after it somehow evaded the whole Rapid defence, Andreas Gruber could side-foot the ball into the corner (26.) for the Burgenlanders.
After taking a few minutes to shake that off, the red shirts of Rapid came back to life; a header from a set-piece was wide of the mark, and Knasmüllner also failed to hit the target after being picked out by a cushioned Badji knock-down. Rapid pushed on undeterred, and deep into first half stoppage time, a delightful one-two with Knasmüllner released Taxi Fountas to bend a powerful shot into the bottom corner of Kuster's goal for 1:1 (45+2)!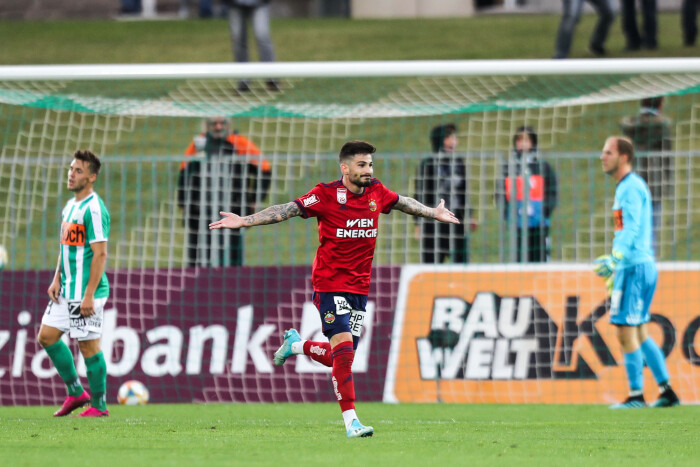 With no half time changes, it took just over 100 seconds for Mattersburg to hit the front for a second time; Kuen giving his former club some pain with a perfectly arrowed drive from 25 yards out (47.). It may have been the first shot from the home side since their opener, but Strebinger had no chance, so Rapid trailed once more, and could only envy Mattersburg's efficiency.
With captain Schwab at the helm, our boys tried to gain control back, but despite constant pressure there were no real breakthroughs. On the hour, Schobesberger was brought on to replace the injured Fountas, and a few minutes later Schwab tried to repeat Kuen's long range tricks, with the shot ending up just off target (64.). Christopher Dibon forced a good reaction stop from Kuster after a corner routine (68.), and he went one better shortly afterwards! Badji looped another good header towards goal, this time onto the right-angle of the crossbar, and Dibon was there on the follow-up to level it at 2:2 (69.)!
As a statement of intent, defender Hofmann was replaced by Austria U21 striker Kelvin Arase (72.) as Rapid continued to push for a winner, and the hosts looked ever more content with a share of the spoils. After 83 minutes it looked like they might get that point, with Kuster again producing a fine save to parry a Knasmüllner shot to safety. Arase then went inches away from giving Rapid the lead after a dangerous run across the edge of the box (86.), before Knasmüllner finally got the luck that he and the team deserved, when his wayward strike was deflected into the corner of the goal by Olatunji to break Mattersburg's defensive resistance (89.)! Another late, late goal, this time bringing 3 points with it, and more proof that Rapid never give up!
(tm)
Bundesliga, 10th round: SV Mattersburg - SK Rapid 2:3 (1:1)
tipico Bundesliga, 10th round:
SV Mattersburg - SK Rapid 2:3 (1:1)
Pappelstadion, 4.400 Zuschauer
SR Christian-Petru Ciochirca
Torfolge: 1:0 Gruber (28.), 1:1 Fountas (45.+3), 2:1 Kuen (47.), 2:2 Dibon (69.), 2:3 Olatunji (89./Eigentor);
SV Mattersburg: Kuster – P. Salomon, Malic, Rath, Lercher – Jano, Erhardt – Gruber (51./Hart), Kuen, Halper (7./Miesenböck) – Bürger (78. Olatunji);
SK Rapid: Strebinger – Hofmann (72./Arase), Dibon, Barac – Stojkovic, Schwab, D. Ljubicic, Ullmann – Knasmüllner – Fountas (61./Schobesberger), Badji;
Gelbe Karten: Miesenböck, Malic;