21.04.2021
Profis, Spielbericht, tipico Bundesliga
The points are shared in Pasching
After a remarkable series of five consecutive victories against LASK, confidence was high going into the 26th round of this Bundesliga season. With the Upper Austrians two points and one place behind us in the table, avoiding defeat would be key in the battle for UEFA Champions League qualification, but getting back to winning ways after our goalless draw with Sturm last weekend was certainly the target. Head Coach Didi Kühbauer opted for Christoph Knasmüllner, Taxi Fountas and Thorsten Schick as the attacking-midfield trio, whilst Max Hofmann came back into the defensive line to partner Mateo Barac ahead of Richard Strebinger in goal.
The hosts got the first half going with a quick shot from Potzmann, but Strebinger was able to make a comfortable save. However, a run forward from Eggestein proved tougher to defend, and his chipped ball towards the back post was narrowly missed by the sliding Michorl (11'). After the early let-off Rapid eventually turned the tide of the first half. LASK may have had more of the initial chances, but none were as good as the one that we created just after the half-hour mark, when a pinpoint through ball found Schick deep in the area; he patiently cut back and teed up Knasmüllner, who fired his shot goalwards but saw it parried to safety by home keeper Schlager. Taxi Fountas was the next to try his luck, as he turned well and got a shot away, only for a deflection to remove the sting from his effort (35').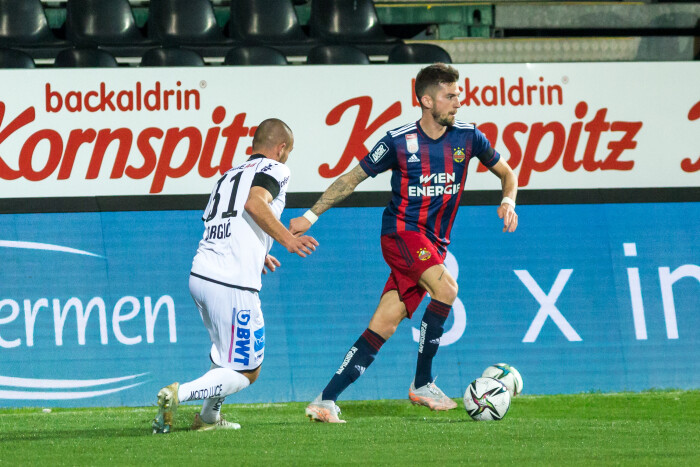 With no goals at the break, both teams began the second half at a higher tempo. Fountas had another go at goal early on, this time from a dead ball situation, but Schlager got across to cover it. LASK then pressured our defensive passing into some difficulties, winning the ball for Eggestein to shoot low from outside the area; a strike which required the fingertips of Strebinger and the goalpost to keep the score at 0-0 (49'). We were not deterred though, and with our next bit of build-up play, some swift passing triangles released Fountas free into the area. He picked out Knasmüllner with his square ball, but our number 28 slid in as he took aim at goal, so the ball hooked wide of the LASK goal (56').
That looked to be a costly miss, when a few minutes later Goiginger picked up the ball near the edge of the area, stepped back inside and slotted in to put LASK in front (63'). With the hosts buoyed by their opener, they went close to a second from the same source not long after, but the shot from the right ended up going wide across the face of Strebinger's goal. Our boys kept plugging away despite falling behind though, and when Kara rose highest from a corner we got the slice of luck we needed. Schlager misjudged the bounce of the ball, and it slipped all the way through to the back post where Knasmüllner was able to prod it home for the vital leveller! 1-1 (71').
There were no clear cut chances after that for either side, as both sets of players looked to be beginning to show the inevitable signs of tiredness after an extraordinary season and more midweek fixture congestion. We therefore held on to take a point home from Pasching and retain our second spot in the table. Next up it's a game against 6th placed WSG Tirol in Hütteldorf on Sunday, before we head to Innsbruck for the return fixture in the following game. Our target: six points!
Fotos: GEPA/Red Ring Shots
League Table
| | Club | Game | Goals | Pts |
| --- | --- | --- | --- | --- |
| 1. | RB Salzburg | 8 | +17 | 24 |
| 2. | SK Sturm Graz | 8 | +11 | 17 |
| 3. | SV Ried | 8 | -6 | 12 |
| 4. | Wolfsberger AC | 8 | -4 | 9 |
| 5. | FC Admira | 8 | 0 | 9 |
| 6. | TSV Hartberg | 8 | +1 | 9 |
| 7. | SK Austria Klagenfurt | 8 | -5 | 9 |
| 8. | SCR Altach | 8 | -2 | 9 |
| 9. | SK Rapid | 8 | 0 | 8 |
| 10. | FK Austria Wien | 8 | 0 | 8 |
| 11. | LASK | 8 | -4 | 7 |
| 12. | WSG Tirol | 8 | -8 | 5 |
label.survey
Wer war Dein Mann des Spiels beim 1:1 gegen den LASK in Pasching?