09.05.2021
tipico Bundesliga, Spielbericht, Profis
Heartbreak in Hütteldorf as WAC strike late to win
Rapid headed into this season's home stretch with almost a full complement of players available (aside from long-term absentees). Captain Dejan Ljubicic led out the side for his 100th Bundesliga appearance in Green & White, and alongside him were three new faces in comparison to our win against WSG last time out. Taxi Fountas was replaced by Christoph Knasmüllner behind striker Ercan Kara, Marcel Ritzmaier started on the left against his old club with Kelvin Arase replacing Thorsten Schick on the right, and Maxi Hofmann came in at centre back ahead of Leo Greiml.
The aim for the game was to get three points and move closer to our European ambitions for next season, but for WAC this was a chance to put behind them the 8-1 demolition that we dished out at the last meeting in Carinthia. Wolfsberg also needed the win to strengthen their own chances of playing European football once more next term.With the sun blazing down on the Allianz Stadium and high winds circling at the same time, Sunday's game got underway in somewhat strange conditions, but we began on the front foot. Stojkovic aimed a cross into the "corridor of uncertainty" after just four minutes, but nobody in Green & White was able to convert. Three minutes later we continued our good start, but Kara could only shoot over the bar from what was at best a half-chance.
Despite starting slowly, the guests created perhaps the clearest early opening when Röcher lifted in a cross from the right flank, only to see Wernitznig run in and volley well off target from near the edge of the area (13'). With the wind making high balls tough to control we kept it on the turf, and one zipping combination of passes nearly led to the opener; Kara angled his through ball fantastically to Fountas, and with runners ahead he passed to Ritzmaier on the left of the area. He took aim and fired, yet Novak did well to get in a last-ditch block (17').
The conditions continued to make further chances few and far between, as neither side could find passes as accurate as Kara's previous example, yet Arase made a nuisance of himself on the right and a couple of WAC players left themselves in danger with early cautions from the referee. With ten minutes to go before the break, once more it was the home side who stroked the passes about and made the opening. Ritzmaier started a break which saw the ball played into the feet of four teammates in quick succession, but in fact it may have been a little too complex, as Ljubicic eventually fired over the bar on his anniversary appearance. We therefore reached the interval with neither side having had a shot on target. 0-0.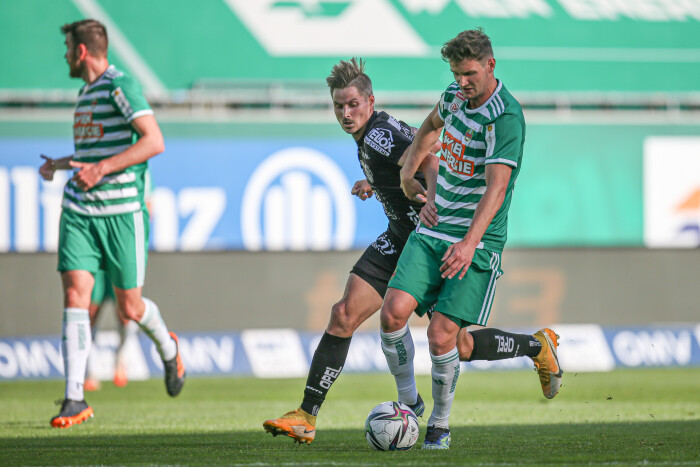 Kuriosum und Pech
If the stalemate was to be broken in the second half it would need something special, and with the minutes stacking up since that last chance for Ljubicic, Rapid were awarded a free kick in rather curious circumstances 30 yards out from goal. Ritzmaier had originally conceded the free kick himself, but after picking the ball up twice WAC were penalised, and so our number eight had a chance to step up for his own set-piece, and he duly delivered! The five-man wall on the edge of the box was no deterrent, as with his left foot, Ritzmaier placed the ball beautifully over the defenders and out of reach of the keeper's fingertips to open the scoring! 1-0 (57').
With Rapid growing in confidence, we needed to carry on and cause our visitors more problems, but instead, another curious incident saw WAC draw level. A ball into the box led to a clash between Wernitznig and Barac, and despite replays suggesting that Barac was the player fouled, the guests were awarded a spot-kick. Liendl was not going to look this gift horse in the mouth, and he buried the penalty despite Richi Strebinger getting a hand to it. 1-1 (69'). The game was now hanging in the balance, but suddenly Wolfsberg were in the ascendancy.
The ball was in our net once again four minutes later, but play was rightfully brought back for a foul on Strebinger as he made a diving stop, but moments later our task was to become tougher anyway. With frustrations rising and the game turning into a battle, Barac was given his marching orders after a coming together with Vizinger (77'). Despite being a man down, Rapid went closest in the closing stages; first Kara was on the end of a deep cross but he couldn't find a teammate with his back post header (82') and then the big chance for the win fell to Knasmüllner. As Dejan Petrovic forced the WAC defence into a sliced clearance in their own area, Knasmüllner took advantage, yet his ferocious shot thundered back off the crossbar, and Grahovac fired wide on the rebound (85').
With the game heading for a point apiece as injury time came around, there was still room for more late twists and turns. First Petrovic hit the post from an impossibly tight angle when nothing seemed on for him, and then a loose ball on a Rapid counter attack gifted WAC possession high up the field. They worked it wide to Vizinger, and his cross was tapped in by Dieng (90'+1) for late, late heartbreak in Hütteldorf. We let the win slip away on this occasion, but after another good performance we remain in second, and must now pick ourselves up for Wednesday's trip to Salzburg.
Fotos: GEPA
Update 10.05.2021
info.video-with-product-placement