16.05.2021
Bundesliga, Profis, Spielbericht
Rapid lose despite leading in Graz
Our team will have to learn a few lessons from a difficult defeat against Sturm Graz on Sunday. Despite going ahead in pouring rain at the Merkur Arena, we slipped to a 4-1 loss, leaving second place in the balance with one round left to play. Once again at this late stage of the season, a bit of rotation was needed in the starting XI for Rapid. Head Coach Didi Kühbauer rewarded Lion Schuster's recent performances with a surprise start, and regulars Ercan Kara, Filip Stojkovic and Christoph Knasmüllner were all involved too. Dejan Petrovic returned from suspension, but Kelvin Arase had to be rested as he was not quite back to full-fitness.
Despite the will to win for both sides, the game took a little while to warm up, and it wasn't until the 12th minute that we had our first sight of goal. Kara held up the ball brilliantly, and set up Maximilian Ullmann for a shot on target, but Sturm keeper Siebenhandl was able to parry the ball behind for a corner. There was a brief penalty shout after a potential handball as well, but the referee waved it away, and in truth the appeals were not the strongest.
In the next few minutes the hosts entered a dangerous phase of the game, causing Rapid problems especially with set-plays, as Janstcher and Yeboah both missed good chances to test Richard Strebinger. We quickly punished Sturm with a goal of our own, when Knasmüllner played a precise ball in to Taxi Fountas; his shot was blocked from a tight angle, but the rebound fell kindly to Kara who swept home for 1-0 (20')! There was only one real chance remaining in the rain-soaked first half, and that fell to Yeboah, but his header six minutes from the break was, fortunately for us, off-target.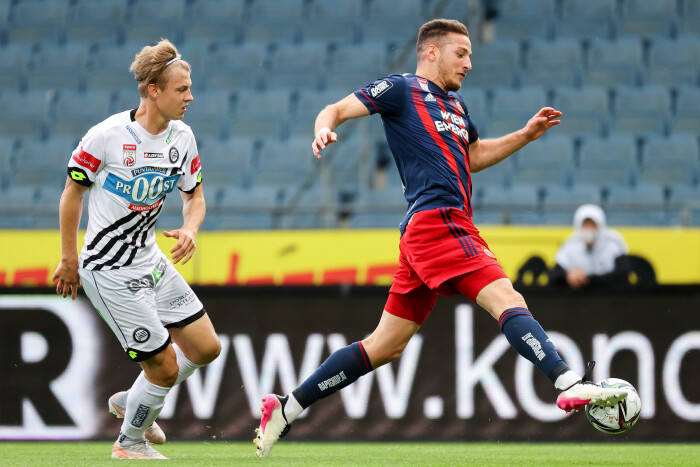 There were no changes as we headed out for the second half, and with the advantage on the scoreboard already, we immediately set out to double that lead. Less than a minute after the restart our boys in their founding blue and red colours went close to that vital second goal. A header from Fountas beat Siebenhandl, but agonisingly it came back off the bar rather than putting us 2-0 in front. After a calm phase of the game, Sturm grabbed a leveller from nowhere on the hour. Another set-piece did the damage, and after Nemeth miscued an overhead attempt, the hosts were fortunate to see Kiteishvili in the right place to steer the ball home and equalise.
Rapid responded well, and five minutes later Dejan Ljubicic struck a sweet volley from Thorsten Schick's free kick; the keeper got across to make a good stop, but sadly for us the momentum shifted towards Sturm from then on. Initially, Strebinger was able to keep us level with a solid diving save after 71 minutes, but then Yeboah found the net just seconds later as he deflected a shot in towards the far post. Ex-Rapidler Andi Kuen curled home an impressive third goal from the edge of the box not too long afterwards, and the evening would only get worse for us as Ljubic skipped a few tackles and finished off for 4-1 in injury time to complete a painfully heavy defeat on the penultimate day of the season.
For the first time in Didi Kühbauer's era as coach, we've suffered three league defeats on the bounce. Nevertheless, we still have one final game (with some fans set to be in attendance) next weekend against LASK, and at least that second place in the Bundesliga remains within our grasp if we can get the job done on match day 32.
 Fotos: GEPA Pictures
Die Stimmen nach dem Spiel
info.video-with-product-placement
Unsere Pressekonferenz nach dem Spiel
info.video-with-product-placement
League Table
| | Club | Game | Goals | Pts |
| --- | --- | --- | --- | --- |
| 1. | RB Salzburg | 8 | +17 | 24 |
| 2. | SK Sturm Graz | 8 | +11 | 17 |
| 3. | SV Ried | 8 | -6 | 12 |
| 4. | Wolfsberger AC | 8 | -4 | 9 |
| 5. | FC Admira | 8 | 0 | 9 |
| 6. | TSV Hartberg | 8 | +1 | 9 |
| 7. | SK Austria Klagenfurt | 8 | -5 | 9 |
| 8. | SCR Altach | 8 | -2 | 9 |
| 9. | SK Rapid | 8 | 0 | 8 |
| 10. | FK Austria Wien | 8 | 0 | 8 |
| 11. | LASK | 8 | -4 | 7 |
| 12. | WSG Tirol | 8 | -8 | 5 |