26.05.2022
Profis, Spielbericht, ADMIRAL Bundesliga
Away Win in Play-Off First Leg
Our team headed to the Tivoli Stadium on Thursday evening for the first leg of the unwanted extension to the league season. It was the first part of the European Qualifying play-off, in which Ferdinand Feldhofer's team will have to give it their all to secure European football for next season. Before the match, Nicolas Kühn, a third newcomer of the summer, was presented, but from a personnel point of view, there were also absences: Thorsten Schick, who was substituted off in Wolfsberg with muscular problems, was unfortunately unable to play, as was Yusuf Demir, who injured his ankle in training during the week - although both are still fighting for a comeback in the second leg. Fortunately, the 18-year-old youngster Pascal Fallmann could make his debut in the starting eleven for the first time! And that in an explosive duel that started well from our point of view.
In the first few minutes, both teams were still sizing each other up, the first scoring chance was for Christoph Knasmüllner, whose volley was deflected - and from the corner kick afterwards, a header by Martin Moormann went straight into the hands of the goalkeeper (6'). Our debutant also tried a good pass to Robert Ljubicic, whose finish was cleared at the last moment (9'). Only one minute later we were rewarded for our strong opening phase: Robert Ljubicic was able to hold the ball up in his own half and laid it off into the penalty area to Marco Grüll, who slotted the ball with ice-cold precision through the legs of the defender and into the far corner, GOOOAL, 1-0 (10')! With the positive momentum on our side, we immediately followed up: Jonas Auer won the ball, ran through in front of goal, and with a low shot into the far corner he added the second goal of the game, 2-0 (13')! The Rapid offensive drive was not to be halted there though, only ten minutes later Berni Zimmermann had the third goal oh so close to his head, but he didn't quite reach the ball (22') and soon after there was also a penalty discussion that could well have ended with a spot kick for our boys. But things were to turn out differently, out of nowhere the Tyroleans quickly scored to pull one back through Vrioni, 2-1 (27'). Inaccuracy and restlessness in our build-up play was the result, the next 20 minutes were balanced and no longer brimming with highlights from our perspective. Shortly before the break, there was a nasty collision between Pauli Gartler's knee and Maxi Hofmann's face, for whom the game was unfortunately over (get well soon Maxi!) - Leo Querfeld was brought in for cover. With a narrow, but deserved lead, we went into the changing rooms.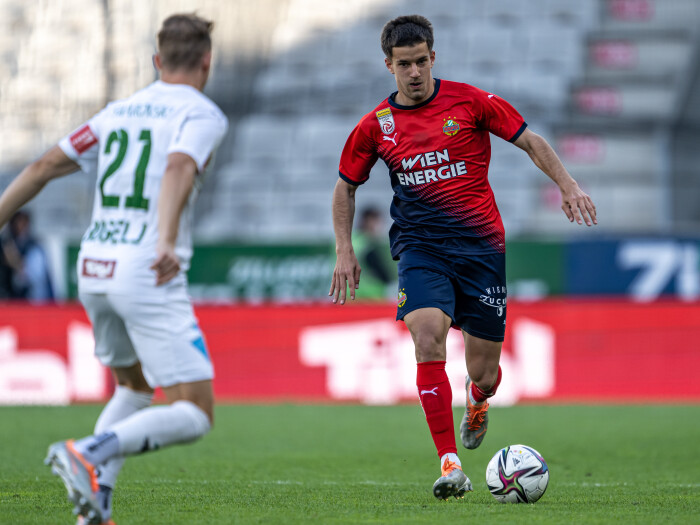 The second 45 minutes started on an equal footing, with Robert Ljubicic's long-range shot in the 52nd minute marking the first attempt on goal. Eight minutes later Niki Binder and Koya Kitagawa came on in place of Berni Zimmermann and Christoph Knasmüllner (60'). In comparison to the first half, the scoring chances were still a long time coming, both teams did not allow each other anything, but neither could get a decisive goal. With the Rapid quarter-hour we made the last changes to our side, Denis Bosnjak and Moritz Oswald came for Marco Grüll and Robert Ljubicic (75'). Three minutes later, it was Koya Kitagawa with a square ball, which, however, did not quite reach its target (78') and also Leo Querfeld wound his way skillfully up to the penalty area, but the final bit of accuracy on the cross was missing by just centimeters (84'). Substitute Moritz Oswald was also lively on the move and tried with a long-range shot (88') to no avail. In the final phase, our team even had a man-advantage on the field after a second yellow card to the Tyrolean Kofi Schulz (89'), and in the end, the away victory was sealed at 2-1.
With that result, our team has created a good starting position for the second leg in the play-off, but nothing is clearly decided yet. The duel will take place on Sunday in Hütteldorf and our boys in Green and White will have to give their all once again in order to be represented on the European stage. So keep fighting, Rapid!  
Fotos: GEPA
Die Stimmen nach dem Spiel
info.video-with-product-placement
Unsere beiden Tore
info.video-with-product-placement
WSG Tirol vs. SK Rapid (1:2)
Tore: Grüll (10.), Auer (13.); Vrioni (27.)
Sonstiges: Schulz (88. Gelb/Rot)
Rapid-11: Gartler; Moormann, Wimmer, Hofmann © (45.+3 Querfeld), Fallmann; Ljubicic (75. Oswald), Aiwu; Auer, Knasmüllner (60. Kitagawa), Grüll (75. Bosnjak) ; Zimmermann (60. Binder)
Ersatz: Hedl, Oswald, Kitagawa, Querfeld, Bosnjak, Savic, Binder
label.survey
Wer war der Mann des Spiels beim 2:1-Auswärtssieg gegen die WSG Tirol?