29.10.2022
ADMIRAL Bundesliga, Profis, Spielbericht
Last Minute Drama Leaves Rapid with a Point in Lustenau
After a fairly ordinary first period, a spell of second half chances, contentious decisions and eventually goals ensured a memorable match in Lustenau ended level at 3-3, with both sides getting on the score sheet in stoppage time.
After a 5-1 win in the mid-week game in hand against Hartberg, this Saturday saw Rapid head to Vorarlberg for round 14 of ADMIRAL Bundesliga action at the Reichshof Stadium. The last meeting between Rapid and Austria Lustenau had ended in a 1-1 draw, but with moving up the table high on our agenda, three points would be the express aim this time around. Unfotunately Martin Moormann had to miss the trip at late notice through illness, but Ante Bajic would prove to be the only change to the starting XI from the home game against Hartberg.
In beautiful late-summer sunshine, and with a packed away sector all the way across the country, the game began with plenty of tempo from Rapid, and as early as the fourth minute we had a chance, when a Marco Grüll free kick was headed on towards Leo Querfeld who could only turn his own header wide across the goal. Shortly after that, Bajic held up the ball well for Guido Burgstaller, who fired a shot at goal from an angle, but only into the arms of the home keeper (6'). The opening stages definitely went the way of the boys in Blue & Red (as Lustenau wore their green home jerseys) and after Christopher Dibon went close with a fine shot which ended up just wide (15') the chances kept coming; Burgstaller couldn't quite control a decent cross from Bajic (28') and Ferdy Druijf had a shot blocked (31'), before a familiar feeling from this season struck again, and Lustenau led against the run of play when Surdanovic powered home a near post header following a disputed corner kick decision. 1-0 (36'). We searched for an equaliser, but no big chances came our way before the interval, so we headed in for the break trailing by one.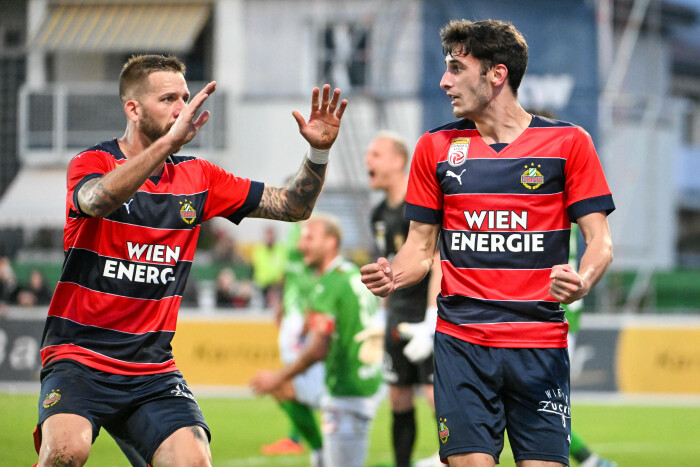 Not only did Zoki Barišić's team come back onto the field unchanged in terms of personnel, but also in terms of tempo - in the 46th minute, Ferdy Druijf headed into the keeper's hands. After a cross from Jonas Auer, Ante Bajic's attempt to steer the ball on target wasn't missing too much (49'), and again Burgstaller would soon slide in to meet a cross and end up just centimetres away from getting a vital touch (53'). Eventually, a well-deserved equaliser would come our way though, after a nice switching pass from left to right, Martin Koscelnik headed the ball on to Ante Bajic who then crossed the ball low into the danger zone for Burgstaller to poke it home and level things up at 1-1 (59')!
Any thoughts of a quick turnaround were swiftly undone however, when Lustenau substitute Bryan Teixeira lashed home from the centre of the box with his team's first attacking foray of the second half; 2-1 (66'). Patrick Greil and Nic Kühn came on to try and help Rapid recapture the earlier momentum, but it was keeper Niki Hedl who had to make a crucial save from a well-struck shot which was heading inside his right-hand post (74'). At the beginning of the Rapid Quarter Hour, the team were dealt another in a long line of VAR blows, as Aleksa Pejic fired in what he thought was an equaliser from outside the box, only to have the effort ruled out by the video assistant referee as Burgstaller was adjudged to have blocked the keeper's sight with his positioning (76'). We kept on fighting, and on came Berni Zimmermann in attack (80'), and the chances weren't drying up yet; as Greil had a good go on the turn (85') before the introduction of Roman Kerschbaum and Thorsten Schick (86'). Greil put another effort over the top, before Burgstaller failed to catch his shot perfectly, allowing the keeper to clutch it safely (90').
Nerves were already fraying, but this Halloween thriller was only just beginning. After Nic Kühn's accurate cross, Guido Burgstaller soared highest in the 92nd minute and headed in the equaliser to make it 2-2 (92')! But that was not enough, and after a questionable penalty decision including a long VAR check, there was a penalty kick for Lustenau, which Teixeira converted to restore the home side's lead at 3-2 (96'). Remarkably, after all the VAR calls, the game was not over yet, and it was clear that our team was not happy with the scoreline. Marco Grüll tested the keeper (98') as Rapid kept pushing forward, before an enormous team effort was rewarded in the very last second: We threw everything including our keeper into the opposition penalty area, and after a long throw from Thorsten Schick, it was indeed Hedl who nodded the ball on to where Berni Zimmermann was waiting at the back post, and he duly did the rest and stuck the ball away for 3-3 in the 100th minute!
That was - eventually - the game done, and the final score read 3-3, with Rapid at least feeling like moral victors given the double comeback in stoppage time. In the end, it was a strange game, but it'll have to go down as a point gained, and one which we can build on in the near future!
Fotos: GEPA
SC Austria Lustenau vs. SK Rapid 3:3 (1:0)
ADMIRAL Bundesliga | 14. Runde | Reichshofstadion
Tore: Burgstaller (59., 92.), Zimmermann (100.); Surdanovic (36.), Teixeira (66., 96./E)
Rapid-11: Hedl; Auer, Dibon ©, Querfeld, Koscelnik (86. Schick); Pejic (87. Kerschbaum), Knasmüllner (67. Greil); Grüll, Druijf (80. Zimmermann), Bajic (67. Kühn); Burgstaller
Ersatz: Gartler, Kerschbaum, Kühn, Schick, Greil, Zimmermann
Die Stimmen nach dem Spiel
info.video-with-product-placement
label.survey
Wer war Dein Man of the Match beim 3:3 in Lustenau?