This summer, for the 25th time, SK Rapid organised its popular SK Rapid youth camps for children aged 8 to 15. At a total of 10 camps in Vienna, Lower Austria and Burgenland, children had the opportunity to learn a wide variety of football tricks and forms of play under optimal conditions, while at the same time having a lot of fun with other Rapid players playing our favourite sport. 
After the great popularity and positive feedback in the summer, we are now starting an SK Rapid autumn camp for the first time. From Wednesday, 27 October to Friday, 29 October (from 08:00-16:00), the camp will take place at the training ground of the Allianz Stadium in Vienna-Hütteldorf. So it's the perfect leisure activity during the autumn holidays! 
In addition to daily training and learning new football skills, you will also receive a new SK Rapid PUMA training shirt, a training ball, an SK Rapid drinking bottle, a daily lunch, an exclusive guided tour of the stadium and two free tickets to a home match of our team.
Registration is now possible at rapidshop.at or by email to Lukas Kain at kain@skrapid.com! 
Update (14.10.2021): The autumn camp 2021 is fully booked! We are looking forward to seeing you!
On the one hand, we would like to thank all the kids who took part in our summer camps this year and on the other hand, we are looking forward to seeing many of you at our first autumn camp in Hütteldorf.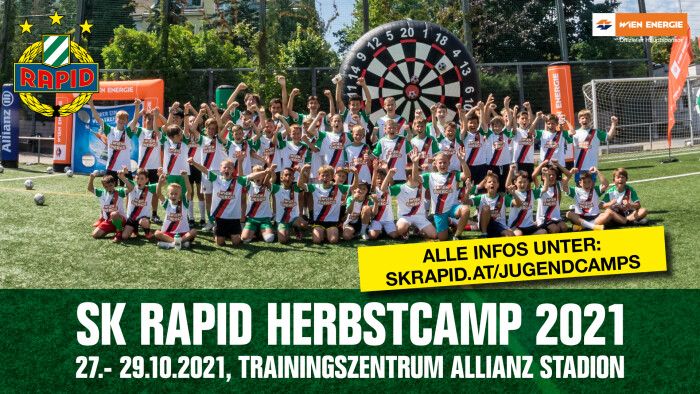 info.video-with-product-placement
Our offer in detail
You can find more information in our brand new flyer.
Do you have any questions about the SK Rapid youth camps? Ask our project manager of the youth camps, Lukas Kain:
Tel: 01/727 43 17
E-Mail: kain@skrapid.com
By the way, Greenie members (Become a Greenie member now!) save 10% on the total price - and also benefit from many other great treats.