01.12.2017
tipico Bundesliga
Defeat from the Jaws of Victory
The starting line-up that took to the field for Wednesday evening's home clash with SCR Altach showed a few changes from the team that had taken to the field against Salzburg four days previously: Max Hofmann and Stephan Auer were unavailable having accumulated five yellow cards each, with Mario Sonnleitner and Mario Pavelic providing able cover. Goran Djuricin also opted for a two-pronged strike force, with Joelinton partnering Kvilitaia up front. Club legend Steffen Hofmann was named amongst the substitutes, whilst there was also a spot on the bench for 18-year old defender Mert Müldür. Prominent duo Philipp Schobesberger and Dejan Ljubicic were also absent owing to injury.
Frosty conditions didn't deter a healthy 13,400 crowd from filling the Allianz Stadium in anticipation of a positive result after a rare defeat last time out. What they witnessed was a commanding performance from the get go from the Hütteldorfers, who dominated their opponents throughout large swathes of the first half. Good passing football and sharp movement from the Green & Whites had their opponents chasing shadows: A floated ball from Mario Pavelic found Joelinton, whose lay-off picked out Thomas Murg, who in turn just cleared the crossbar with a well-struck effort (11.). A superb run from Louis Schaub saw him burst through the Altach midfield and onto the guests' defence, before laying an expertly weighted pass off to Kvilitaia, who could only shoot disappointingly wide of the near post (14.). A Deep cross from Murg then found its way to Stefan Schwab; the Rapid skipper deftly laid the ball off to Joelinton, who fired wide from close range (22.).
The chances continued to flow when Altach keeper Kobras's attempt at a punching clear Murg's shot got more elevation than distance, fell to Kvilitaia, and the Georgian was again wide of the mark, albeit this time with a difficult effort on the spin (32.). Kvilitaia had one further chance to open Rapid's account for the evening in the 41st minute, but his header from a corner lacked purchase and the deadlock remained intact. Rapid didn't have the half-time lead their performance would've richly merited. As so often happens in football, on this occasion their profligacy would come back to haunt them.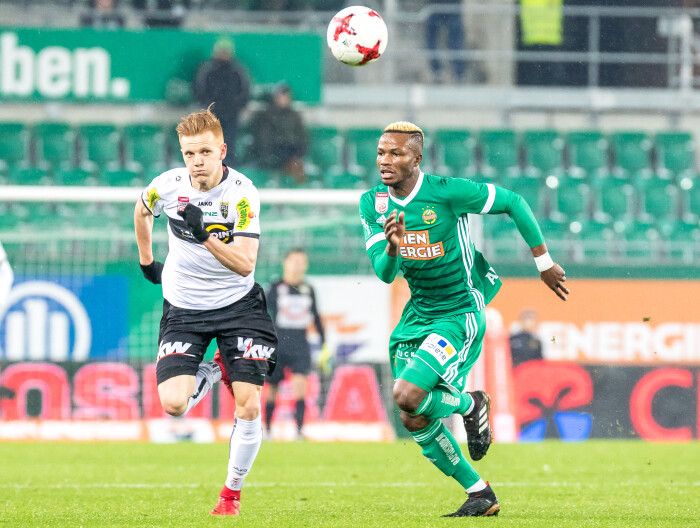 A hint of what might be in store arrived not long after the restart, when an over hit cross from Lienhart cannoned off Richard Strebinger's near post (50.). However, it was the Hütteldorfers who again began to batter away on the Altach door: Lady luck completely deserted the hard-working and deserving Kvilitaia, as he guided a presentable headed chance over the target (51.), before another header, this time from Rapid skipper Schwab, crashed into the post (54.). Schwab again took matters into his own hands, fizzing a powerful shot from the edge of the box just wide of Kobras's right hand post (62.): the Altach goal continued to lead a charmed life.
Finally, the breakthrough arrived: Stefan Schwab was again at the heart of the move, bursting through midfield before finding Schaub in the right hand side of the penalty area, who, without breaking stride, curled a beautifully executed left-footed shot beyond Kobras and into the far-corner - 1:0 and surely never had a goal been so deserved (72.)! Surely, SURELY now the three points would remain in the capital. The visitors from Austria's alpine countryside had other ideas. A rare foray into Rapid territory caught the Hütteldorfers out of shape at the back, and allowed Aigner time to gather the ball and shoot in the area. The referee adjudged that the ball had struck Thanos Petsos on the arm, and to add insult to injury, showed the defensive midfielder a red card for his troubles. A harsh decision, but Aigner didn't care as he confidently stroked the ball beyond Strebinger to incredibly draw Altach level just five minutes after they had fallen behind - 1:1 (77.).
A shock, and very hard to swallow. But, unbelievably, worse was to come. In an effort to re-take the lead, Steffen Hofmann and Tamas Szanto were thrown into the fray, but it was at the other end of the pitch that injury-time drama was to unfold. Altach launched a final, speculative attack into Rapid territory, when all of a sudden Gebauer got in behind Bolingoli and through on goal. The Altach man went down under pressure from the Rapid left-back; the referee again awarded a penalty, and again harshly produced a red card. Aigner again stepped up, went the same way as he had done first time round, and despite getting finger tips to the ball, Strebinger was again unable to keep Aigner's penalty out - 1:2 (92.). The definition of smash and grab.
Incredibly, Rapid had lost a game they could've won by a large margin. There are lessons to be learnt and positives to take from the performance however. On Saturday, a trip to Styria to face Wolfsberg lies in wait.
(gw)
tipico Bundesliga, 17th round: SK Rapid - SCR Altach 1:2 (0:0)
tipico Bundesliga, 17th round:
SK Rapid - SCR Altach 1:2 (0:0)

Goals: 1:0 Schaub (72.), 1:1 Aigner (77./Penalty), 1:2 Aigner (92./Penalty);

SK Rapid: Strebinger - Pavelic, Sonnleitner, Galvao, Bolingoli - Petsos, Schwab - Schaub, Joelinton, Murg (90./Szanto) - Kvilitaia (84./S. Hofmann);

Altach: Kobras - Lienhart, Zech, Netzer, Schreiner - Gebauer, Ngwat-Mahop, Zwischenbrugger (80./Piesinger), Salomon, Honsak (67./Müller) - Tekpetey (62./Aigner);

Yellow Cards: Kvilitaia; Salomon, Netzer

Red Cards: Petsos (76.), Bolingoli (90.);