03.12.2018
UEFA Europa League
Late Schobesberger goal seals win in Moscow!
On Thursday, Matchday 5 rolled around in the UEFA Europa League and it was crunch time for Rapid: our side travelled to Moscow to take on Spartak, desperate to land the points as the four-way battle for qualification in Group G heads to the wire. The Hütteldorfers had to produce a surprise result, and Coach Didi Kühbauer certainly had a few surprises in store with his line-up: central defence consisted of Mateo Barac and Max Hoffmann after Mario Sonnleitner had succumbed to a late illness, Marvin Potzmann was deployed at left back, with Bolingoli deployed higher up the pitch. Manuel Martic and Dejan Ljubicic formed central midfield, with captain Stefan Schwab left on the bench. In his absence goalie Richard Strebinger was handed the arm band.
With the backing of 800 fans who had made the trip from Vienna, Rapid made a positive start in Spartak's brand new - but sparsely populated - stadium: new dad Christoph Knasmüllner fired off the first shot of the evening, but his attempt cleared the crossbar (8.). Coming closer to opening the scoring was the Russian's Melgarejo, but his attempt from distance skidded past the far post (10.). The chances continued: Bolingoli picked out the advanced Berisha in a promising area, but the Norwegian took too long to get his shot off and was smothered by Spartak defenders (16.). With Rapid playing well and building confidence Spartak struck: a through ball split the defence and played Ze Luis in, who made no mistake as he stroked the ball between Strebinger's legs to put his side a goal up - 0:1 (20.). Boli Bolingoli then missed a chance to restore parity almost straight from kick-off, before the influential Knasmüllner hammered a shot inches over the bar (25.).
The game then went through something of a lull as the freezing evening temperatures in Moscow began to bite. Luiz Adriano has the best chance in the remainder of the half, but he scooped his chipped effort over the bar (42.), ensuring Rapid went into half-time just one goal adrift.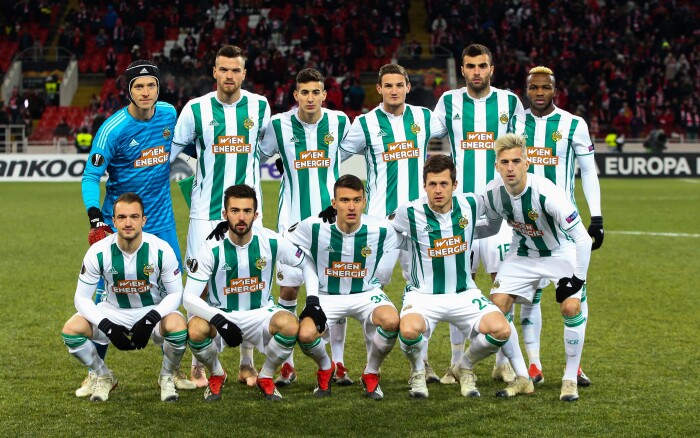 Rapid were grateful to Mateo Barac at the start of the second period, when the defender positioned himself perfectly to hack a goal bound effort from Eschenko off the line after the Spartak man had stabbed the ball goal-wards during a melee in the box that had ensued from a free kick (53.). A set piece then provided a platform for the Green & Whites to threaten, when a header from Müldür went just wide of the far post (54.). Deni Alar then went close, testing Spartak keeper Rebrov with a shot on the turn (64.). Kühbauer looked to ramp up the pressure on Rebrov's goal by sending on Philipp Schobesberger and Stefan Schwab in place of Alar and Ljubicic.
As the game wore on, the hosts dropped deeper and deeper as they decided to protect their slender lead. Despite being seeing plenty of the ball and dominating territorially, Rapid were creating too few chances: a weak shot from Schwab was easily gathered by Rebrov as the Viennese struggled to deliver end product (77.). But then salvation arrived: in the 80th minute Müldür got above his marker and planted a header in the corner to deservedly level - 1:1! And there was more to come from a Rapid side who now looked the more likely to grab the momentum and find a winner. Schwab curled a long, searching pass in behind the Russian defence from the left flank, Schobesberger beat the offside trap - and Rebrov, who had sprinted off his line – as he lifted the ball over the Spartak keeper before calmly tapping the ball into an empty net - 2:1 (90.)!

Rapid had had the final word and took a crucial three points back to Hütteldorf. It was a result that few would have predicted after the team had found itself 0:1 in challenging conditions, but the team had showed determination and character in turning it around. The result gives us seven points in Group G, and our destiny is now firmly in our own hands ahead of the last Matchday! RAPID!!!!

(gw)
UEFA Europa League, Gruppe G, 5th matchday: Spartak Moskau - SK Rapid 1:2 (1:0)
UEFA Europa League, Gruppe G, 5th matchday:
Spartak Moskau - SK Rapid 1:2 (1:0)
Moskau, Otkritije Arena, 20.739 Zuschauer, Ref Gil (POL)

Goals: 1:0 Ze Luis (20.) 1:1 Müldür (80.) 1:2 Schobesberger (91.);

Spartak: Rebrow – Jeschtschenko, Kutepow, Dschikija, Kombarow – Melgarejo (82./Popow), Gluschakow, Timofeew, Hanni (72./Samedow) – Ze Luis, Luiz Adriano

SK Rapid: Strebinger – Müldür, Hofmann, Barac, Potzmann – Martic, D. Ljubicic (65./Schwab) – Berisha (81./Thurnwald), Knasmüllner, Bolingoli – Alar (65./Schobesberger)

Yellow Cards: Gluschakow; Barac, Martic, Hofmann;