31.08.2023
UEFA Europa Conference League, Profis, Spielbericht
Fiorentina Prove to be a UECL Hurdle too Far
After a magnificent first leg in the UEFA Europa Conference League Playoff, this Thursday our team took a 1-0 lead to the Stadio Artemio Franchi to face Fiorentina once again. Unfortunately, regular goal scorer Guido Burgstaller and assist specialist Thorsten Schick were both missing from the match day squad, but nonetheless our team would give it their all to see this task over the line, and complete a fantastic job from a week before.
Both teams went hammer and tongs at each other, pushing forward at every opportunity, making for an open game with lots of chances. The first big one fell our way, as Fally Mayulu turned well in the box and smashed a shot only against the crossbar (7') before Moritz Oswald blasted the follow-up over on the volley. Marco Grüll was the next to take aim, but his long shot met only the arms of the home keeper as the Green & Whites began bravely (11'). Fiorentina had their first chance soon after but luckily they missed the target (12').
After a clever break down the left flank, Grüll then combined with Matthias Seidl for a one-two, before his shot sailed just over the top (15'), it would have been a special goal had it been a few inches lower! Niki Hedl then stopped a close range effort from the hosts with great reactions (17') as both teams continued to push hard and the intensity was clear to see. After a Rapid attack broke down, Fiorentina burst clear, and Hedl again showed off his skills with a magnificent one-on-one stop with his right leg (29'). We were more than holding our own with the hosts though, and Marco Grüll raised the tempo once more, only for his square ball towards Mayulu to find an interception instead of its intended target on a dangerous break (32'). Hedl then had to save once again on the line (36') as Fiorentina began to take the upper hand at the end of the half, but at the break it remained 0-0 (0-1).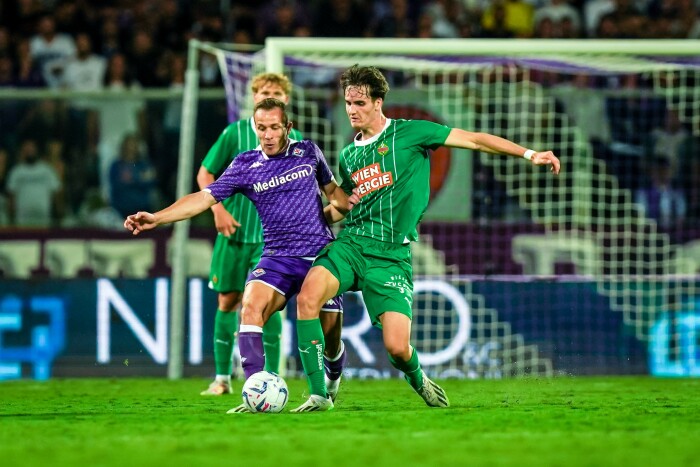 Whilst it was our defenders who were busiest in the early phase of the second half, a breakaway counter saw Fally Mayulu sprint all the way down the left, skip a tackle, and fire agonisingly into the side-netting (54'). Matthias Seidl then kept his composure to tee up Mayulu in the area again on the left, but the low shot was stopped by the keeper (56'). More than 1,500 traveling Rapid fans were appreciating the efforts of the boys in Green & White, but after another promising move broke down, Fiorentina found their first goal with some fortune. A deep square ball was sliced clear by Jonas Auer, but it went towards goal, where Hedl did well to save it, and was then unlucky to see the ball fall for Nicolas Gonzalez who couldn't miss at point blank range (59').
Oliver Strunz came on for Fally Mayulu (69') as Fiorentina began to take control, and Rapid's earlier big chances felt like a long time ago. Now it was the hosts' turn to hit the crossbar (74') before Nic Kühn was replaced by Ante Bajic (84') and the game looked to be headed for extra time. However, one more bitter blow was still to come; a suspected handball from Nikolas Sattlberger - who looked to have his arm by his side - was immediately punished by the referee, who did not consult VAR (90'). With less than a minute to play, Fiorentina scored from the spot and took the lead for the first time in the tie, and that was that.
Our European journey therefore ends early, and on a sour note. However, we must take heart from two brave performances against a top team, efforts that so nearly led to a sensational result. Let's take that energy into the rest of the campaign. Keep your heads up, Rapid!
Fotos: Red Ring Shots
ACF Fiorentina vs. SK Rapid 2:0 (0:0) - gesamt 2:1
UEFA Europa Conference League | Playoff | Stadio Artemio Franchi
Tore: Gonzalez (59., 90./E)
Rapid-11: Hedl; Auer, Hofmann ©, Querfeld, Oswald; Kerschbaum, Sattlberger; Grüll, Seidl, Kühn (84. Bajić); Mayulu (69. Strunz)
Ersatz: Unger, Gartler, Greil, Strunz, Sollbauer, Kaygin, Moormann, Bajić, Bajlicz, Zivkovic
Die Pressekonferenz nach dem Spiel
info.video-with-product-placement
Die Stimmen nach dem Spiel
info.video-with-product-placement