24.04.2019
Bundesliga
Pavlovic rescues late point in Altach
Stalwart centre half Mario Sonnleitner was missing for Rapid's trip to Vorarlberg to face SCR Altach, with Max Hofmann drafted in having returned from suspension. Boli Bolingoli missed out having accumalted five yellow cards and a subsequent one-game ban, with Head Coach Didi Kühbauer asking Marvin Potzmann to fill the void. Brilliant sunshine was beating down in the Bundesliga's western-most outpost, with Rapid taking to the field in their changed strip of red and blue.

Altach started positively but without really threatening Richard Strebinger's goal; indeed, it was Thomas Murg who registered the first effort on goal of the afternoon, but the forward's shot lacked the venom necessary to trouble home keeper Martin Kobras (7.). The Hütteldorfers, buoyed by the backing of a packed away end, slowly began to dominate possession, but rather than goal mouth action and slick football, it was hard challenges and workmanlike midfields that set the tone for the opening stages.

Two of the Rapid eleven had milestones to celebrate, with Strebinger and captain Stefan Schwab making their 100th and 200th appearances for the club respectively. Rapid looked like they carried the greater cutting edge and came close to opening the scoring through Christoph Knasmüllner, but the skilful forward's shot was blocked in a crowded Altach defence (27.). The first moment of concern for Strebinger then materialised, but Altach's Netzer put a header wide of the target. Strebinger then made a smart double save to deny Mergim Berisha. Schwab tried his luck from distance (40.), as did Murg, but the deadlock remained firmly intact as the half-time whistle went.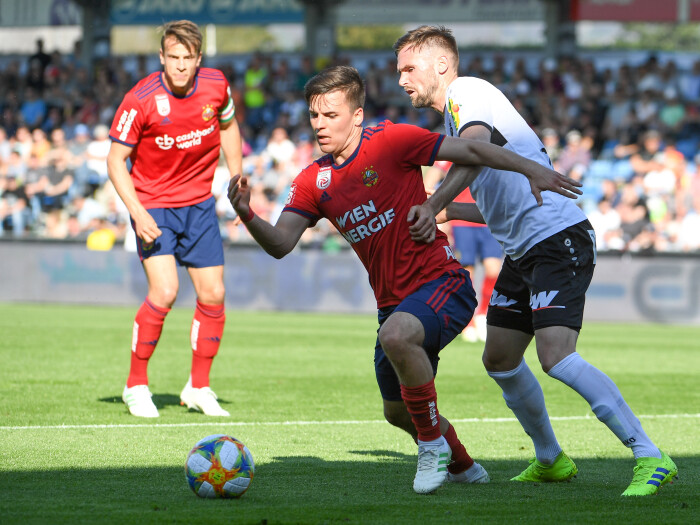 Rapid emerged for the start of the second period unchanged and within minutes of the restart came within a whisker of taking the lead: A Max Hofmann header from a corner thumped against the crossbar, with the attempted clearance from an Altach player also hitting the woodwork before the ball was eventually scrambled to safety. Philipp Schobesberger and Murg then both passed up presentable opportunities - and Rapid were punished for their profligacy: with the Green & Whites pressing at one end, out of the blue Mergim Berisha popped up at the other to fire home and give Altach the lead –- 0:1 (52.).

The Hütteldorfer bench reacted with a double change, with Aliou Badji and Knasmüllner making way for Pavlovic and Thurnwald. The hosts began dropping deeper and denying Rapid space, while looking to spring forwards on the counter, and the tactic paid dividends: loose play in the middle of the park from Rapid turned over possession, the ball was quickly worked forwards to Marco Meilinger, who coolly finished in the Easter sun to hand his side what looked like a decisive 2:0 lead (79.).

A final throw of the Green & White dice came in the 82nd minute when Deni Alar replaced the subdued Schobesberger. With just minutes left Thomas Murg handed Rapid a lifeline, stylishly burying a chance in the far corner from close range to halve the deficit - 1:2 (87.)! A now visibly nervous Altach defence were struggling to cling on as the game headed into four minutes of injury time, and, incredibly, Rapid forced the equaliser: substitute Andrija Pavlovic was the hero as he headed home to snatch a late point for the Green & Whites - 2:2 (90.)!

Pavlovic's goal was testament to the never-say-die attitude being cultivated by Didi Kühbauer and his coaching staff. The goal also preserves Rapid's unbeaten record in 2019. On Tuesday the Hütteldorfers travel to Hartberg as they look to cement their grip on top place in the qualification group. Rapid!

(gw)
tipico Bundesliga, 26th round: SCR Altach vs SK Rapid 2:2 (0:0)
tipico Bundesliga, 26th round:
SCR Altach - SK Rapid 2:2 (0:0)
Cashpoint Arena, 5.912 Zuschauer, SR Drachta

Tore: Berisha (51.), Meilinger (78.); Murg (87.), Pavlovic (92.)

SK Rapid: Strebinger; Müldür, Dibon, Hofmann, Potzmann; Ljubicic, Schwab; Murg, Knasmüllner (60. Thurnwald), Schobesberger (82.Alar); Badji (60. Palvovic);