27.06.2022
Verein, Ordentliche Hauptversammlung
President Bruckner: "Rapid make Women's Team a Target!"
At today's SK Rapid Annual General Meeting, which was postponed from last November due to the Corona pandemic, club president Martin Bruckner announced a landmark decision in his opening address, which was met with great applause from club members: Austria's most popular football club is aiming to field women's teams in Green & White or Blue & Red in the future.
 Martin Bruckner said: "Even in my predecessor's board, to which I belonged for six years as financial officer, we dealt intensively and seriously with the issue of women's football. A separate project group, headed by Peter Grechtshammer, who is now head of the Women's Academy at the Austrian Football Association, and ex-team player Katja Gürtler as an expert, has already produced very well-founded findings in this area. However, due to the Corona pandemic, we put this topic on hold, just like everything else outside of our day-to-day business and our infrastructure lighthouse project - the Körner Training Center powered by VARTA. Since SK Rapid has come through this crisis economically on a more than stable footing so far (for which we have to thank the entire Rapid family) it is now time to put this topic high on the Green & White agenda once again. Therefore, we have unanimously decided in the presidium that we, as SK Rapid, will take our place in the Austrian women's football landscape in the future, provided that our club members agree.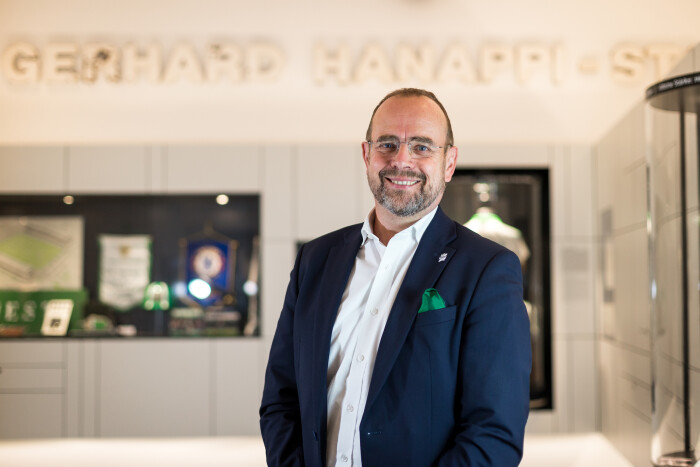 Further roadmap to be drawn up - concrete procedure to be presented at AGM in November
The Rapid president added that a new project group, which will presumably be headed by an external personality with expertise in women's football, will now work out the concrete roadmap for the future. Bruckner: "We will look into a possible cooperation with a club already involved in women's football, as well as an internal club solution. In terms of infrastructure, we are already excellently positioned in Hütteldorf and also in the Prater. Clubs from Eastern Austria are interested in a cooperation and we have already held initial talks. The clear goal is to be able to present a precise proposal to our club members at the next Annual General Meeting at the end of November on how we as SK Rapid want to be active in women's football in the future. By the summer of 2024 at the latest, girls and women should be playing for points in the Rapid kit for the first time," said the 57-year-old from Vienna, who added in conclusion: "I would like to thank everyone who will support us on this path and also those who have already advocated and prepared the ground for women's teams at SK Rapid in the past, including some of our committed club members, who already submitted a motion to this effect last November." 
label.survey
Wer ist Dein Rapidler der Saison 2021/22