13.08.2023
Profis, ADMIRAL Bundesliga, Spielbericht
Home Defeat Despite Dominance
After a goalless draw in UEFA Conference League qualification on Thursday, the Green & Whites were straight back at it in Hütteldorf again on Sunday, as they faced TSV Hartberg in the third match of the new Bundesliga season. Having won both of the last two meetings against Markus Schopp's team, Rapid were looking to make it three in a row, and to pick up three more points at home. With Ante Bajic returning from injury last time out the main man missing was newcomer Lukas Grgic, who was unavailable due to illness.
The East Styrians played well in their previous games before going on to lose two-goal leads in both, so perhaps it was no surprise that they played with a determined drive and intensity which would lead to chances, but the first one went Rapid's way. A free kick was drilled into the box, Leo Querfeld's header forced a good save from the visiting keeper Sallinger, the rebound went the way of Guido Burgstaller, and he hit the back of the net after just two minutes. Alas, the early goal would not count, as VAR confirmed an offside position before the ball went in. After an early phase of Rapid doing all the attacking, Hartberg carved out their first chance, but Christoph Lang's effort was well blocked by the home defenders (13'). Nic Kühn then put in some fine work to set up Patrick Greil, but the ball just got away from him and the visiting defence were able to intervene in a dangerous situation (18').
Despite the blazing sun and hot temperatures the game remained fiercely contested and at a high tempo, and Hartberg went close when Maximilian Entrup was played in, only for Rapid keeper Niki Hedl to produce a very decent save and allow only a corner (33'). In a back and forth game, Hartberg's keeper was the next to be called into action, as Oliver Strunz won the ball well, laid it off for Moritz Oswald, but he too was denied by a good save after an effort on goal from range (38'). Rapid remained on top overall until the break, with the guests doing their best to close down the spaces and attack whenever possible, but the teams would both go in at the break goalless.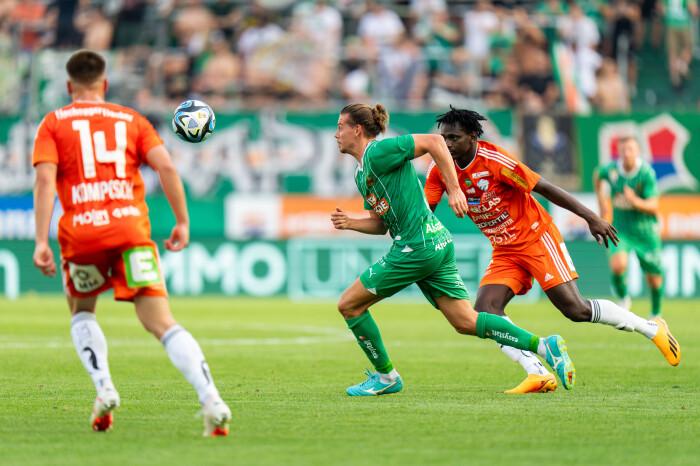 Thorsten Schick came on in place of Oliver Strunz at the break as Head Coach Zoran Barisic looked to influence the game, and it took the Green and Whites just 45 seconds to go close in the second half. Roman Kerschbaum's corner kick met the head of Burgstaller in the box, he powered it towards the far corner, yet Sallinger dived across goal to get the ball to safety with a tremendous stop (46'). Our number 9 had another go five minutes later, but his shot didn't have enough to trouble the Hartberg goalie (51'). Martin Koscelnik made an acrobatic attempt at an overhead kick, but that was straight into the arms of Sallinger, and may have been offside anyway (55'), but Rapid kept pushing and causing the guests all kinds of trouble in their efforts to work the ball out from the back.
In Hartberg's first attack for a while, Entrup went down in the box and claimed for a penalty, but Hedl was not to be distracted and saved the following shot anyway, and no penalty was awarded after a VAR check (59'). Matthias Seidl and Nikolas Sattlberger were warming up and ready to get into the game, but a shock was coming, as Hartberg broke down the right, got the ball into the centre, and it fell eventually to Christoph Urdl who tapped it in from almost on the line (67'). 1-0 Hartberg against the run of play.
Jonas Auer came on for Martin Moormann on the cusp of the Rapid quarter-hour (74') before Burgstaller had his own penalty shout turned down after a clash in the box, but at the other end Hartberg thought they had doubled their lead, only for the linesman's flag to rule out their effort, with the attacking player a good two metres offside (77'). Fally Mayulu was introduced (82') as the team switched to all-out attack in search of a deserved leveller, but Hartberg put their bodies on the line, as well as wasting time effectively, as they closed out the seven minutes of added time to seal a narrow win.
It was a bitter way for the Green & Whites to taste Bundesliga defeat for the first time this season; once again turning dominance into clear chances was the issue which made the difference. Nonetheless, the team will regroup and go again with a crucial second leg against Debrecen to be played on Thursday. 
Fotos: GEPA
SK Rapid vs. TSV Hartberg 0:1 (0:0)
ADMIRAL Bundesliga | 3. Runde | Allianz Stadion
Tore: Urdl (69.)
Rapid-11: Hedl; Moormann (73. Auer), Cvetković, Querfeld, Koscelník; Kerschbaum, Oswald (69. Sattlberger); Kühn (83. Mayulu), Greil (69. Seidl), Strunz (46. Schick); Burgstaller ©
Ersatz: Gartler, Schick, Mayulu, Seidl, Hofmann, Auer, Sattlberger
Marco Grüll (krankheitsbedingt), Lukas Grgić (krankheitsbedingt) und Ante Bajić (angeschlagen) mussten passen.