17.09.2023
Profis, Spielbericht, ADMIRAL Bundesliga
Points Dropped after Dramatic Finale on Home Turf
A back-and-forth encounter saw Rapid survive early pressure from WAC and then open up a healthy first-half advantage, only to see that eroded after a case of double jeopardy with a red card and a penalty for the visitors. Martin Moormann's header looked to have given Rapid the win despite the major setback, only for Wolfsberg to snatch a point with a dramatic last-gasp leveler.
After an international break in which Rapid players helped Austria's national team to move a step closer to EURO 2024 qualification, it was time to return to ADMIRAL Bundesliga action, with a matchday 7 game against Wolfsberger AC in Hütteldorf.
Berni Zimmermann had come up with the winner for Rapid in the last meeting of the teams, but with him now playing on loan in Wolfsberg, and Guido Burstaller unfortunately still out injured, our team was looking a little thin up front, on paper at least. Rapid had triumphed in last season's ÖFB Cup run against WAC, but almost exactly a year ago, the Carinthian guests had come out on top in the league with a 3-1 win in Vienna, and so that was to be put right on a sunny Sunday evening.
Rapid wanted to start off on the front foot, but it was the guests who had the better of the early half chances, with efforts either well-blocked or off-target from the WAC forwards. They earned a large number of corner kicks, but ultimately there were no major threats to Niki Hedl's goal. After 21 minutes there was almost a strange opener for Rapid, as a bouncing ball into the Wolfsberg area caused some panic, with one defender smashing the attempted clearance onto another and eventually off his own crossbar and away.
With WAC continuing to play well, it was something of a surprise for Rapid to go ahead, but when the ball was left loose from a mistake in the build-up, Sattlberger passed to Fally Mayulu outside the box, who hit his shot early, and smashed it into the far corner for a fantastic opening goal (28')! The Green & Whites then began to play with more freedom, and push the guests back into their own area more often. After the WAC defence cleared one attack for a corner, Leo Querfeld was on point in the area to steer the ball in with his shin, and double the lead shortly before the interval. 2-0 (41').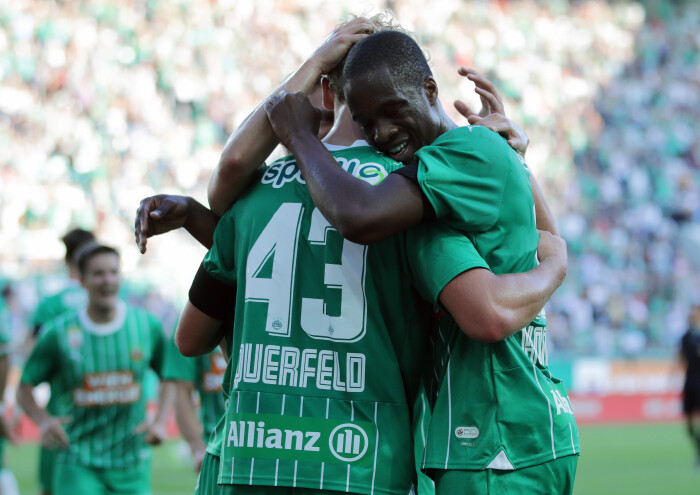 Lukas Grgic came on at the break to replace Roman Kerschbaum, but the guests had the first big opening after the restart, when Mohamed Bamba was picked out in space by the penalty spot. Fortunately for Rapid, his first touch was heavy, and Hedl could block the eventual shot (49'). That was a quick wake-up call though, and a Marco Grüll free kick then found the hard-working Querfeld again at the back post. He did well to make contact, but could only send the ball across the face of the goal (51'). Grüll himself went close a moment later when a lovely pass from Seidl sent Nic Kühn away down the left. His pace got him past the WAC defenders, and he squared across the box for the on-rushing Grüll, alas the finish from a tight angle required a clean contact which didn't quite materialise (55').
Despite the strong start to the second half, goal number three was not forthcoming, and instead Rapid received a shock, when Wolfsberg's Augustine Boakye went clean through on goal after a mistake. He took the ball around Hedl, and then a light contact from last man Terence Kongolo in the area was enough to draw a double punishment; a red card and a penalty (67'). Bamba placed his spot kick just past the dive of Rapid's keeper and into the bottom corner to pull a goal back. 2-1 (68'), a lifeline for Wolfsberg out of nowhere. Martin Moormann came on immediately for Grüll as Rapid reacted to the situation, but the last 20 minutes would have to be endured with 10 men.
A looping header from Sattlberger nearly restored the two-goal cushion quickly (72'), but instead Bamba was able to equalise with a header right as the Rapid quarter-hour came around, much to the disappointment of the 17,000 fans in attendance; 2-2 (75'). Oliver Strunz and Ante Bajic came on in an attempt to turn the tide which was suddenly now in Wolfsberg's favour, and the changes had a dramatic impact! Bajic was chopped down outside of the box for a Rapid free kick: Jonas Auer delivered it, and Moormann was there to nod it perfectly down into the net to put Rapid back in front. 3-2 (85')! The drama wasn't done there though, and deep into the 7 added minutes, an extremely soft free kick gave the guests a last chance to get everyone into the area. They duly did so, and Thomas Sabitzer was there at close range to turn the ball into the Rapid net and level the game in the last second (90'+7).
It was a bitter end to a very exciting game, in which Rapid showed their character, their quality, but also a bit of frailty in unfortunate circumstances. There were certainly positives to take, some excellent individual performances, and the Green & Whites will need to build upon those strengths as they prepare for a big home game next Saturday against Sturm Graz. Let's go, Rapid!
Fotos: GEPA
SK Rapid vs. Wolfsberger AC 3:3 (2:0)
ADMIRAL Bundesliga | 7. Runde | Allianz Stadion
Tore: Mayulu (29.), Querfeld (42.), Moormann (84.); Bamba (69./E., 77.), Sabitzer (90.+7.)
Sonstiges: Kongolo (66./Rot)
Rapid-11: Hedl; Auer, Kongolo (66./Rot), Querfeld, Kasanwirjo; Kerschbaum (46. Grgić), Sattlberger; Grüll © (70. Moormann), Seidl (86. Oswald), Kühn (81. Bajić); Mayulu (81. Strunz)
Ersatz: Gartler, Greil, Strunz, Grgić, Moormann, Oswald, Bajić
info.video-with-product-placement
info.video-with-product-placement
info.video-with-product-placement
info.video-with-product-placement
info.video-with-product-placement