03.09.2023
Spielbericht, ADMIRAL Bundesliga, Profis
Rapid Return from Salzburg Empty-Handed
After a bitter late defeat in Europe on Thursday, Rapid had to quickly refocus with a trip to Salzburg on the agenda for Sunday, in round six of the Bundesliga season. The hosts were yet to drop a point in the new campaign, but with the strength of recent performances to push the Green & Whites on, there was hope of causing them trouble. Head coach Zoran Barišić was in charge for his 150th Bundesliga game, but he had to make do without Guido Burgstaller and Thorsten Schick once again. 17-year-old Jovan Zivkovic - who had scored a brace for Rapid II on Friday - was called up and took a place on the bench.
The opening stages began with both teams just testing the waters, but the first chance fell to Salzburg; wide of the target (9'). Soon after that, Moritz Oswald worked hard to challenge the hosts' defence, but his shot was cleared (11'), and after a corner kick, Max Hofmann tried acrobatically to turn the ball home from six yards out, but could only send the ball towards Ante Bajic. It came to Bajic at the back post in a similarly awkward position, and like Hofmann, he couldn't get enough on it, but it was a well-worked opening for the Green & Whites, and with a touch of luck we could have had the lead (12'). Instead, Roko Simic had the ball in our net (13') and after a long VAR check, the home players were adjudged to have been just about onside as they created the build-up on the left. Matthias Seidl and Marco Grüll linked up well in the search for a response, but the eventual shot was too central (19'). The stats showed that the game was still close, yet Salzburg added another through Simic again, who despite having his first shot well blocked was lucky to see the ball come back to him in the box for a second bite. 2-0 (35').
To make matters worse, Max Hofmann had to leave the field after picking up an injury in an innocuous looking slide tackle. He was replaced by Michael Sollbauer (38') as Rapid tried to finish the first half strongly. Nic Kühn showed his technical skills by leaving two defenders out of the game, but a third Salzburg player put a stop to his run (43'). Matthias Seidl also tried his luck with an effort from range after some neat passing play, but his shot was too close to the keeper (45'). With that, the team headed for the locker rooms trailing by two.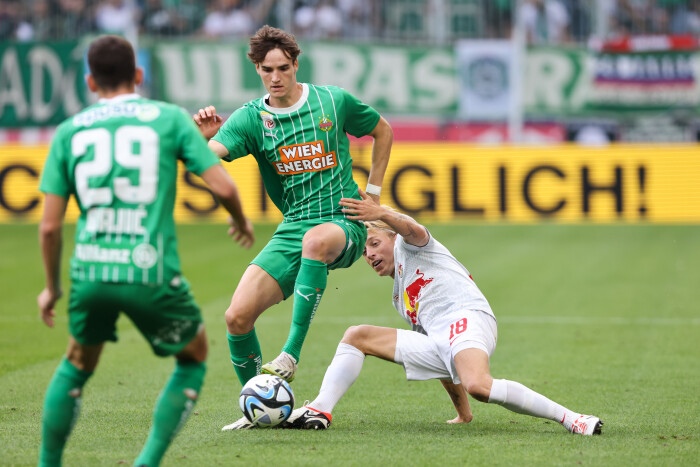 Salzburg had the first chance after the break, but Niki Hedl put a stop to it (53'), and there was an early double change as Fally Mayulu and Jonas Auer came on for Kühn and Oswald (56'). It took until the 67th minute for us to really get forward again, and this time Mayulu headed over the top. Oliver Strunz and Patrick Greil then replaced Grüll and Seidl (71') but the necessary penetration in the final third was still missing from our game. The hosts thought they had a third goal, but this one was ruled out for offside after a VAR check (85'), and although Oliver Strunz turned smartly in the box, he fired his shot just wide (87') as Rapid kept looking for a foothold in the match. Ultimately that would prove to be the last chance, and after 97 minutes the game was over, and we failed to pick up any points before heading into the international break.
Now it's time to work even harder, come back stronger and attack fully after the break, as we take on Wolfsberger AC at home on the 17th of September!
Fotos: GEPA
info.video-with-product-placement
info.video-with-product-placement
info.video-with-product-placement
info.video-with-product-placement
RB Salzburg vs. SK Rapid 2:0 (2:0)
ADMIRAL Bundesliga | 6. Runde | RB Arena
Tore: Simic (13., 35.)
Rapid-11: Hedl; Moormann, Hofmann © (38. Sollbauer), Querfeld, Oswald (56. Auer); Kerschbaum, Sattlberger; Bajić, Seidl (71. Greil), Kühn (56. Mayulu); Grüll (71. Strunz)
Ersatz: Gartler, Greil, Strunz, Mayulu, Sollbauer, Auer, Zivkovic