21.07.2021
UEFA Champions League Qualifikation, Profis
Knasmüllner Brace Secures Home Win Against Sparta
For the first time since the opening of the Allianz Stadium in June 2016, a UEFA Champions League qualifier took place in Hütteldorf. As far as special occasions go, this was a big one, as not only did we welcome back the Champions League to West Vienna, but also for the first time in over a year, many thousands of home fans!
Even long before kick off the atmosphere was incredible, and when the two teams eventually marched out onto the pitch in Hütteldorf, that did not change one bit, even after a less than ideal start to proceedings. The visitors had a free kick from midway down-field, lofted it high into the air, where Krejci snuck into space to grab an early goal: 0-1 (3'). Some 19,500 fans in attendance roared our boys back into the game though, and not long later, Kelvin Arase raced clear down the right and gave the crowd something to cheer with a dangerous square ball (7').
The Green & Whites were now firmly back in the thick of the action, and were beginning to assert control. Robert Ljubicic was given too much space and time, and he used his chance to fire a long shot towards goal, but his 25-yard effort was turned behind by the Sparta keeper (26'). The guests were now sitting deeper to defend their precious lead, yet they still created one big moment, as star man Hlozek got free in front of goal, only to be denied by a vital Richard Strebinger save (36'). There was a sniff of one final first half chance when Knasmüllner took advantage of a goalkeeping mistake, but the stopper made amends quickly to leave Rapid trailing by one goal at the interval.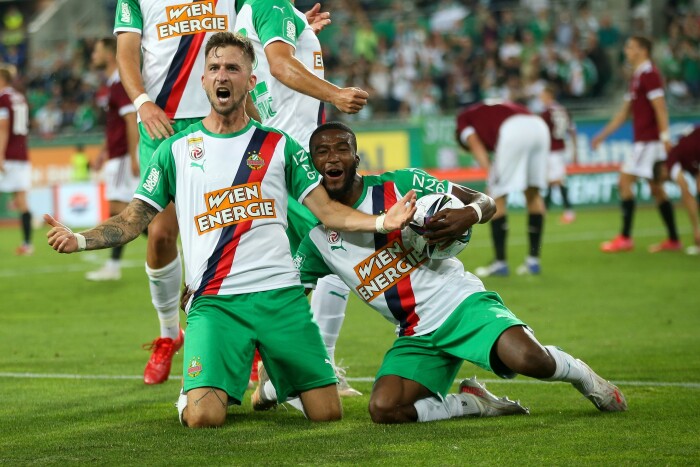 The second half saw the home team come out of the blocks strongly, but there was to be no instant reward. Ljubicic somehow kept a deep ball in play by the touchline, and Ercan Kara reacted beautifully to gather the ball at the near post, but the reactions of the keeper won on that occasion, as he tipped the ball over the bar (55'). However, if there's anyone who knows about important European goals, it's Christoph Knasmüllner. His moment of magic came just after the hour mark, where, with little room to operate, he magnificently floated a right-footed lob from the edge of the area into the top corner of the Sparta goal. It was a strike of the highest order to bring Rapid level, and fittingly it was celebrated in front of a jubilant Block West. 1-1 (63').
 What followed were more moments to give the fans in Green & White goosebumps. Marco Grüll stepped forward and passed to Ljubicic on the left, he smartly delayed the cross to tee up the arriving Knasmüllner, and when he found the presence of mind for a volley full of finesse into the bottom corner, the game was turned on its head, and the atmosphere reached fever pitch! 2-1 (70'). Taxi Fountas then made an appearance as Rapid pushed on, aided by the fans. He needed little time to make himself known, but his first shot was saved (79'). The final phase was a sight to behold, Rapid leading, and roared on by the passionate fans that we have missed so much. Alas, there was to be no third goal, but nonetheless a home win was deservedly secured, and the noise levels rose once more to greet the final whistle.
 As a first step, it's a very welcome one, and a win which we can rightly celebrate. Nevertheless we must be cautious, as the return leg in the Czech capital awaits us next Wednesday. RAPID!
Fotos: GEPA
Die Highlights
info.video-with-product-placement
Die Stimmen nach dem Spiel
info.video-with-product-placement
SK Rapid - AC Sparta Praha 2:1 (0:1)
Allianz Stadion, 19.500 Zuschauer,
Torfolge:
0:1 Krejci II (3.)
1:1 Knasmüllner (63.)
2:1 Knasmüllner (70.)
Rapid: Strebinger – Stojkovic, Hofmann, Wimmer, Ullmann – Petrovic (73./Grahovac), Ljubicic – Arase (64./Fountas), Knasmüllner (87./Schick), Grüll – Kara
Sparta: Nita – Vindheim, Stetina, Hancko, Höjer – Pavelka, Krejci II – Wiesner (83./Koberg-Karlsson), Dockal (83./Karabec), Krejci I (69./Pesek) – Hlozek
Gelbe Karten: Ullmann, Wimmer, Stojkovic, Grahovac bzw. Stetina, Hancko
label.survey
Wer war Mann des Spiels beim 2:1-Heimsieg gegen Sparta Prag?