24.10.2021
Spielbericht, ADMIRAL Bundesliga, Profis
Last gasp Hartberg hold the Green & Whites back
After a strong home win in the UEFA Europa League group stage against Dinamo Zagreb, the ADMIRAL Bundesliga continued on Sunday. In golden autumnal weather, the aim was to build on Thursday's performance as we faced TSV Egger Glas Hartberg on match day 12, and we were looking to carry the positive European momentum into the league. The aim of course, was to travel back to Hütteldorf with three points in the bag! Captain Maximilian Hofmann suffered a fractured nose on Thursday, he has already undergone surgery, and therefore did not take part in this match. Kelvin Arase also had to miss out due to illness. It was a special day for youngster Moritz Oswald though, who was named in Rapid's senior squad for the first time!
The line-up brought some changes given the squad's situation. Paul Gartler was in goal, in front of him, head coach Didi Kühbauer relied on Max Ullmann, Emanuel Aiwu, Leo Greiml and Filip Stojkovic. Robert Ljubicic and our current captain Srdjan Grahovac provided a stable defensive midfield, Marco Grüll, Taxi Fountas and Thierno Ballo began as the attacking midfield trio, and as usual, Ercan Kara was the lone striker up front.
The Green & Whites started in Hartberg as they had left off in the Europa League on Thursday. The ball was being moved around nicely in the opening phase, but although we were driving on forwards, there was no way through at first. Ljubicic was the first one to begin unlocking the Hartberg back line with an excellent pass to Kara, who quickly and cleverly laid off the ball into the path of Fountas, and our number 9 slipped the ball through the legs of the opponent's goalkeeper - a free flowing move, a beautiful goal, and 1-0 to Rapid (11')! Less than ten minutes later, we so nearly had another, when Ullmann was on the ball inside the box, but although he was bearing down on goal, the home keeper came up with a brave block (20').
Grüll also had a go with a direct free-kick from distance, but it was deflected just wide of the Hartberg goal (28'). The next chance came from Aiwu, who headed millimetres off target after a perfect assist from Grüll (32'). The confidence and the will to win were palpable, Ullmann tried a powerful shot from distance, which again didn't miss by much (35'). Grüll had the next shot after a lovely solo run saw him cut in from the left across the edge of the area, and fire an angled shot just across the face of goal on his right foot (41'). After a superior first half with the upper hand in almost all departments, Rapid were worthy of their advantage at the break.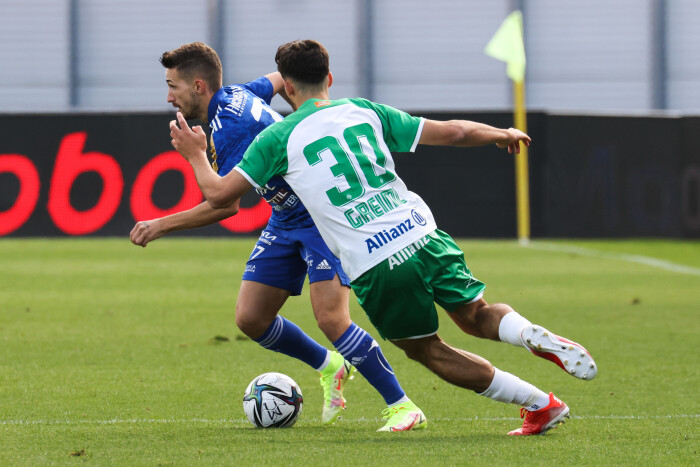 Our team came out for the second half unchanged, but there were no direct chances in the first few minutes. In the 51st minute, unfortunately something happened that no one likes to see: Our defensive bulwark Leo Greiml was fouled and had to be carried off the pitch injured, with the pain clearly etched on his face - GET WELL SOON, LEO (51')! Thorsten Schick came on (Kevin Wimmer, who would have deputised, also had to miss the game after suffering a muscle injury during the warm-up) and after that nasty moment, our players had to collect themselves.
In the 57th minute, we had the first real chance of the second half, when Ljubicic, with an impressive flying move, volleyed over the top. We could sense that the second goal was coming, but Hartberg pressed more and more for the equaliser. Didi Kühbauer reacted and brought in new players with a double substitution: Knasmüllner came on for Fountas and Kitagawa for Kara (72'). But Hartberg were better in the game in the second half, and threatened more and more as time wore on. Then the next changes were made: Moritz Oswald came on for his Bundesliga debut in Green & White and replaced Marco Grüll - Auer came in for Ballo (82'). Four minutes later, our team pushed forward, but Ullmann lifted the ball well over the bar (86'). Now, we had to stay calm and keep hold of the lead, but deep into injury time, with virtually the last moment of the game, a free kick was sent forward. In the ensuing penalty area chaos, Hartberg, who have often caused us problems in recent years, managed to scramble in an equaliser, 1-1 (96').
After a strong first half, our team unfortunately could not come away with the three points. We returned to Hütteldorf with just a draw instead - now we have to analyse that game, gather strength and focus on the UNIQA ÖFB Cup Round of 16 on Thursday, as we will play against SKU Ertl Glas Amstetten. Keep fighting together, RAPID!
Fotos: GEPA
Die Stimmen nach dem Spiel
info.video-with-product-placement
Die Pressekonferenz nach dem Spiel
info.video-with-product-placement