28.11.2021
ADMIRAL Bundesliga, Spielbericht, Profis
Solid Sunday performance yields only one point
After learning plenty from Thursday's 2-0 Europa League defeat against West Ham United, on Sunday we traveled to Upper Austria to face SV Ried on match day 16 of the ADMIRAL Bundesliga season. Ried were on a four game winning streak in home fixtures against Rapid, so it was high time to end that run, and also to get our first away win in the league this season. The opening Bundesliga match with our interim coaching duo in charge had ended with three points against Altach, so we were also looking to build on that.
There were again some changes to the starting line up, as Maxi Hofmann missed out through illness. Pauli Gartler was in goal; Jonas Auer, Martin Moormann, Emanuel Aiwu and Filip Stojkovic made up the back four; Robert Ljubicic and captain Srdjan Grahovac played in defensive midfield; Marco Grüll faced his former club in the Rapid attack, next to Thierno Ballo and Thorsten Schick; behind Ercan Kara.
In the opening minutes we began the game very well, and kept hold of the ball with ease. The first decisive move came when Grahovac passed forward to Kara, he laid it off for Schick but the shot was just too central (7'). Only two minutes later, Auer took control of the ball well into the box and was only denied at the near post by the heel of ex-Rapid keeper Sahin-Radlinger. Soon, though, our team was rewarded for the strong start. From a Schick free kick, the ball eventually ended up falling near Kara, who cleverly hooked it past the keeper. GOAL! 1-0 Rapid (11'). After that opener, Ried had more possession for a while, but we looked to be holding firm until an equaliser came from out of the blue. Stojkovic was the unlucky one who deflected the ball into his own net following a free kick delivery to make it 1-1 (26').
Five minutes later, Grüll had a great chance to get the lead back as he raced clear for a one-on-one. The shot came back off the keeper, and the rebound was cleared off the goal line. A goal for the Green & Whites (who were playing in the founding red & blue colours, to be precise) was surely not far away! Ljubicic crossed from the left to set up another Grüll chance, and this time his placed finish came back off the inside of the far post and trickled all the way across goal without going in (38'). We went in level at 1-1, but we knew with this intensity, there was more still on the table for the second half.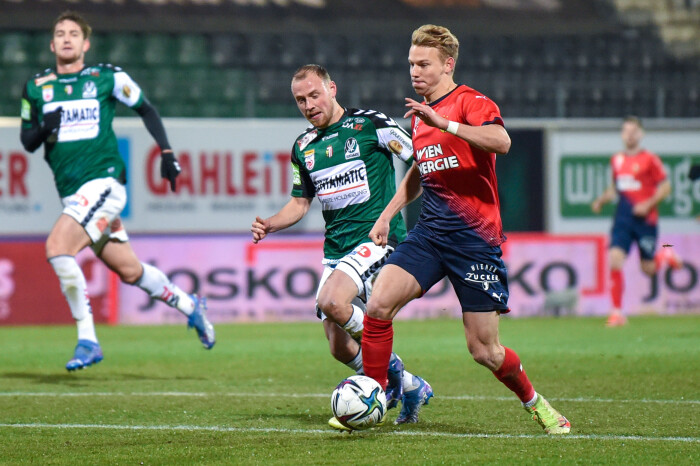 At the beginning of the second half, our team continued where they had left off. In the 51st minute, Ljubicic sent a through ball in the direction of Kara, who lifted his shot just millimetres over the crossbar. Ballo also had a go five minutes later with a strike towards the front post, which the goalkeeper just managed to claw away. Less than ten minutes later Knasmüllner and Fountas were subbed in for Ballo and Schick in order to bring on some fresh legs (65'). Fountas was immediately in the limelight, but his first shot was too central (68').
Our boys were looking good in the game and going for the winner, when Ried suddenly took the lead themselves in the 71st minute. Mikic dropped the shoulder and arrowed in a brilliant shot for 2-1, but it was a bitter goal to concede against the run of play. With thirteen minutes left, Kara converted to equalise after a corner kick, but a VAR call saw it chalked off for offside. Never mind though, Auer whipped in a cross not long later for Knasmüllner who buried his header in the Ried goal for 2-2 (85')! Arase came on for the final few minutes as we looked to complete a brilliant turnaround, but ultimately, Rapid's efforts were only enough for a draw on the day.
We left the Innviertel with a point despite feeling like we deserved more after a strong display, and our focus now switches straight away to the Vienna Derby which lies ahead. Keep fighting, Rapid!
Fotos: GEPA
Die Stimmen nach dem Spiel gegen Ried & zu unserem neuen Trainer
info.video-with-product-placement
Zoran Barisic nach dem Spiel gegen Ried
info.video-with-product-placement