13.01.2022
Profis, Verein
Yusuf Demir returns to SK Rapid!
For days, Yusuf Demir has been the number one topic in domestic sports reporting, and his situation has also received a lot of attention from the international media. Now, the future of one of our most exciting home-grown prospects has been clarified: The 18-year-old will return to his sporting home in Hütteldorf, SK Rapid. Managing Director of Sport Zoran Barisic announced: "There were extremely intensive talks with and between many involved parties, but now I am enormously pleased that we have found a very good solution for everyone. The loan contract with FC Barcelona will be terminated, and at the same time Yusuf Demir will extend his contract with us ahead of schedule until the end of the 2023/24 season! He is expected to join the team when we travel to our training camp in Turkey, he will not be present for today's test matches against Lafnitz and Vorwärts Steyr."
Head Coach Ferdinand Feldhofer is also pleased about the homecoming of a player who counts as a new addition to his squad: "It is very nice, we are getting a highly talented player joining our ranks in Yusuf Demir, who has already played European matches and gained experience in the Champions League. As he has already been with Rapid for eight years, the acclimatisation period will be very short, and if he can fulfil his potential, he will be a huge reinforcement for us."
Demir himself, who played nine competitive games (6 in La Liga, 3 in the UEFA Champions League) for FC Barcelona in autumn 2021, spoke about his return: "I am really looking forward to the upcoming challenges and the reunion with my old teammates. The anticipation is very high, now I'm back home with my club," said the four-time ÖFB international.
Yusuf Demir came to Hütteldorf from First Vienna FC at the age of ten. In the Green & White youth academy, the extraordinary talent of the attacking all-rounder was quickly discovered and he was promoted accordingly. On December 14th 2019, at the age of 16 years, six months and twelve days, he became the youngest SK Rapid player to play in the Bundesliga since its inception. In total, the Viennese youngster played 38 competitive games for the Rapid senior team, scoring nine goals and assisting four others before leaving on loan for FC Barcelona. Despite his youth, "Yusi" has already scored for the Green & Whites in four competitions, namely the Bundesliga, the ÖFB Cup, the UEFA Champions League (qualifiers) and the UEFA Europa League.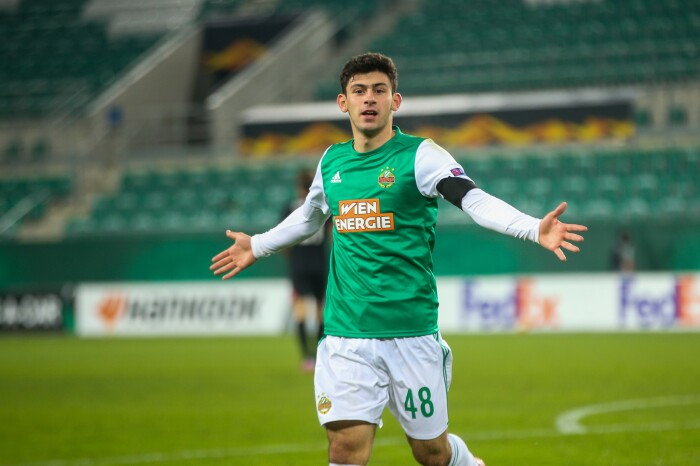 Willkommen zurück, Yusuf!
info.video-with-product-placement
Stimmen zur Rückkehr und Verlängerung
info.video-with-product-placement