09.07.2022
Spielbericht, Verein
Rapid share six-goal thriller with Celtic
Ahead of the beginning of the new season, which is getting ever closer, Rapid took on Celtic in an action-packed international friendly game in Hütteldorf! There was a lot of excitement given that so many newcomers were able to make an appearance; Guido Burgstaller, Patrick Greil, Ante Bajic, Martin Koscelnik, Nicolas Kühn, birthday boy Aleksa Pejic and Michael Sollbauer all played, and were able to celebrate their Green & White debuts at the Allianz Stadium!
The Rapid starting XI, led out by captain Guido Burgstalller, made their presence felt early doors as Jonas Auer's free kick went close (5'). Niki Hedl was able to make a clutch save after 8 minutes, but just two minutes later he was fishing the ball out of his net, and the Scottish champions led 1-0. Our team took that as a wake-up call, and soon after Burgstaller shot from the edge of the box, before Kühn tried an audacious diving header, but the Celtic keeper was able to get his gloves to the ball both times (13', 16'). Just five minutes later, Kühn put in an excellent cross towards Burgstaller, who was just inches away from the ball, but on the half-hour mark, our goal anthem rang out around the stadium: Ante Bajic showed enormous effort, nipped onto an unfortunate back pass  from the Scots just ahead of the goalkeeper, and laid off to Berni Zimmermann, who only had to tap it in - GOAL, 1-1 (30')! The rest of the half was evenly balanced, and the teams went in level at the break.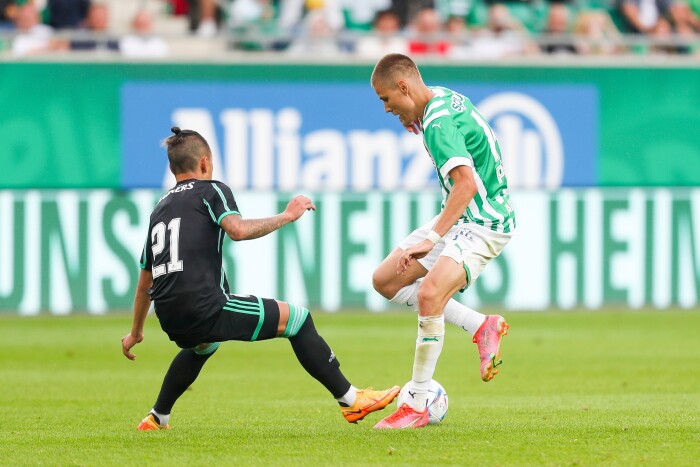 Rapid came out for the second half unchanged. The game was still tight, but neither side could find the final passes to create big chances. 11 minutes after the interval, it was Celtic who scored out of nowhere to go back in front 2-1. Ferdinand Feldhofer elected to switch all 10 outfield players after that, and the fresh legs paid off! First Marco Grüll was denied from a headed effort, but Rene Kriwak was able to follow up with a header of his own, and he found the net! GOAL, 2-2 (62')! Minutes later, the guests were leading once again, after the ball fell their way in a fortunate position (65').
The home team faded a little after the quick response from Celtic, but we battled back to create another double chance as the closing stages beckoned. Moritz Oswald tested the keeper with a well-hit long range strike, and Christopher Dibon then fired against the crossbar (73'), before Rene Kriwak put a header just millimetres wide (74'). Rapid continued to press, and Dragoljub Savic put an effort wide with just under 10 minutes to go, and Marco Grüll did the same soon after. There was an equaliser to be had, if Rapid could just take one of the chances that came along, but when Kriwak's next aerial effort was stopped (86'), it looked as though it might not fall for Rapid on the day.
However, Emanuel Aiwu delighted the home fans with a third Rapid goal, as he headed home from a corner kick just before the final whistle; 3-3 (90'). That brought to a close a summer goal-fest, which rightfully ended in a draw. Thanks to Celtic for taking part in a great game, which hopefully got everyone in Green & White ready to enjoy the competitive action of the new season, which Rapid will soon begin with an away tie in the ÖFB Cup. Here's to the new season, everyone!
Fotos: GEPA
SK Rapid vs. Celtic Glasgow 3:3 (1:1)
Tore: Zimmermann (30.), Kriwak (62.), Aiwu (90.); O'Riley (10.), Turnbull (56.), Furuhashi (65.)
Rapid-11: Hedl; Auer, Wimmer, Sollbauer, Koscelnik; Kühn, Pejic, Greil, Bajic; Zimmermann, Burgstaller ©
Rapid-11 ab 56. Minute: Hedl; Moormann, Dibon ©, Aiwu, Schick; Grüll, Oswald, Sattlberger, Knasmüllner; Kriwak, Savic
Ersatz: Gartler, Unger
info.video-with-product-placement
info.video-with-product-placement