04.09.2022
Profis, Spielbericht, ADMIRAL Bundesliga
Demir goal gives us three points in Vorarlberg
A strong first half laid the foundation for our first three points in Altach since November 2019!
Since the outbreak of the Corona pandemic, Rapid haven't been able to get a win away in Altach, in fact we last triumphed with a 3-0 win there in November 2019. The points have been shared at the Cashpoint Arena in the last seven meetings between the two "SCRs" no less than five times.
On Sunday afternoon, Ferdinand Feldhofer's XI, led by captain Marco Grüll, started like a speeding bullet! The Pongau player had the first big chance in the fourth minute, but failed to convert from a great position after a beautiful pass from the electric Yusuf Demir, instead being denied by Altach goalkeeper Tino Casali. Moments later, the VARTA rookie of the match again did the groundwork, but Ferdy Druijf's finish was deflected by a defender for a corner kick. A goal from the Green & Whites, who were wearing the away jerseys in the founding colors of blue and red, already seemed long overdue! Five minutes later, the time had come! Ferdy Druijf won an aerial duel before Yusuf Demir won the knockdown and punished the unsettled Altach defense (Manuel Thurnwald left the field shortly before with an injury) with a steely calmness. That gave Rapid a 10th minute lead that was certainly well deserved.
Our team kept up the pressure, and from the hosts came no danger at all. In the 23rd minute, Aleksa Pejić went close to scoring the second goal, but his header from Nicolas Kühn's beautiful free kick just missed the Altach goal. Demir and his teammates repeatedly made dangerous advances towards the Vorarlbergers' goal, but there were no more big chances to come, meaning that Rapid went into the half-time break with a 1-0 lead.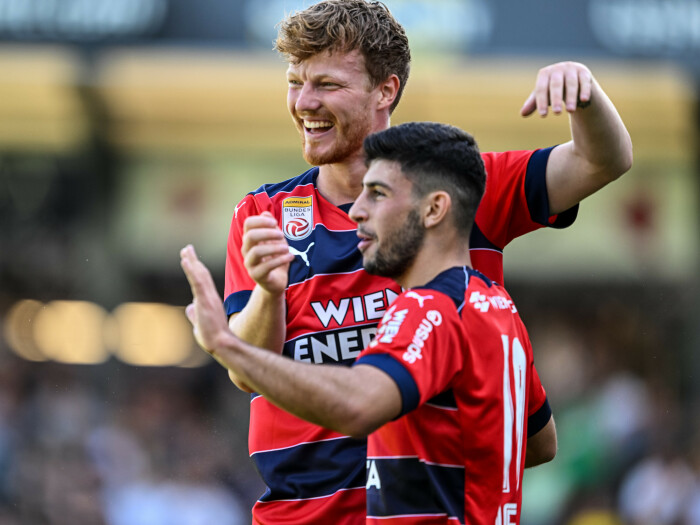 A very different second half
Directly after the change of ends, Altach took command of the game, but a shot by Adthe Nuhiu in the 47th minute was the only noteworthy result in the early stages, and Niki Hedl did not have to intervene. Yet Altach remained active and earned a few corner kicks. It took a while for our team to get back into the game, and it wasn't until the 67th minute, when Guido Burgstaller and Patrick Greil replaced Ferdy Druijf and Roman Kerschbaum (who had taken a knock), that the first attack worth mentioning came about; but a shot from Yusuf Demir, who also stood out for his many important ball recoveries before the change of ends, was unfortunately just as inaccurate as one from Patrick Greil a little later. Things got uncomfortably dicey in front of Niki Hedl's goal in the 89th minute, when a clearance attempt from Aleksa Pejić, who was very strong on the day, hit the crossbar. After that, the referees surprised everyone with eight whole minutes of stoppage time, yet our team remained calm as the time ticked away. In the 96th minute we could even have scored a second, but unfortunately our counter-attack was not rounded off with quite enough precision.
No matter, in the end it remained 1-0, sealing an immensely important AWAY WIN, leaving our team in 5th place having played six games, with a game in hand to come against Hartberg on the 26th of October at the Allianz Stadium. That means we've played one game less than third-placed Sturm (12 points from 7 games) and fourth-placed Lustenau (11 points from 7 games), and we're back on the hunt!
info.video-with-product-placement
ADMIRAL Bundesliga | 7. Runde | Cashpoint Arena | Schiedsrichter Ciochirca
5.400 Zuschauer
Tor: Demir (9.)
Rapid mit: Hedl – Koscelnik, Sollbauer, K. Wimmer, Moormann – Pejic – Kühn (71. Schick), Kerschbaum (58. Greil), Demir (90. Querfeld), Grüll (90. Auer) – Druijf (58. Burgstaller)
Ersatz: Gartler; Knasmüllner
label.survey
Wer war Dein Man of the Match beim 1:0-Sieg in Altach?