21.05.2023
Spielbericht, ADMIRAL Bundesliga, Profis
Held at Home by Late LASK Goal
Rapid created enough chances to win on Sunday, but ultimately the team were unable to build on Guido Burgstaller's early goal, allowing LASK to snatch a fortunate point with a late goal on the road.
The conditions were beautifully summery as it was LASK who made the trip to Hütteldorf for match day 30 of the ADMIRAL Bundesliga season. There was plenty at stake for Rapid, with positions four to six in the table oh so close in the run-in, and three points would be the only real target as we looked to take over fourth spot, one behind the Linzers. Our recent home record against LASK was an excellent five wins from five, so continuing that trend was the aim for Sunday's game. In terms of personnel, some changes had to be made; keeper Niki Hedl had a shoulder issue at short notice, and was replaced by Pauli Gartler between the sticks, the full-backs were the returning duo of Thorsten Schick and Jonas Auer, Kevin Wimmer and Michael Sollbauer played in central defence behind a midfield trio of Patrick Greil, Roman Kerschbaum and Oliver Strunz, whilst Nicolas Kühn, captain Guido Burgstaller and Marco Grüll started in attack.
By the time the fans were celebrating Rapid's early goal, not all of the 18,900 people in attendance had been able to take their seats! Marco Grüll delivered a perfect cross towards the far post, and there was our talismanic number 9 (who else?!) to head home the opener for the Green & Whites. 1-0 (2')! Goalscorer Guido Burgstaller was celebrating his 150th game for Rapid, and with it, he notched his 20th goal of the season! The game became a back-and-forth battle, but the away sector thought they had their own reasons to cheer when Florian Flecker buried a rebound shot, only for VAR to step in and pick up the offside infringement in the build-up; no goal (15'). The next chance came Rapid's way, with Oli Strunz in a promising position in the area, but he couldn't get enough on the final shot (20').
Although much of the game was a midfield encounter, each team would get one more good look at goal before the break. LASK's chance fell to Robert Zulj, but Pauli Gartler got behind his shot to take the sting out of it, before a Rapid counter saw Burgstaller slot a pass over for Patrick Greil, whose close range header was too close to the keeper. Roman Kerschbaum unfortunately had to be taken off late in the half, and on came Moritz Oswald, before the teams headed in with the score standing at 1-0 to the hosts.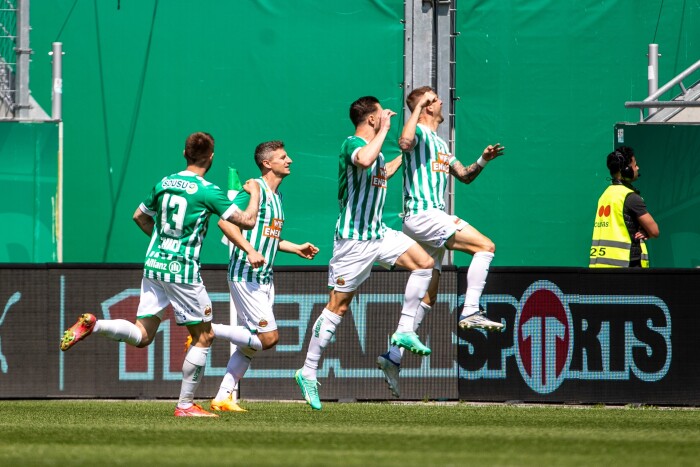 The second half could have got off to the same start as the first - alas Oli Strunz was unable to double the lead when he had a chance to go one-on-one with the LASK keeper just 180 seconds after the restart. Then came a nasty few seconds, as Michael Sollbauer took a heavy hit in an aerial duel, but after a thorough medical check, thankfully he was OK (54'). The guests were trying to control the game by now, but they couldn't turn possession into real chances on goal. Up the other end, Rapid suddenly had two opportunities of their own, as first, Nicolas Kühn got in behind only to stumble as he tried to take the ball round the keeper, before the substitute Ante Bajic was teed-up by a great square-ball, but he couldn't extend Rapid's lead.
Even with those chances missed, there would be a bigger chance to seal the win soon after (70'). A Burgstaller volley struck the outstretched arm of a defender, and after a quick look at the VAR screen, referee Hameter pointed to the spot (70'). Our trusty number 9, who leads in the Golden Boot race and has helped the team so often this season, put the spot kick over the top, and again we could not move two goals ahead. LASK seized their chance to stay in the game, and Moses Usor hit the side-netting in the closing stages, before Thomas Goiginger pounced on a moment of defensive hesitation to level the match at 1-1 (86'). It was a hugely disappointing goal, but Rapid stuck to the task and almost found a deserved winner in stoppage time, as Kühn unleashed a powerful shot in the box, but ultimately it was blocked, and the game ended level. It was a tough one to swallow, but with Austria Vienna conceding a last-minute goal in Klagenfurt, the battle for fourth place remains very much alive. Come on, Rapid!
Fotos: GEPA
SK Rapid vs LASK 1:1 (1:0)
ADMIRAL Bundesliga | 30. Runde | Allianz Stadion
Tore: 1:0 Burgstaller (2.), 1:1 Goiginger (86.),
Rapid-11: Gartler - Schick, Sollbauer, Wimmer, Auer - Greil (83. Druijf), Strunz (59. Bajic), Kerschbaum (40. Oswald) - Kühn, Burgstaller (C), Grüll (83. Zimmermann)
Ersatz: Unger, Kasius, Moormann, Oswald, Bajic, Druijf, Zimmermann
Die Stimmen nach dem Spiel
info.video-with-product-placement
Unsere Pressekonferenz nach dem Spiel
info.video-with-product-placement
label.survey
Wer war Dein VARTA-Rookie der Saison 2022/23?