29.08.2023
Profis, Verein
New Signing: Thierry Gale Opts Fo Green & White
SK Rapid have brought in extra reinforcements for the attacking department with the arrival of 21-year-old Barbados international Thierry Gale. Gale signed from Georgian top-flight side FC Dila Gori and put pen to paper on a deal lasting until the summer of 2027!
Thierry was born on May 1st, 2002 in Bridgetown in Barbados, the island nation in the Atlantic Ocean, which belongs to the Lesser Antilles. The skilled winger moved from Budapest Honvèd FC to FC Dila Gori in the Georgian top flight in the summer of 2022. Since in Georgia the season starts in spring and ends in autumn/winter, the team plays through the summer. In the current season, the dynamic attacker has scored a total of twelve goals and provided five assists after 25 rounds. For his home country Barbados, Thierry Gale has played nine international matches so far, scoring two goals.
"I don't come from a typical footballing nation and I have always had to work very hard for everything in the past. That makes me all the happier that my achievements have not gone unnoticed by those responsible at SK Rapid. Rapid is a big club that has an international reputation and is also known far beyond the country's borders because of its incredible following. It is the biggest transfer in my still young career to date, and I will do my best from day one to repay the trust placed in me with good performances. I'm really looking forward to the whole club, the fans and especially to my first home game."
Thierry Gale on his transfer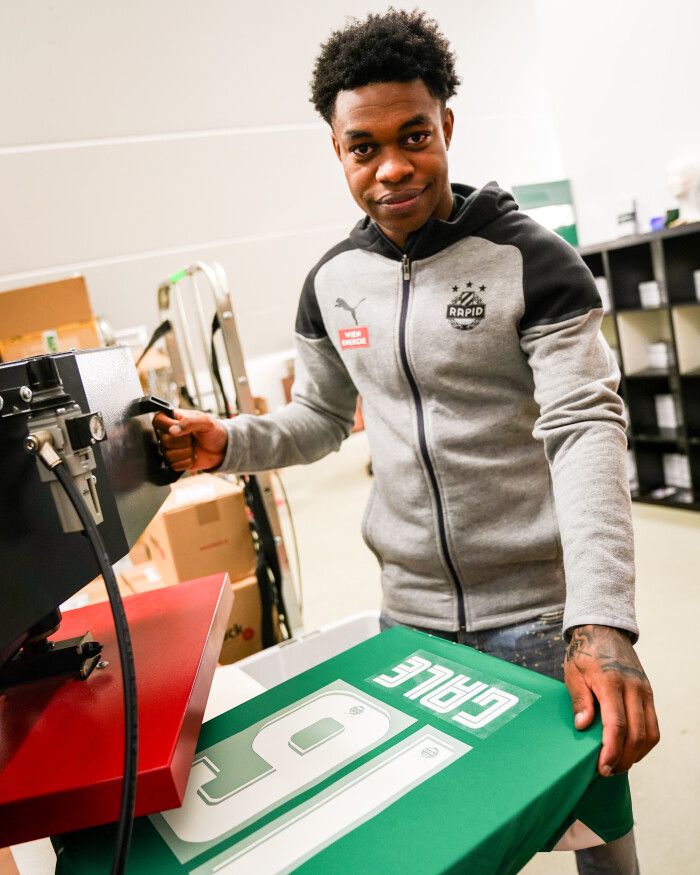 Managing Director of Sport Markus Katzer: "Thierry is currently playing an outstanding domestic and international season, which is also underlined by his statistics. With his enormous speed and fine ball control, he is an asset to our offense. He is a type of player that we don't have in the squad in this way. In addition, Thierry not only has a good goal-scoring ability, but also knows how to set things up for his teammates very well at the crucial moments. We see far more potential in him than he has exploited so far and want to help him reach his sporting maximum at Rapid. We are proud that the player has chosen SK Rapid, although many international clubs wanted to sign him."
Head coach Zoran Barišić on the offensive newcomer: "Thierry Gale is a very interesting offensive player who can be used on the wing and brings many skills that make him stand out. We have watched him in a few games and I am happy that he has decided to join Rapid. He is a fine footballer and I look forward to working with him with a lot of confidence."
info.video-with-product-placement