23.02.2020
Profis, Bundesliga
Substitute Kara rescues a point on his debut!
Rapid had travelled to Hartberg without Max Ullmann and Mario Sonnleitner, who had been taken ill late on in the preparation phase. Naturally we wanted to capitalise on last weekend's opening win against WSG, but more specifically the aim was to build on the first half performance from that match. Our team began with Dejan Petrovic taking a place in the starting XI, Koya Kitagawa up front replacing Taxi Fountas who wasn't fully fit, and Stephan Auer covering for Ullmann. Last year's trip to Harberg brought good memories for Rapid thanks to a 4-2 win, and the most recent meeting ended with a late equaliser for 3-3 in Hütteldorf, so it was perhaps no surprise that the fans in Hartberg's sold-out stadium were expecting to see goals once more. On match day 20, that is what they got!
Rapid had chances to take the lead early on; Christopher Dibon fed a ball to Kelvin Arase who had escaped his marker, but he couldn't beat keeper Swete from a tight angle (5'). Thomas Murg was the next to create a good opportunity, finding Kitagawa with a nice cut-back in the area, the Japanese striker hit a fierce shot on the turn but saw it rebound off the right-angle of the goal (12'). The best chance fell to Stefan Schwab though, Dibon cushioned a volley across goal towards the captain, and with the net almost open he couldn't convert from the 6-yard line (16'). After a long range free-kick from Christoph Knasmüllner sailed wide (26') it was clear that Rapid were having the lion's share of the chances, and dominating on a difficult pitch. Hartberg, for their part, only came close once with Tadic hitting the side-netting. When the long overdue Rapid lead came, it was thanks to an own goal, Schwab curled a cross forward into the area and Luckeneder touched it past his own keeper for 1-0 (40'). Out of nowhere though, the scores were level even before the break. A high cross into the Rapid box wasn't safely dealt with, and Rep swept up the loose ball with a low shot (45') to leave it 1-1 at the interval.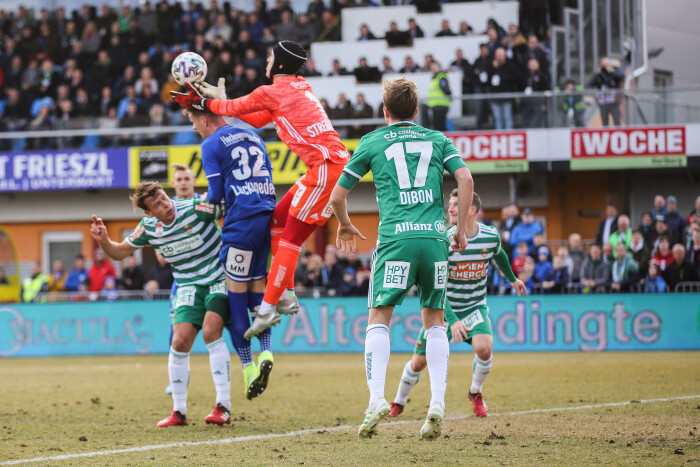 The Green and Whites dominated possession once again in the second half, but the action overall subsided a bit. Kainz did go close with a header for the hosts, but even then, play had been stopped by the officials for a foul in the build-up. We only created half-chances for a while, such as Schwab's free-kick (70'), and a teasing ball in from Filip Stojkovic which evaded everyone in Rapid colours (70'). Then suddenly we trailed in the game after another cheap goal was given away. Luckeneder made up for his earlier error by scoring from close range after a corner ball had created chaos in the area (73'). With not much time remaining, we had to recover, and do so quickly! Thorsten Schick came on after a long spell on the sidelines, but his chance when through on goal was blocked well (81'), and fellow substitute Fountas took Arase's pass round the keeper, but his effort was then cleared off the line (84').
Just as it looked like Rapid were heading for defeat, the third and final substitute Ercan Kara did the business! With one final corner kick and even Richard Strebinger up to attack, the cross reached Kara who stuck it away at the far post for 2-2 (92') much to the delight of the away fans, and the player himself! Overall, it was a well-deserved point, but we'll be looking for another three when we welcome Mattersburg next weekend (Sunday 1st March, KO 17:00).
(tm)
20th round: TSV Hartberg - SK Rapid 2:2 (1:1)
Bundesliga, 20th round:
TSV Hartberg - SK Rapid 2:2 (1:1)
Profertil Arena, 5.024 Attendance, Ref Heiß
Goals: 0:1 Luckeneder (40./Eigentor), 1:1 Rep (45.), 2:1 Luckeneder (74.), 2:2 Kara (93.);
Hartberg: Swete – Lienhart, Huber, Luckeneder, Rasswalder – Nimaga – Dossou (91./Rotter), Cancola, Rep, Lema (36./Ried) – Tadic (84./Gotal)
SK Rapid: Strebinger – Stojkovic, Dibon, Barac, Auer – Petrovic, Schwab – Murg (72./Schick), Knasmüllner (84./Kara), Arase – Kitagawa (63./Fountas)
Yellow Cards: Rep, Nimaga; Kara