28.04.2021
Profis, Spielbericht, Bundesliga
Another win against WSG!
With two changes to the starting XI we aimed for a second win in the space of just four days when we faced WSG Tirol on Wednesday. Maximilian Hofmann didn't make it through a late fitness test, so Leo Greiml deputised in the starting line-up, and Kelvin Arase - goal scorer in the Tivoli stadium in March - came in for Marcel Ritzmaier.
Arase had another goal at the Tivoli within three minutes of the start, but there were no celebrations on this occasion as the offside flag was raised. The Tyroleans, who had to make do with a few absences, were looking to continue an impressive home run, after wins agaisnt LASK (2-0) and Red Bull Salzburg (3-2) so far in the Championship Group. However, after just five minutes the Rapid players, clad in their founding Blue and Red colours, were able to celebrate after all. A cross from Dejan Ljubicic was headed away, but only as far as Christoph Knasmüllner, who kept his cool to bury the ball into the corner for 1-0! The ideal start, and a great way to mark the occasion for Knasmüllner, who became a father not even a week ago.
Credit to WSG though, they stuck at their task and ex-Rapid man Petsos as well as captain Pranter had good shooting chances, albeit from long distance. They certainly showed that they weren't about to give up, which is no surprise after they came from behind twice to defeat table-topping Salzburg just days ago. Just after the quarter-hour mark came our next sign of encouragement, Dejan Petrovic did well to set up Maximilian Ullmann on the edge of the area, but his shot rose over the bar before we began to take control of the game. In the hunt for a second goal, Thorsten Schick delivered a set-piece onto the forehead of Mateo Barac, but his header from an angle was just wide (33'). Arase then took advantage of a mistake to get a shot away, but that was deflected wide too. With two minutes to go before the break, WSG keeper Ozegovic prevented a second goal with a marvelous stop, pouncing like a handball goalie to deny Arase's fine shot after a good Rapid break. 1-0 it was to remain until half time.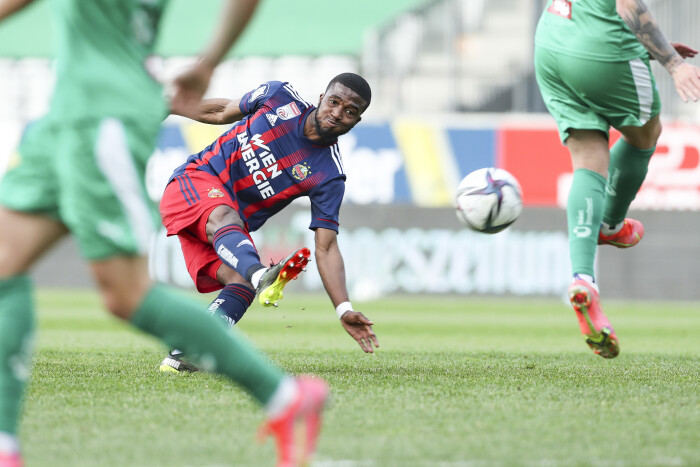 Unnecessary drama in the second half, but three points in the end!
There were no changes at the interval, and once more just three minutes after the restart Rapid went close. Ercan Kara gave Arase the perfect set up, but the chance was spurned from a great position. Whilst the scoreline could have been 2-0 or 3-0, it was still only 1-0, so WSG were able to remain firmly in the contest. The scoreline got even less pleasing when Mateo Barac, under heavy pressure, nodded the ball into his own net for 1-1.
However, we struck back quickly when the ball switched at pace from Ullmann to Schick and eventually across the six-yard box to Kelvin Arase, who finally tucked away the goal that the performance merited, after three golden chances for the Austria U-21 international. 2-1 (54')! Taxi Fountas was soon brought on to replace him, fresh from his hat-trick in our last away game vs WAC, and not long after, he capitalised on an error from the keeper to get on the ball, but his hasty reaction saw the shot miss the target when we might have extended the lead further. The miss was almost punished when Richard Strebinger was forced into a top save to deny substitute Anselm (68'), but with WSG sensing the danger, they found a way through in the end. Strebinger and the Rapid defence managed to get in each other's way enough to allow Anselm an opportunity on the ball, and he gratefully accepted by tapping in for 2-2 (72'), although Strebinger got close to making the save.
Just as the Rapid Quarter-Hour got underway, Fountas fired an unstoppable effort into the goal from the edge of the box following another assist from an in-form Schick, and suddenly we led once more: 3-2 (76')! Even with cramp in the legs, the hosts refused to give up, so the tension mounted as the clock ticked away, a situation which felt more than unnecessary when you considered all the chances we'd missed in the game.
Thankfully, with substitutions and stoppages the game ran out of steam, and no more chances were created. Didi Kühbauer and his Rapid side held on to win 3-2, and claim a 16th victory of the campaign. It's been 12 years since we last managed that at the 28 game mark! To top it off, draws elsewhere meant that the Green and Whites strengthened their grip on 2nd place, and at the same time closed the gap to the leaders, making match day 28 a really good round for Rapid!
Fotos: GEPA
Unsere 3 Tore im Video!
info.video-with-product-placement
label.survey
Wer war dein Mann des Spiels beim 3:2-Auswärtssieg gegen die WSG Tirol?