12.12.2021
ADMIRAL Bundesliga, Spielbericht, Profis
An Away Win to Welcome the Winter Break
After the emotions of our vital win away in Belgium on Thursday, Rapid played their last competitive match of 2021 against Admira on Sunday. Match day 18 of the ADMIRAL Bundesliga still had plenty riding on it for Rapid, with three points very much needed, and a first away win of the campaign in our sights. With the energy from Thursday still in our minds, we wanted to head back to Hütteldorf on a high for the winter break, with points in the bag.
There were three changes from Ferdinand Feldhofer's last line-up: Paul Gartler remained in goal; Jonas Auer, Martin Moormann, Emanuel Aiwu and Filip Stojkovic were in defence; Robert Ljubicic, the goal hero against Genk, started beside captain Srdjan Grahovac; with the attacking four made up of Marco Grüll, Christoph Knasmüllner, Thorsten Schick and Taxi Fountas.
Although Rapid pushed forward early on, the final ball was often lacking. To alleviate this issue, Taxi Fountas avoided a final pass altogether just before the quarter-hour mark, as he burst forward with the ball at his feet, took advantage of defenders backing off, and dispatched the ball precisely into the bottom corner for 1-0 (14')! Two minutes later Marco Grüll nearly doubled the lead, but his free kick was deflected away at the last moment. Suddenly, a setback came for the Green & Whites. A free kick from the right was headed up and over everyone towards the back post by Zwierschitz, and it crept in for 1-1 (18'). That goal boosted the home team's morale, but with our defence holding out skilfully, we kept the scores level until the break.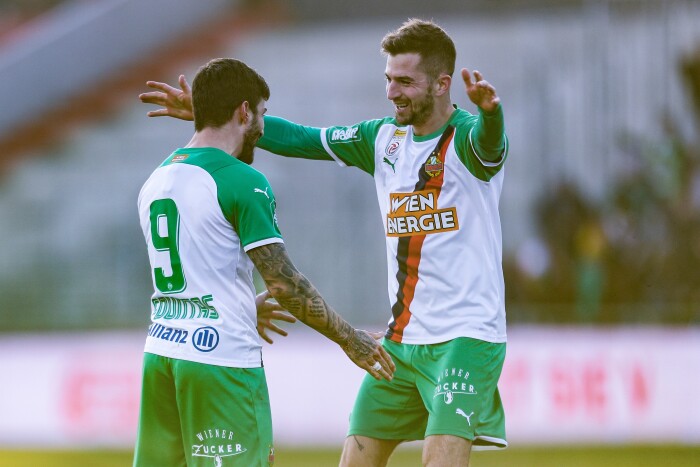 Once the game was restarted, it was Rapid's aim to go for a winning goal. The team came back out with no changes, and we soon had a chance when Grüll's cross came ever so close to Fountas, who was millimetres away from applying the final touch (49'). The roles were reversed two minutes later, but Grüll's shot was blocked. Admira were still playing bravely too, and for a change, the inside of the post came to Rapid's rescue when Mustapha's shot had beaten Gartler in goal, following an unfortunate slip from Aiwu against his old club.
Coach Feldhofer brought on Petrovic, Arase and Kara to change things up, and it made an immediate difference. After a nicely worked attack from the left, Fountas teed up a cross towards Ercan Kara, who got up quickly to power the header into the goal for 2-1 (63')! Just after the Rapid Quarter-Hour had begun, Fountas was replaced by Kitagawa, and ten minutes later he had a big chance! Arase was clean through on goal but lost his footing in front of the keeper, Kitagawa was following up well and reacted first, but fired the rebound over the empty net (88'). In injury time our away fans were cheering when a lovely Kitagawa pass was converted by Kara, but the offside flag ruled the effort out (91'). Four minutes later, the narrow win was nevertheless sealed!
 We therefore traveled back to Hütteldorf with three points in the bag, making for a positive start to the winter break. For the next few weeks the goal is clear; to recharge the batteries and come back stronger for 2022! Early in February, our team will restart with the UNIQA ÖFB Cup tie against TSV Hartberg, and then a meeting against Salzburg at the Allianz Stadium. Whilst we're looking forward to the spring, for now we hope that the Rapid players can have a refreshing Advent season, and here's to a successful reunion when action starts again next year!
Fotos: GEPA
Die Stimmen nach dem Spiel gegen die Admira
info.video-with-product-placement
Grün-Weiße Torparade: Admira vs. SK Rapid
info.video-with-product-placement
label.survey
Wer war Dein Man of the Match beim 2:1-Auswärtssieg gegen die Admira?