19.01.2022
Profis, Trainingslager, Spielbericht
Rapid come through 2-1 against KS Cracovia in Belek
On Saturday, the SK Rapid team aircraft departed for Belek and now it was time for the first real test on the agenda in the winter training camp. Our team have been training in the finest of conditions on the Turkish Riviera in order to prepare for the upcoming challenges with renewed energy. Returning player Yusuf Demir is also full of energy, as he told us in an exclusive interview on Rapid TV!
At 13:00 (CET) our team, under head coach Ferdinand Feldhofer, faced the Polish first division team KS Cracovia.
The first chance came from our side: After some good interplay, Taxi Fountas put the ball in the middle, but Ercan Kara's shot was just wide (3'). After ten minutes, Fountas almost gave us the lead with a direct free kick (9'), before Kara put the ball too close to the keeper two minutes later. Our number 29 then had a go with his heel, but the finish with finesse was no problem for the Cracovia stopper (18'). After almost half an hour of clear superiority, there was a reason to cheer: Following an attempted finish from Kara, the ball came to Kohya Kitagawa, who was able to make the most of the rebound and dispatched the ball coolly: 1-0 (28.)! Shortly afterwards, Robert Ljubicic had a second goal at his mercy, but the opposing goalkeeper was able to intervene at the very last moment. The teams went into the break holding a narrow but well-deserved lead.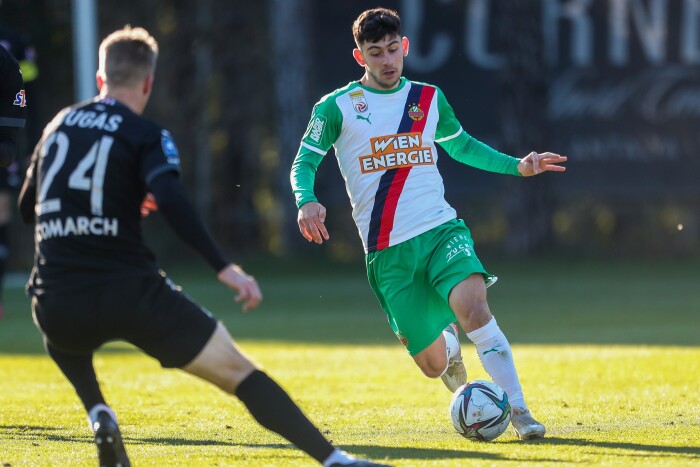 In sunny but windy conditions, the players headed back onto the field. Mere minutes after the restart, Lukas Sulzbacher was penalised for a foul and Cracovia were awarded a penalty, which led to the equaliser from Pelle van Amersfoort: 1-1 (46'). Our team pressed hard for the lead, but in the next phase of the match, there was no way through. In the 85th minute though, something special happened: Moritz Oswald took the ball first time from the edge of the penalty area, and scored with a stunning volley to make it 2-1! Three minutes later, Marco Grüll made an excellent run down the flank, but Yusuf Demir's resulting shot was too central. After 90 minutes the win was secured: It was a strong performance from our team, and we completed the first friendly match here in Belek with a win by two goals to one. Well done, lads!
The next match is on Saturday at 13:00 (CET) against Pogon Szczecin (live on Rapid TV) and at 15:30 against FK Teplice!
Fotos: GEPA
------------------------
SK Rapid vs. KS Cracovia 2:1 (1:0)
Wintertrainingslager Belek
Goals: Kitagawa (28.), Van Amersfoort (47./Elfmeter), Oswald (85.)
Rapid-11 1. half: Hedl; Schick, Hofmann, Aiwu, Auer; Arase, Velimirovic, Ljubicic, Kitagawa, Kara, Fountas
Rapid-11 2. half: Hedl; Sulzbacher, Stojkovic, Dijakovic, Moormann; Grahovac; Petrovic, Oswald; Demir; Strunz, Grüll
Die Stimmen nach dem Spiel
info.video-with-product-placement
Die Highlights der Partie
info.video-with-product-placement