10.04.2022
Spielbericht, ADMIRAL Bundesliga, Profis
Super-sub Savic secures home win with wonder strike!
Rapid's first home game since the international break saw Wolfsberger AC visit the Allianz Stadium on Sunday afternoon. With the two teams occupying fourth and fifth places respectively in the ADMIRAL Bundesliga table, there was an urgency about the tie, as both sides had a target of coming away with no less than three points. Head Coach Ferdinand Feldhofer faced off against his former club looking to repeat the home win that Rapid enjoyed in August, but as WAC had recorded a big home win themselves in the last meeting in November, it was sure to be a challenging day.
Christopher Dibon was finally amongst the back four again after a long injury-related absence, and with Marco Grüll suspended, as well as a number of players out ill, there was room for Thorsten Schick, Christoph Knasmüllner and Yusuf Demir to start behind Berni Zimmermann up front. A youthful Rapid bench featured no players older than 22 years of age, with Pascal Fallmann, Aristot Tambwe-Kasengele & Rene Kriwak amongst others getting a taste of the first team experience.
In an even opening ten minutes contested at a furious pace, a couple of half-chances fell to Knasmüllner, but at the other end Kevin Wimmer made an important intervention, and Rapid keeper Niki Hedl had to be alert on a few occasions to deny Taferner and keep the scores at 0-0. Berni Zimmermann continued his industrious play in Green & White as he fired a low shot across the face of goal, but while it evaded the WAC keeper, it also went past the far post, and Knasmüllner couldn't get close enough to tap it in (12'). A deflected shot from Schick rounded out a breathless first quarter of an hour, after which both teams probably felt that they were on top!
 Just as the game appeared to be settling down a little, spaces began to open up again, and once more Hedl earned his stripes with a confident one-on-one stop against Veratschnig (26'). A series of dangerous crosses then gave the guests some issues, and when Demir's ball-in fell to Dibon in the box, Rapid had their next good shooting opportunity, although the defender's shot was straight into Kofler's gloves (28'). Hedl was forced into a sprawling dive as a Wolfsberg shot was deflected wide by Wimmer, and the young keeper excelled again as he dealt with the danger from the resulting corner (30'). 
 The first half highlights reel was growing longer by the minute, but Rapid were finding it hard to match the quality of chances that WAC created; that was until Robert Ljubicic's pass unlocked space on the right of the area for Schick. The reliable assist-provider cut the ball back for Zimmermann, whose low finish found just the precision it needed to squeeze in between keeper and defender! 1-0 Rapid (38'), a fourth league goal for the young forward, and an ideal response to Wolfsberg's pressure! The game finally calmed down at that point, and an exciting 45 minutes ended with the home team shading the stats, and leading by one.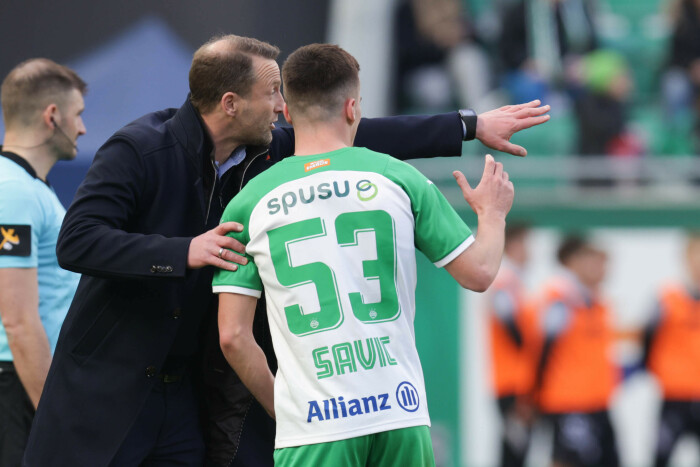 The second half began at a slightly more sedate pace, but it was the players in Green & White who carved out the first big chance ten minutes in. Demir chipped a through pass into the area, where Knasmüllner brought it down beautifully, before agonisingly sliding his shot inches wide with his second touch (55'). With an hour gone, Leitgeb's header hit the bar for WAC, before a goalmouth scramble was successfully defused by the Rapid defence. This was still anyone's game, and the home crowd would certainly not feel comfortable while the score remained 1-0.
Nicolas Binder replaced Knasmüllner in attack to make his Bundesliga debut after 67 minutes, but the Rapid defence were being called into action more often; a thunderous yet clean Stojkovic tackle summed up the defensive spirit before the beginning of the Rapid quarter-hour. Unfortunately the home team's hard work was undone when Vizinger slid a pass through to Taferner who stayed onside and finished well for 1-1 (75'). Fifteen minutes to go, and everything still to play for, but the Green & Whites would need to turn the tide back in their favour.
Dragoljub Savic and Pascal Fallmann came on to see what they could bring to the table, and it was the former who lit up the game in stunning style! Binder laid the ball off towards the striker who had just come on, and Savic rocketed his shot straight into the top corner from outside the box (80'). What a way to get your first Bundesliga goal, 77 seconds after being introduced! Feldhofer's changes had worked wonders, and now Rapid led 2-1 into the closing stages. A nutmeg from Ljubicic set up another shot across the face of goal from Zimmermann (83'), but WAC still posed a real threat.
Our defender from DR Congo Tambwe-Kasengele came into the action with a few minutes left to hold out (88'), and Niki Hedl did just that, clutching the ball safely in the face of a crunching tackle from Novak (90'). With six minutes added on there was still an anxious wait for full time, but another solid stop from Hedl denied Baumgartner, and after 96 minutes, the Green & Whites had sealed a glorious victory under difficult conditions with 17 players unavailable. Commiserations to WAC who played an excellent game, but this was Rapid's day, and one to remember for so many of the team's young talents. With three more points, the team go marching on towards next weekend's game in Graz. BRAVO RAPID!
Fotos: GEPA
SK Rapid vs. Wolfsberger AC 2:1 (1:0)
ADMIRAL Bundesliga | 26. Runde | Allianz Stadion
Tore: Zimmermann (38.), Savic (81.); Taferner (75.)
Rapid-11: Hedl; Wimmer, Dibon ©, Stojkovic; Auer, Ljubicic, Grahovac, Schick (79. Fallmann); Knasmüllner (68. Binder), Demir (79. Savic); Zimmermann (88. Tambwe-Kasengele)
Ersatz: Unger, Kanuric, Kriwak, Savic, Fallmann, Tambwe-Kasengele, Binder
Die Stimmen nach dem Spiel
info.video-with-product-placement
Die Pressekonferenz nach dem Spiel
info.video-with-product-placement