08.05.2022
Spielbericht, Profis, ADMIRAL Bundesliga
336th Vienna Derby ends in all-square again! Match report:
After an incredible run of six consecutive Vienna Derby draws that stretched way back to 2019, Rapid's job on Sunday evening was to bring back the city's bragging rights to Hütteldorf, by emulating the last derby victory, a 3-1 away win at the Generali Arena in September, two and-a-half years ago. The 336th Vienna Derby took place in the same venue in the south of the city, and with a packed house - including a huge chunk of away supporters in Green & White in the corner - it was certain to be a special occasion. The Violets started match day 30 just two points behind Rapid in the table, and both teams knew that this game would be a pivotal moment in the race for third place and guaranteed European group stage football.
Head Coach Ferdinand Feldhofer started with Paul Gartler in goal, as Maxi Hofmann led the team out into the arena wearing the captain's armband for the big occasion. With vocal support from both ends, the game got underway, and as a statement of intent Rapid had the ball in the Austria area within the opening seconds, but a final shot didn't materialise (1'). Filip Stojkovic suffered a knock from a nasty landing, and with it being a neck injury, unfortunately he had to leave the field on a stretcher after just a few minutes of play - get well soon, Filip! Thorsten Schick came on in his place, but the opening 20 minutes of play were disrupted by the break, and a number of fouls and offside calls meant that neither team found any flow.
From a set-piece, Marco Djuricin volleyed the hosts' first half-chance wide (25') as Austria began to settle into the game more, however the Green & Whites were looking comfortable at the back as Hofmann made a few key interceptions, it was keeping possession in the final third which was becoming problematic for Feldhofer's team. Alexander Grünwald turned on the edge of the box and tested Pauli Gartler with a rare shot on target, but his first save of the day was very much a routine stop (34').
A powerful Berni Zimmermann strike was blocked as Rapid began to explore their attacking options, but just as people were preparing for a half of few chances to finish at 0-0, the away fans had an opening goal to celebrate! Emanuel Aiwu sent a pass into the box for Kelvin Arase on the right, and his square ball across the area was tapped in from close range by Berni Zimmermann! 1-0 Rapid (37')! Marco Grüll ran into space and registered a shot on target in the five added minutes at the end of the first half, but although Rapid remained in the ascendency, just the one goal would have to do as the teams headed for the tunnel.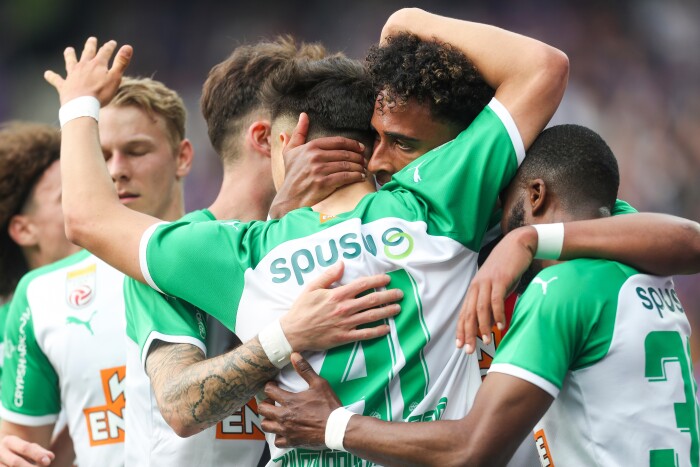 After the restart, another Grüll effort was dragged just past the near post (49'), before Hofmann was booked for bringing down Austria's half-time substitute Noah Ohio (52'). Going forward though, he was able to loft a through pass into the penalty area for Christoph Knasmüllner, who had to wait an age for the ball to come down before he prodded it goalwards (54'). That shot was just saved, and from the resulting corner Hofmann again was at the forefront, as he flicked a shot just wide of the frame (55').
Sensing that their team were slipping out of the game, the home fans began to sing. It almost had an effect immediately as Martin Moormann deflected a cross towards his own goal, but Gartler was untroubled (56'). As the away team regained their upper hand in the second half, they were dealt a bitter blow; goal hero Zimmermann picked up a second yellow card, and Rapid were down to 10 men (58'). Ohio went close to a leveller when he rounded Gartler and slid his shot wide (63'), but the Green & Whites were suddenly up against it from a position of control just minutes before.
Knasmüllner was replaced by Jonas Auer as Ferdinand Feldhofer looked to adjust to the red card, but soon after, Can Keles forced Gartler to tip a long shot over the bar and behind (68'). Austria were playing with renewed belief, and Rapid's defenders were getting busier with more than 20 minutes still to play. A brilliant block from Aiwu deflected a dangerous Alexander Jukic shot to safety (77'), but a few minutes after that, a ball over from the left was swept home by Ohio for 1-1 (81'). It was painful for Rapid but it had been coming, and Paul Gartler had to stay alert to tip over a Dominik Fitz shot just seconds after kick off (82').
Kohya Kitagawa came on in the closing stages as the 10 men in Green & White were starting to look tired (85'), but in truth his job was as much about defending as attacking, as Rapid required all hands on deck to preserve a precious point. A great touch from the Japanese striker opened up a rare chance on the right in stoppage time, but the cross was parried away and neither Robert Ljubicic nor Emanuel Aiwu could get in a shot (93'). It ended after 94 minutes with the score at 1-1 once again. A hard-fought battle and a well-earned point at the end of the day, to keep Rapid in third place, with the club's European fate in their own hands.
Next week the action returns to Hütteldorf, as Rapid welcome Salzburg to the Allianz Stadium on Sunday the 15th of May. We look forward to seeing you there as we cheer on the lads to finish off the home fixtures for 2021/22 in style! LET'S GO!
Fotos: GEPA
FK Austria vs. SK Rapid 1:1 (0:1)
ADMIRAL Bundesliga | 30. Runde | Generali Arena
Tore: Zimmermann (38.); Ohio (81.)
Sonstiges: Zimmermann (58. Gelb/Rot)
Rapid-11: Gartler; Moormann, Wimmer, Hofmann ©, Stojkovic (8. Schick); Ljubicic, Aiwu; Grüll (83. Kitagawa), Knasmüllner (61. Auer), Arase (83. Oswald); Zimmermann (58. Gelb/Rot)
Ersatz: Unger, Demir, Schick, Petrovic, Auer, Oswald, Kitagawa
Die Stimmen nach dem Spiel
info.video-with-product-placement
Alle Highlights der Partie
info.video-with-product-placement
Die Pressekonferenz nach dem Spiel
info.video-with-product-placement