25.07.2022
Profis, Spielbericht, ADMIRAL Bundesliga
Home win to begin Bundesliga campaign
A late strike from Berni Zimmermann brought Rapid all three points in a tough season opener against a plucky SV Ried side. Rapid rode out some spells of pressure to finish the stronger of the two teams, and claim a morale-boosting win with several big players yet to return to first team action.
On Sunday evening, it was time for the opening round of the ADMIRAL Bundesliga season, with a match in beautiful summer sunshine against SV Ried. Close to 14,000 fans came out to witness the first game of the league campaign for themselves, and they would certainly get to see a close contest. After Thursday's goalless draw against Lechia Gdansk in UECL Qualifying, the target was to find the back of the net, and get the win to kick off the campaign properly. With Emanuel Aiwu unwell, and Ante Bajic, Ferdy Druijf, Patrick Greil and Roman Kerschbaum all missing out as they did for Thursday's game, Ferdinand Feldhofer opted for the following XI: Niklas Hedl; Kevin Wimmer, Martin Koscelnik, Michael Sollbauer, Jonas Auer; Christoph Knasmüllner, Aleksa Pejic, Nikolas Sattlberger; Marco Grüll, Dragoljub Savic and Guido Burgstaller.
From the off the home team were on the offensive, Sollbauer's early header from a Grüll corner sailed just over the top (2'), and shortly afterwards, Grüll himself had a go with a good hit from outside the area, but it found only side-netting. The guests were putting up a spirited fight though, and Niki Hedl had to make a crucial one-on-one stop to keep Ried at bay in the first half. The Upper Austrians had their tails up, and a free kick came back off the woodwork as they again went close to the opener in the first 20 minutes. On the counter, we had our own chances, but the passing wasn't quite accurate enough to get through the defence. Burgstaller missed with an attempt as Rapid regained their foothold in the game (23'), and Savic tried himself with a solo run, only to see his eventual shot blocked by the foot of a defender. Hedl was called into action once more with a good save before the break, but overall at half time, it was an even game with a few good chances at both ends, and yet a 0-0 scoreline.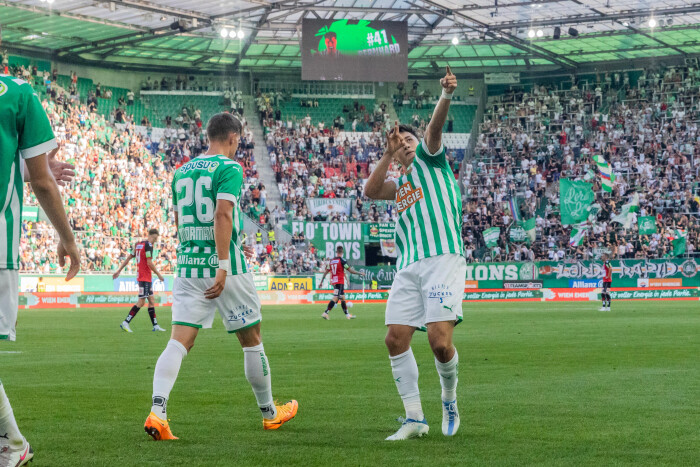 After the restart both teams needed a bit of time to settle into their rhythm again. Just after the hour mark came the best chance for the Green & Whites; substitute Zimmermann was at the end of a nice passing combination, and his final shot wasn't bad, but it ended up just wide (61'). Just five minutes later the Ried keeper had to be well placed to deny Burgstaller, and with Rapid still in the ascendency, Thorsten Schick volleyed just over from a corner kick. The fans gathered their energy to welcome in the Rapid Quarter-Hour, and it paid dividends! Zimmermann received a pass in the area, maneuvered himself around to get a shot in and buried an angled strike low into the net for 1-0 (75')! Nic Kühn had a chance to seal the deal after he brilliantly beat two Ried defenders, yet another was able to deflect his finish to safety. Nevertheless, Rapid's own defenders would next be tested for the rest of the game, and so the home fans and players were able to enjoy an important win to get the season started. Bravo Rapid!
Fotos: GEPA
Die Stimmen nach dem Spiel
info.video-with-product-placement
Die Pressekonferenz nach dem Spiel
info.video-with-product-placement
label.survey
Wer war der Rapidler des Spiels beim 1:0-Sieg gegen Ried?