04.08.2022
Spielbericht, UEFA Europa Conference League, Profis
UECL: Positive finish despite defeat in Baku
A challenging encounter in Azerbaijian ended on a positive note, as Rapid trailed 2-0 against Neftci, before a strong closing phase brought confidence for the home leg, as well as a precious late goal from Guido Burgstaller.
After coming through the second qualifying round with a well-earned 2-1 away win against Lechia Gdansk, Rapid's next Conference League test would also be away from home. Thursday's game in Baku represented a first for SK Rapid, as we faced, in the form of Neftci, our first ever opponent in Azerbaijan. Neftci's domestic season is yet to begin, but they showed the danger that they possess by defeating Aris Limassol 3-0 to come from behind to reach this round.
The next game was already drawn by UEFA, with the winner of the tie facing FC Vaduz or Konyaspor, but both teams were of course fully concentrated on round three first. Ferdinand Feldhofer had almost a full squad at his disposal, as Patrick Greil was declared fit just in time, but Ferdy Druijf, Roman Kerschbaum and Yusuf Demir were not yet ready for the first leg. Guido Burgstaller and Berni Zimmermann led the line in the starting XI, as they spearheaded Rapid's quest for some goals to take things back to Vienna in a good position for next week's home game in Hütteldorf.
In the heat of the Azerbaijani capital, the game started swiftly from both teams; our first effort came after just 17 seconds, and the hosts managed one of their own inside three minutes. Zimmermann had a go with an overhead kick (5') and the boys in their Blue and Red away jerseys looked to push the ball up-field quickly when given the chance. Defender Michael Sollbauer was making his European debut for Rapid, but he couldn't crown it with an early goal, heading into the keeper's gloves from a corner (11'). Another high ball forward sat up nicely for Ante Bajic five minutes later; his dipping half-volley was a beautiful sight, but seeing it crash off the crossbar and away was agonising. Marco Grüll got under the rebound, only to be shoved down by the Neftci keeper… all eyes were on the referee, but no penalty was given (16').
Rapid were right in the contest in the first half, and the attackers saw plenty of the ball. The defenders were also kept busy often by a motivated home team, and after the much needed "Cooling break" (27') they turned it up a notch; Niki Hedl had no trouble keeping them at bay for now though, making a notable stop from a close range header. Unfortunately there was nothing our keeper could do about the opening goal, as Ataa Jaber's shot from outside the area took a wicked deflection off a defender, and bounced into the middle of the Rapid goal just before the break.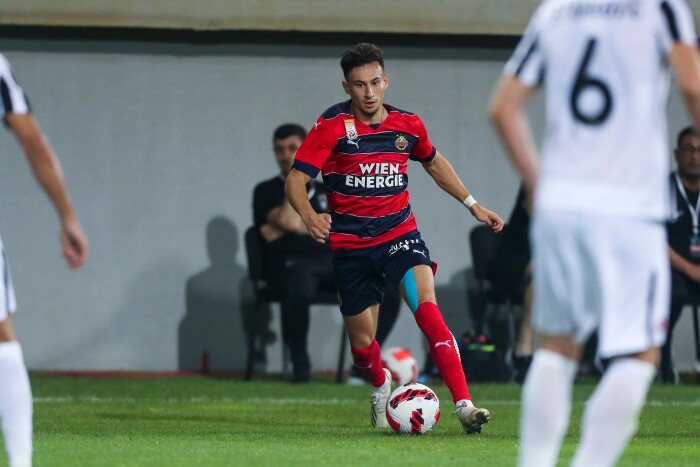 Thorsten Schick started the second half in place of full back Jonas Auer, yet after an early shot from Burgstaller, there was a shortage of real chances for a while, and the hosts took control of proceedings. Patrick Greil and Nicolas Kühn came on to try to shift the momentum, but suddenly the hosts doubled their lead. A mix up with a pass towards our own goal led to Kenny Saief nipping in and taking the ball past the keeper, and just as it looked as though Kevin Wimmer would slide in and save the ball on the line, it bobbled past him and crept in for 2-0. A big setback in the tie (60').
We needed a big response, and although the passing combinations were working well, we struggled to turn those into chances in the final third. Kühn had a go (66'), but it wasn't until the closing stages that we got an attacking foothold in the game. Dragoljub Savic and Rene Kriwak came on (73'), but it was defender Martin Koscelnik who was next to go close (78'). Nic Kühn fired an accurate shot goalwards moments later, forcing the Neftci keeper into his first desperate save (80'), and reigniting Rapid's belief for the final minutes.
When extra time came around, it looked as though we were stuck at 2-0, as Nic Kühn again did well to volley at goal, but his effort flashed just wide past the far post (91') and a placed shot from Patrick Greil was only just held by the goalkeeper's gloves (93'). Thankfully, our efforts in the Baku heat were not yet over, and Rene Kriwak nodded a long ball on to captain Burgstaller, who took it in his stride and drove a low strike into the bottom corner to get us on the board (95')! It was virtually the last kick of the game, meaning we ended up losing our first competitive game of the season after four wins and a draw, but the goal certainly makes the second leg more interesting. Let's give it everything to turn around the 2-1 deficit at home next week!
Fotos: GEPA
info.video-with-product-placement
info.video-with-product-placement
Neftci Baku vs. SK Rapid 2:1 (1:0)
UEFA Europa Conference League | 3. Qualifikationsrunde | Bakcell Arena
Tore: Jaber (44., 60.); Burgstaller (95.)
Rapid-11: Hedl; Auer (46. Schick), Wimmer, Sollbauer, Koscelnik; Oswald (59. Greil), Pejic; Grüll (73. Savic), Zimmermann (73. Kriwak), Bajic (59. Kühn); Burgstaller ©
Ersatz: Unger, Gartler; Kühn, Knasmüllner, Schick, Hofmann, Greil, Sattlberger, Fallmann, Kriwak, Querfeld, Savic