01.09.2022
Profis, UNIQA ÖFB Cup, Spielbericht
ÖFB Cup: Safe Passage to Round 3 Secured
Ferdy Druijf's second half header broke the deadlock in Styria, before Kevin Wimmer sealed the deal as we overcame a stubborn defensive effort from SV Allerheiligen to win in Round 2.
After coming through a 97-minute cup thriller against SK Treibach in Round 1, this week saw another away trip as we were drawn against Styrian opponents SV Allerheiligen in Round 2. From a sporting perspective, a good result was needed to bring some positivity after a turbulent past week. Max Hofmann had to miss out after a recent concussion, and Leopold Querfeld's forehead cut was not fully healed in time. Martin Moormann was also suspended after the last game, meaning we were missing several defenders.
The game started very offensively on both sides, after just one minute Jonas Auer crossed into the hands of the keeper (1'), before the Styrians fortunately missed a double chance (3'). The attacking impetus continued with Aleksa Pejic, who put his low shot just wide after a ball in from Nic Kühn (7'). It was our number 7 again who had our biggest opportunity so far in the game, but after asserting himself on the ball very well, he could only hit the aluminum (9'). Just five minutes later, Guido Burgstaller headed over (14'), before Yusuf Demir placed a finish too centrally (16'). Next up Guido Burgstaller was involved again, but his cross was a few centimetres too short to reach Patrick Greil (27'). With our team creating chances freely, it was just a case of getting the all-important goals, yet just under ten minutes later, the opposing keeper again managed to pluck a Greil header from the air, before Aleksa Pejic tried his own luck with a header, to no avail (44'). It was a familiar story for the time being; 0-0 at the break.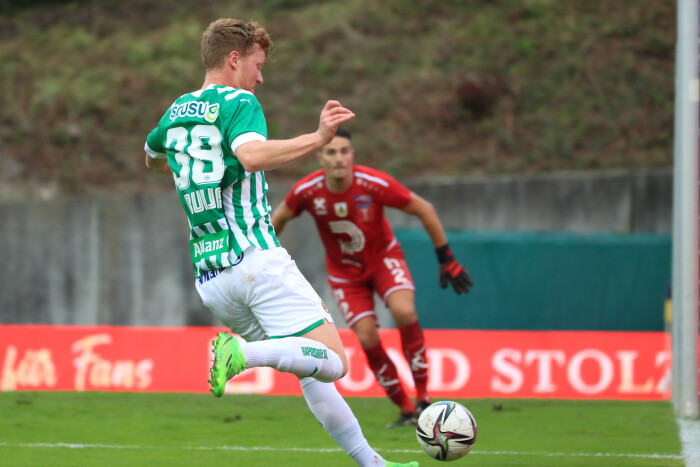 Our team started the second half with a change; Ferdy Druijf came on for Patrick Greil (46'). Our number 38 had the first chance in the second half, but Druijf missed from an acute angle, finding only the side-netting (60'). Ferdinand Feldhofer reacted with a double substitution, bringing on Marco Grüll and Thorsten Schick for Guido Burgstaller and Martin Koscelnik on the hour. The substitutes did their duty and helped make the breakthrough: After a precise cross from Thorsten Schick, Ferdy Druijf rose up in the area to nod past the stranded goalkeeper and into the back of the net; 1-0 (66')! For the next few minutes, the team remained on the offensive, and in the 79th minute, Kevin Wimmer made it 2-0, controlling a corner kick deep in the area, and firing it home through a sea of yellow Allerheiligen shirts! With that second goal, Christoph Knasmüllner came on for Nic Kühn (80'), and five minutes later Berni Zimmermann also followed for Roman Kerschbaum (85'). The Styrians kept trying despite time running out, and they defended well, as they had done for almost the whole game, and therefore no more major chances fell our way.
Nevertheless, the two goals were enough for SK Rapid to book a place in the Last 16 of the UNIQA ÖFB Cup. The draw takes place early in September, and before that we'll look back to the ADMIRAL Bundesliga, as we face a long away trip to Altach on Sunday.
Fotos: GEPA
SV Allerheiligen vs. SK Rapid 0:2 (0:0)
UNIQA ÖFB Cup | 2. Runde | Sportplatz Allerheiligen
Tore: Druijf (66.), Wimmer (79.)
Rapid-11: Hedl; Auer, Wimmer, Sollbauer, Koscelnik (60. Schick); Greil (46. Druijf), Pejic; Demir, Kerschbaum (85. Zimmermann), Kühn (80. Knasmüllner); Burgstaller © (60. Grüll)
Ersatz: Gartler, Knasmüllner, Schick, Dibon, Grüll, Druijf, Zimmermann
info.video-with-product-placement
info.video-with-product-placement
label.survey
Wer war Dein Rapidler des Spiels beim Auswärtssieg im ÖFB-Cup gegen Allerheiligen?