26.04.2023
ADMIRAL Bundesliga, Spielbericht, Profis
Rapid Rally to Share the Spoils with Salzburg
Rapid battled back having gone a goal down against the league leaders, as Guido Burgstaller underlined his status as a Golden Boot contender with his latest important goal for the Green & Whites, who had to overcome a late dismissal to take a precious point from Salzburg.
As the season comes towards a conclusion, the games are coming thick and fast for Rapid. In a special week in which the team are preparing for Sunday's ÖFB Cup final, first we had the not insignificant task of facing Salzburg at home in the ADMIRAL Bundesliga on Wednesday evening. Under the floodlights of the Allianz Stadium, Rapid required a good showing not only for cup confidence, but also for precious league points.
Just ten seconds in, the Green & Whites could have made a lightning start; Thorsten Schick set Ante Bajić away, but his shot was blocked at the last moment by the defender (1'). The opening phase was clearly in our control, a cross from Nic Kühn also sought to pick out the head of Guido Burgstaller, but unfortunately it just missed him (10'). Despite a strong opening 15 minutes, the Salzburgers took the lead through an impressive bit of play from Karim Konate, who finished from an angle. 0-1 (16').
The goal gave the guests more confidence and Niki Hedl had to extend himself to deflect a long-range shot with his fingertips onto the crossbar (21'). The next phase of the game was very even, however, and neither team was able to assert themselves decisively. Five minutes before the break, Roman Kerschbaum had a go with a direct free kick from the edge of the area, but he just missed the target (40'). However, what followed was the finest passage of play before the break: Patrick Greil delivered a low cross into the middle, and who else but our main man Guido Burgstaller would be arriving right on time to collect the pass and finish coolly to level things up at 1-1 (44')! That all-important goal just before the break gave our boys a boost; Patrick Greil tested the keeper, Roman Kerschbaum won the second ball and even forced it into the net - but after a minute-long VAR check, the goal was disallowed for offside (45'), so we went into the dressing rooms with an entertaining but even game on our hands.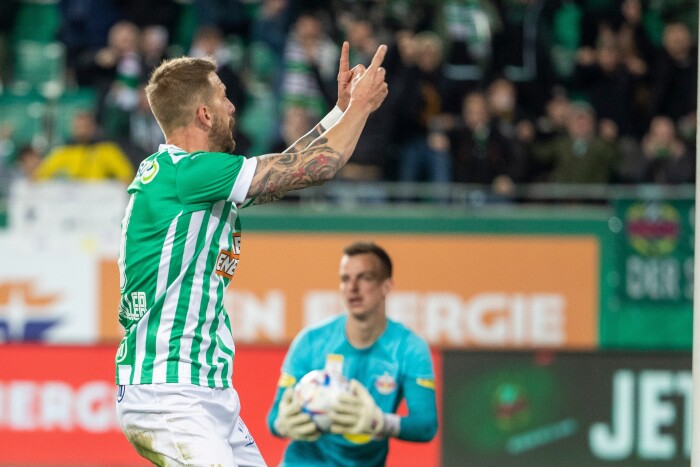 The team returned to the pitch unchanged, but it didn't take too long for the first action of note in the second half, as our goal scorer Guido Burgstaller went through, only to be denied by the foot of the Salzburg keeper (53'). The play began to look a little more laboured after that, so head coach Zoran Barišić brought fresh impetus into the game with Marco Grüll coming on for Nic Kühn (66'). Soon after, Niki Hedl excelled himself by expertly tipping away an awkward free kick (68'), and Oliver Strunz and Ferdy Druijf were then also given a chance to prove themselves, coming on in place of Ante Bajić and Patrick Greil respectively (70').
Barely ten minutes later things got turbulent in our penalty area, and after a VAR check Michael Sollbauer was dismissed with a red car received after some supposed jostling. It's a double blow, because he'll now also miss the Cup final - but with ten men we had to fight until the end (82'). Moritz Oswald came on for Guido Burgstaller (85'), yet neither side could quite find their feet and push for a winner. In the final minutes of the game, there were some heated exchanges, with several fouls leading to arguments on the field, but from a sporting point of view there were no more big chances, which is why after 95 minutes the score was still 1-1!
Despite being outnumbered, our team put in a performance to be proud of, something which we can definitely build on. We now have one point more to our name - and with that behind us, we're off to Klagenfurt on Sunday for a very important game, one which means so much to us all. Let's go, Rapid!
Fotos: GEPA
SK Rapid vs. RB Salzburg 1:1 (1:1)
ADMIRAL Bundesliga | 27. Runde | Allianz Stadion
Tore: Burgstaller (44.); Konate (16.)
Sonstiges: Sollbauer (82./Rot)
Rapid-11: Hedl; Auer, Moormann, Sollbauer (82./Rot), Schick; Kerschbaum, Pejić; Kühn (66. Grüll), Greil (70. Druijf), Bajić (70. Strunz); Burgstaller © (85. Oswald)
Ersatz: Gartler, Wimmer, Strunz, Grüll, Oswald, Druijf, Zimmermann
info.video-with-product-placement