09.06.2023
Verein, Profis
A New Arrival from the German U-19 Champions
The spring season is always a busy period when it comes to planning the squad for the upcoming campaign, and this year it's no different. Whilst Fally Mayulu - SK Rapid's first arrival ahead of the new season - was announced a while back, now we have a second name on the list of transfers concluded under the watchful eye of Managing Director of Sport Markus Katzer: Dennis Kaygin. The 19-year-old moves to Vienna having just won the German U-19 Bundesliga title with FSV Mainz 05. Kaygin will join up with the team during this summer off-season, and has signed a three year deal with an option.
At just seven years of age, the German junior national team player (who also holds Swedish citizenship) moved from his hometown club FSV Saulheim, to the youth academy of Mainz 05. The offensively versatile midfielder received almost all of his training at the self-proclaimed "carnival club" on the Rhine. The sporting highlight undoubtedly came this season in the A-Junioren Bundesliga, as Kaygin, who captained his team on many occasions, managed 22 goals in just 19 games, playing a key role in clinching the junior championship. The German-Swede also amassed three scorer points (one goal, two assists) in three DFB Cup junior matches this season.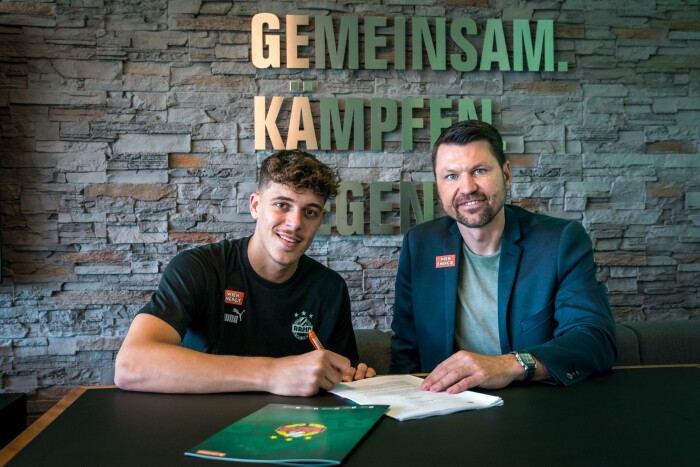 Dennis Kaygin said this on his move to SK Rapid: "The club officials at SK Rapid, especially Markus Katzer, made an effort to find me very early on and showed me a clear development plan, which I am absolutely convinced will be the right one. I've kept my eye on the Austrian Bundesliga over the last few years, so I also know what kind of appeal the club and the fans have nationally and internationally. I am highly motivated and looking forward to the new task at the biggest club in Austria, and to getting to know my new teammates, the coaching team and the entire staff."
Managing Director of Sport Markus Katzer: "Dennis is a really interesting player who attracted attention in the U-19s at FSV Mainz 05 not only with many scorer points, but also with his good performances. With his style of play, he will give us additional options in midfield in the future and, moreover, he is very versatile, especially in the centre. Nevertheless, this is Dennis' first step in senior football, so we shouldn't set our expectations too high, and we must give him the time he needs to get used to the Austrian Bundesliga. It definitely speaks for Rapid that such a player has chosen SK Rapid despite offers from Germany."
Head coach Zoran Barišić: "It's an open secret that I really enjoy working with young talents to develop them both athletically and as people. Dennis has enjoyed a very good footballing education at Mainz and comes to us with a lot of self-confidence. FSV Mainz 05's young talent has done an outstanding job in recent years and rightly has a very good reputation in Germany."
Fotos: Red Ring Shots
Servas, Deno!
info.video-with-product-placement
label.survey
Wer war Dein Rapidler der Saison 2022/23 (Auswahl geordnet nach Pflichtspieleinsätzen)