30.08.2021
Verein, Profis
Emanuel Aiwu joins SK Rapid
Shortly before the close of the summer transfer window, SK Rapid managed to sign our next new player for the 2021/22 season: After Kevin Wimmer, Marco Grüll, Robert Ljubicic and Jonas Auer, another U21 national team player has joined Head Coach Didi Kühbauer's squad.
Emanuel Aiwu joins the Austrian record champions from Flyeralarm Admira in the Südstadt. The 20-year-old defender has been given a contract in Hütteldorf for the next three seasons, running until the summer of 2023/24. From the youth ranks of St. Pölten, the six-time U21 team player moved to the youth program at Admira in the summer of 2013. Via the academy and the second team there, the Innsbruck-native made the leap into professional football, where he celebrated his Bundesliga debut in May 2018. Since then, Emanuel Aiwu has made a total of 89 competitive appearances, scoring five goals and assisting one. SK Rapid and their fellow Bundesliga side Admira have now reached an agreement on the transfer details, which have been kept confidential.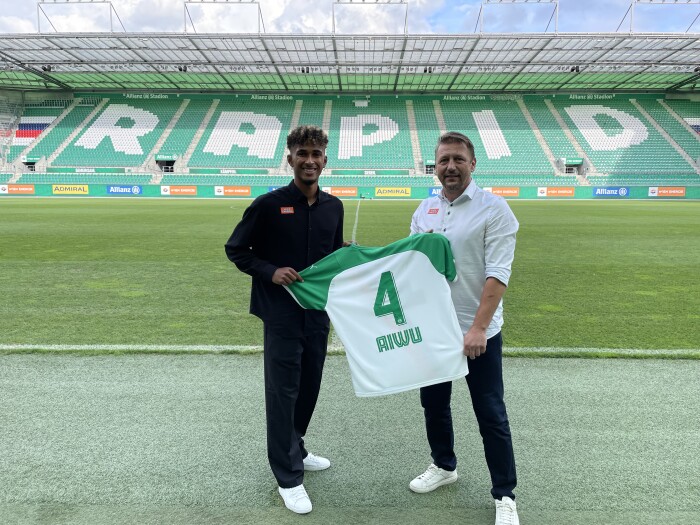 Managing Director of Sport Zoran Barisic had his say on the transfer: "After our previous transfers this summer, I am very pleased that we were able to sign another highly talented Austrian player in Emanuel Aiwu. Despite his young age, he has already gained a lot of experience in the Austrian Bundesliga and is also a defensively versatile player. The overall package is the right one, which is why we are very happy that Emanuel has decided to come to SK Rapid."
Head Coach Didi Kühbauer is equally pleased: "We've had Emanuel on our radar for a long time, because in addition to his footballing qualities, he already has a lot of experience in the Bundesliga. We are all the happier now that he wants to take his next development step with us, and we will support him in every area."
 Aiwu himself said: "I am overjoyed to be here. The talks with the club officials were very good right from the start, which is why I didn't have to think for too long about making this switch. Rapid is the biggest club in Austria, I am happy to be a part of the great history here and to wear the club colours, and I will give everything for the team out on the pitch."
info.video-with-product-placement
info.video-with-product-placement