08.11.2022
Tickets, Testspiel, Fanzone
Friendly Fixture against Schalke Confirmed
Dear Rapid fans!
As you probably already know, the 2022 FIFA World Cup means there's a very long winter break for the Austrian Bundesliga this season, and thus our team will play its last competitive match until the spring restart in early February on Saturday, November 12, in Hartberg. Nevertheless, we will take advantage of the compulsory match-free period to resume training after a short break and also to play one or two friendlies before Christmas.
Before we announce the exact schedule, we would like to invite you to mark Friday, December 9th in your diaries. On that date, SK Rapid will face-off against the German giants FC Schalke 04 in an international friendly in Hütteldorf, and of course we'd be delighted to see the Allianz Stadium turned into a beautiful and atmospheric backdrop for the occasion.
The last duel that Rapid played against S04 was in January 2015 in a friendly match at the Ernst Happel Stadium. Philipp Schobesberger and Deni Alar each scored a goal in a 2-1 win against the German Bundesliga outfit. There has only been one competitive match between the two clubs, but it was certainly a historic one. In the 1940/41 season, SK Rapid met the XI from Gelsenkirchen in the final of the German Championship at the Olympiastadion in Berlin. In front of 95,000 spectators, the Hütteldorf team, led by head coach Leopold Nitsch, won the German Championship by a score of 4-3, having trailed 2-0 at the break and produced a stirring comeback in the second half! Georg Schors initiated the turnaround at the time with the goal to get Rapid back into the game at 1-3, a scoreline which was then complemented by a hat-trick from Franz "Bimbo" Binder within nine minutes. A year earlier in the 1939/40 season, SK Rapid finished 3rd in the German championship. The championship title the following year is still remembered to this day, and forever enshrined in the club's history books. (You can read more about this in our chapter "Rapid under National Socialism").
The last time the two big clubs met in Hütteldorf was on the occasion of the 110th anniversary of SK Rapid, in July 2009. The Royal Blues were victorious that day, winning 2-1 in a sold-out Gerhard-Hanappi Stadium. The opening goal for the Green & Whites was incidentally at that time credited to Erwin "Jimmy" Hoffer, who shortly after moved to SSC Napoli.
 
Ticketing Information
Here you can find the advance booking periods for the friendly against Schalke:
Advance sales for AboPLUS and Abo16 members:
All subscribers (both AboPLUS and Abo16) have the opportunity to book their own Abo seat as well as an additional ticket at a discounted price for season ticket holders from Wednesday, November 9, 11:00 am. This is possible both in the Fancorner in Hütteldorf (MO-SA 11am-6pm) or online at rapidshop.at in the respective user account. Season ticket held seats are reserved until Sunday, November 13, 23:59.
Important for AboPlus owners: In contrast to previous games, this time the ticket will NOT be booked automatically and the ticket price will not be debited from your bank account, the ticket for this game must be booked separately! Thank you for your understanding!
Advance sales for club members:
All club members can secure up to two tickets for this game in the protected presale from Wednesday, November 9, 11:00 am.
General sale:
The general ticket presale for the friendly match against Schalke will start on Monday, November 14, 11:00 am.
As a thank you for the loyalty of our season ticket holders, there will be a discounted ticket price for season ticket holders and any accompanying persons for this match. The exact prices can be found in the following table: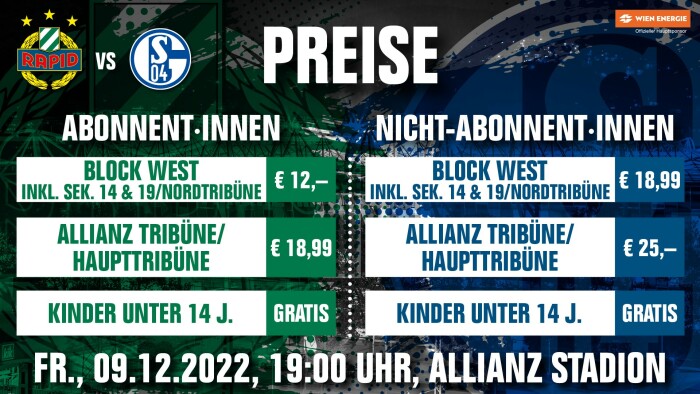 VIP ticket information:
You can secure your VIP subscription seat now for € 120,- (excl. VAT) at rapid.businessclub@skrapid.com.
The general sale for VIP day-tickets starts on 28.11.2022. These are available for € 150,- (excl. VAT) and can be purchased in the online store from the start of the sale period! We are also happy to accept reservations in advance at rapid.businessclub@skrapid.com.
International Friendly:
SK Rapid vs. FC Schalke 04
Friday, 9th December 2022
Kick-off: 19:00
Allianz Stadium
We would be very pleased if you would like to join us on December 9th for this international showdown in Hütteldorf, and if we could support our team together in the Allianz Stadium during the long period without league or cup matches!
Goals from 2015
info.video-with-product-placement