09.04.2023
Spielbericht, ADMIRAL Bundesliga, Profis
Rapid Dominate Klagenfurt for Easter Sunday Win
Rapid backed up the midweek win in the Cup with a dominant home performance against Austria Klagenfurt. Despite a number of disallowed goals and a setback against the run of play, the hosts came through for an important victory in the Bundesliga.
On Easter Sunday, we welcomed Austria Klagenfurt to the Allianz Stadium for the 24th round of the ADMIRAL Bundesliga season. After reaching the final of the UNIQA ÖFB Cup midweek, Zoran Barišić wanted the team to bring that positivity back to the league and secure all three points in the first home game of the Championship Group. Having been narrowly defeated in the last meeting between the teams, this time there was some good news to start with, as Nicolas Kühn was finally back on the bench after a lengthy injury lay-off.
The game could hardly have started better, and in only the second minute our captain Guido Burgstaller had a go from close range following a low cross, and although that effort was thwarted by the keeper, the next one would be more successful. A precise shot from Oliver Strunz was parried, but Burgstaller was in position to sweep home the second ball with a killer instinct in front of goal to give Rapid the lead. 1-0 (4')! The early advantage built up the players' confidence and Klagenfurt were afforded no space to work with, whilst our side often looked dangerous. A lovely combination of passes saw the ball return to our scorer after 16 minutes, yet the finish was off target that time, and when he found the net with a header three minutes later, the goal would be rightfully ruled out for offside. A swerving Marco Grüll shot sailed just wide (20') before Patrick Greil had the ball in the net against his old team (28'), but that too would be ruled out, this time for handball. Amazingly, we weren't done yet for disallowed goals; Grüll dribbled forward before passing to Greil, again he found the net, this time he was offside (38'). Another nice passing move saw Strunz hitting a fine effort towards the Klagenfurt goal in first half stoppage time, but when the whistle blew for the break it remained just 1-0.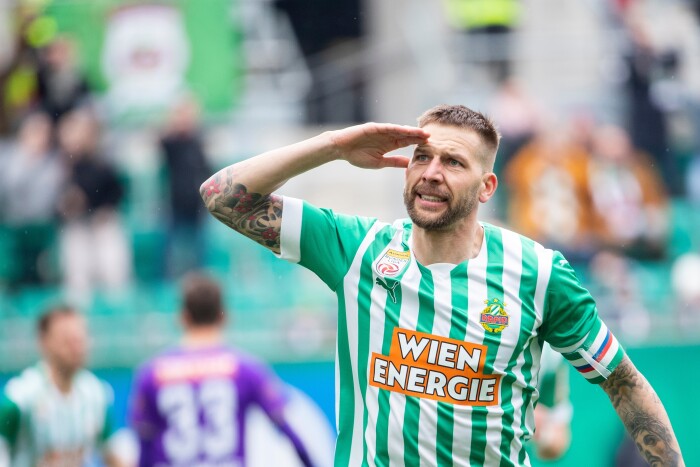 Our players returned to the home turf with no changes, and our attacking momentum was also unchanged; Thorsten Schick played a teasing cross into the area, Burgstaller got on the end of it but could only poke it at full stretch (48'). Top scorer Burgstaller then tried again on the turn (51') although the shot was too central in the end. Grüll fired another low shot which was blocked to safety, before Leo Querfeld headed the resulting corner just inches off target (53') as we gave the guests no chance to stabilise in the game. Somehow they found a way forward, and Sebastian Soto grabbed a leveler more than just against the run of play (59'). That's football sometimes! Zoki Barišić reacted, bringing fresh momentum into the game with Aleksa Pejić, Nicolas Kühn and Ante Bajić coming on for Roman Kerschbaum, Greil and Grüll (66').
With a training ground corner routine, Moritz Oswald had a go from distance, but there wasn't enough power to beat the keeper (69'), yet seconds later it all clicked once more. Burgstaller showed his excellent vision, picked out Strunz, and this time he was able to slot the ball precisely past the keeper and into the back of the net; 2-1 (70')! A big goal! Ferdy Druijf and Denso Kasius then came on before a heated final phase. Klagenfurt were reduced to 10 men after a crunching tackle from Christopher Cvetko on our Dutch forward (90'), but Druijf picked himself up, delivered the ball in for Nicolas Kühn, and he marked his comeback with a goal to seal the game deep into stoppage time; 3-1 (90'+4)! With that, the game was done and dusted, and we collected the three points on our Easter egg hunt with a satisfying performance. Well done Rapid, that's the way!
Fotos: GEPA
SK Rapid vs. SK A. Klagenfurt 3:1 (1:0)
ADMIRAL Bundesliga | 24. Runde | Allianz Stadion
Tore: Burgstaller (4.), Strunz (70.), Kühn (90.+4); Soto (59.)
Sonstiges: Cvetko (90.+2/Rote Karte)
Rapid-11: Hedl; Auer, Moormann, Querfeld, Schick (78. Kasius); Oswald, Kerschbaum (66. Pejić) ; Grüll (66. Bajić), Greil (66. Kühn), Strunz (73. Druijf); Burgstaller ©
Ersatz: Unger, Kasius, Kühn, Pejić, Sollbauer, Bajić , Druijf
info.video-with-product-placement
label.survey
Wer war Dein Man of the Match beim 3:1-Heimsieg gegen Klagenfurt?
info.video-with-product-placement