10.07.2022
Fanzone, Fanshop, Verein, Rapid TV
"Our Roots are Red and Blue" - Presenting Our New 2022/23 Away Shirts
On the 20th of June SK Rapid - along with our partners Puma and 11teamsports - presented our new home shirts with the motto "Our colours are Green and White". It was stated then that in the build-up to our first competitive game of the new season, our new away jerseys would also be revealed, and the time has now come! As part of our tradition season-opening event, the "Rapid Open Door" in Hütteldorf, the entire team showed off our unique new away kits in the presence of many Rapid supporters!
In keeping with the motto "Our roots are Red and Blue", the new kits, as in previous seasons, are in the club's founding colours. In terms of the design though, just like last season, there are some firsts: SK Rapid have never before played in horizontal "hoops" in the blue and red colours! The video of the away kit release features Marco Grüll, Ferdy Druijf and Patrick Greil, and covers exactly this topic. The kit will be paired with blue shorts, and red socks for 2022/23.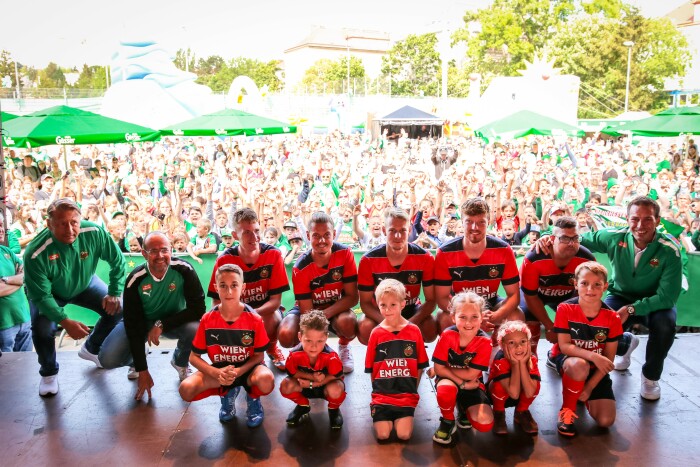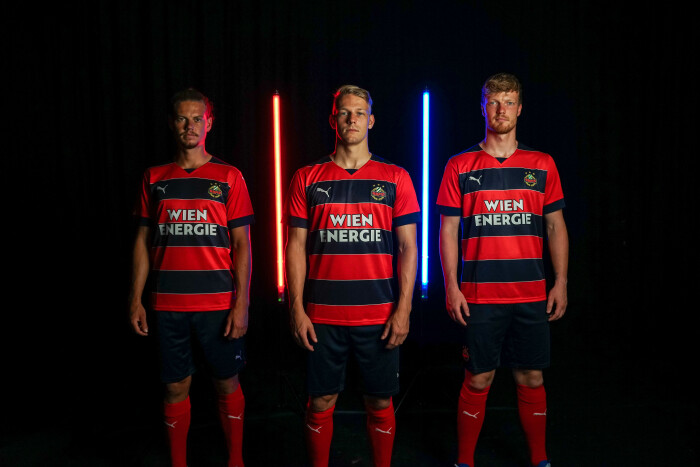 The background to the Blue and Red colour scheme, with RAPIDEUM Director Julian Schneps
The colours blue and red were the main colours of SK Rapid until 1906, when the switch to green and white took place. Since 1995 the founding colours have been increasingly featured on Rapid's alternate jerseys. The colours are a reminder of the club's roots as the 1st Vienna Workers' Football Club, the founding of which will be celebrated for the 125th anniversary, on July 22nd 2022. The predecessor club was founded in 1897 by employees of the Böhm hat factory, whose corporate colours were red and blue, something which is evident in the original emblem.
Christoph Peschek, Managing Director of Business, said the following regarding the new SK Rapid kit: "SK Rapid stands for values based on tradition, which is why we want to pay tribute to our roots, especially on the occasion of the 125th anniversary of the 1st Vienna Workers' Football Club, and have also designed the away kit for the 2022/23 season in our founding colours. These roots oblige us to give our all in our daily work on and off the pitch, to do everything for success, and to be united, and be there for each other! We also want to express this with the new away jerseys. SK Rapid is not just any old club, which is why it is an obligation for us to keep the outfield jerseys in the colours green and white as well as blue and red, without exception."
Where is the new "Wäsch" available?
Just like the home kit, which is already proving very popular, the away jersey is available in SK Rapid's three fan stores (Allianz Stadium, Stadion Center and St. Pölten). In addition, it can of course be ordered online around the clock via rapidshop.at.
Fotos: Red Ring Shots, Chaluk, 11teamsports.at, PUMA
Blau-Rot sind unsere Wurzeln: Unsere neues Auswärtstrikot
info.video-with-product-placement