02.04.2023
Rapid TV, ADMIRAL Bundesliga, Profis, Spielbericht
Guido's Goal isn't enough for a Point in Graz
Guido Burgstaller's 14th goal of the season was a continuation of his fine scoring form, but Sturm were strong enough to punish Rapid's misplaced passes in Graz on Sunday, as we left Liebenau empty-handed.
With the international break behind us, and batteries recharged for the Championship Group, Sunday saw Rapid head to Graz to face SK Sturm in a tough-looking opening fixture. It took the home side until the very end to squeeze past Rapid last time the teams met in Liebenau not long ago, and we were looking to turn the tide in the league's late game. Due to a medical emergency in the stands, the match was delayed by half an hour - naturally we wish the person involved all the best for a speedy recovery.
As the game got underway, the guests started off nicely; a rising drive from Christoph Knasmüllner looked to be headed for the top corner, before it was blocked with a bit of luck for the Sturm defence (3'). Moments later though, the home attack had fortune, too, a loose pass fell their way and Tomi Horvat found Emanuel Emegha who slotted in for an early 1-0 lead (6'). Emegha then collided heavily with our keeper Niki Hedl, receiving a caution for leaving a foot in, and demonstrating that it would be another hard-fought battle for the ball. Rapid fought back well in the contest, and Marco Grüll crossed from left to right for Thorsten Schick, who smartly laid a pass back across the face of goal where it was emphatically hammered home by Guido Burgstaller for his 14th of the season; 1-1 (17')! The rest of the first half remained an even encounter, with both teams creating half chances here and there, before a big Rapid chance on the eve of the whistle saw Roman Kerschbaum have a shot blocked, as were the follow-up efforts from Grüll, disappointingly, a Sturm counter saw them race down the other end and register a second goal through Manprit Sarkaria. After a long VAR check for offside, the goal stood. Michael Sollbauer attempted to level things up again in first half stoppage time, but we trailed 2-1 at the break.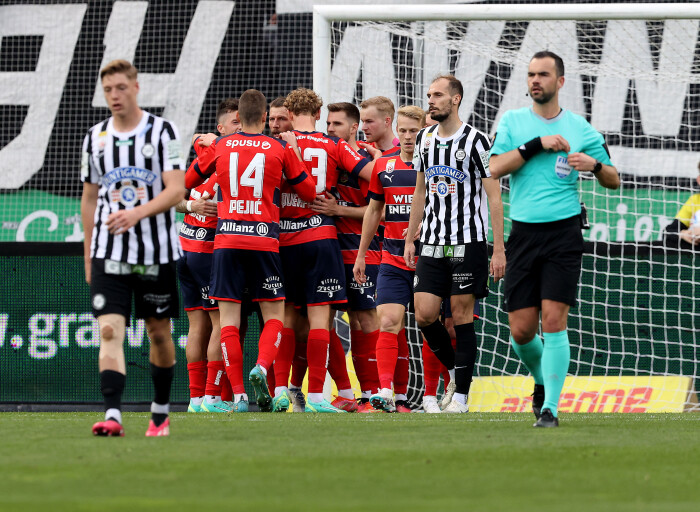 The second half got started in the same way as the first, both in terms of personnel and match tempo. Graz were still playing well having gone ahead, and they tested Hedl who made a good save at his near post after 53 minutes. Denso Kasius and Patrick Greil came on to mix things up just after the hour mark, and another dangerous Jonas Auer cross almost made something happen immediately for Rapid, but it was eventually blocked (63'). The game was becoming disjointed, but crucially it was another misplaced pass which led to Sturm's decisive attack, and a third goal from Otar Kiteishvili. 3-1 (70'). Zoki Barišić reacted by bringing on Berni Zimmermann and Ante Bajic (73'), before a Leo Querfeld header flew just inches wide (81') as Rapid pushed to find a way back. Moritz Oswald came on up front for Burgstaller, but in the end there was no way for us to get a foothold in the game, and the scoreline stayed the same.
After a tough day, it was a trip back to Hütteldorf with no more points, thanks for your excellent support as always. We'll put this one behind us as quickly as possible, as focus turns to Wednesday's Cup Semi-Final at home. Let's go Rapid!
Fotos: GEPA
SK Sturm vs. SK Rapid 3:1 (2:1)
ADMIRAL Bundesliga | 23. Runde | Merkur Arena
Tore: Burgstaller (17.); Emegha (6.), Sakaria (45.+1), Kiteishvili (70.)
Rapid-11: Hedl; Auer, Sollbauer, Querfeld, Schick (61. Kasius); Kerschbaum (73. Zimmermann), Pejić; Grüll (73. Bajić), Knasmüllner (61. Greil), Strunz; Burgstaller © (86. Oswald)
Ersatz: Unger, Kasius, Greil, Moormann, Oswald, Bajić, Zimmermann
info.video-with-product-placement