25.06.2023
Verein, Merchandising
Back in Pinstripes: The New Rapid Jersey
Since the 2021/22 season, Rapid have worn kits made by the globally renowned outfitter Puma, in cooperation with European team sports specialists, 11teamsports. During this partnership there has been a new home and away kit each season, and now the new jersey has been revealed during the official opening ceremony of the Körner Training Center powered by VARTA.
The new shirt was presented from up above, as the sounds of helicopters played overhead during the opening training session, and the fans in attendance were amazed by the entrance, as well as captain Guido Burgstaller, Jonas Auer, Nicolas Kühn, Fally Mayulu and Leopold Querfeld. Rather than a helicopter flying round from behind the building, it was a state-of-the-art drone carrying the new jersey, which Guido Burgstaller received in person, before presenting to the assembled fans. Austrian company skyzr GmbH partnered with the Hütteldorf team and their skilled drone pilot made the spectacular jersey presentation possible!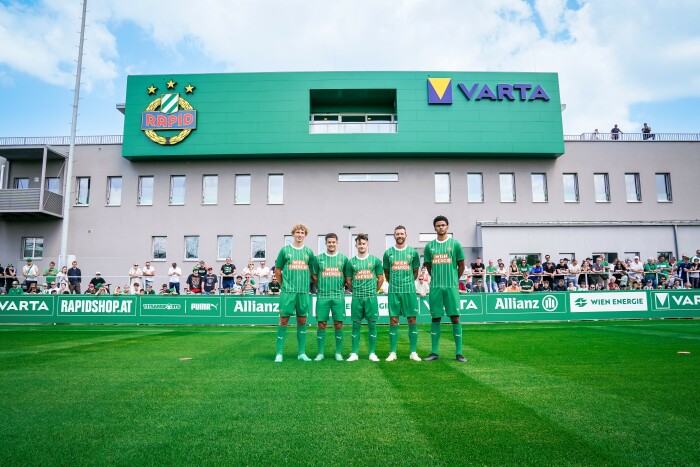 "Show how green you are!"
The design of the new SK Rapid home jersey for 2023/24, featuring a Green and White pinstripe pattern with a white collar, brings back memories of former Rapid jerseys. Rapid legends such as Hans Krankl, Antonìn Panenka and Steffen Hofmann already fought a fair few sporting battles in this style of jersey with the pinstripes on the chest. These include, above all, the legendary matches against PAOK Saloniki (2012) or the Cup final against our city rivals (1984). For the first time in SK Rapid's club history, a pinstripe jersey with the Rapid crest was worn in the European Cup in 1981.
 Managing Director of SK Rapid Steffen Hofmann: "At SK Rapid, we live the traditions of the club, which extends across all areas and, in particular, always affects the design selection for new jerseys. With the Green and White pinstripe pattern, we remain absolutely true to our roots and represent the club colours with a simple yet distinguished design. Another special feature is that for the first time since the 2017/18 season, we will be wearing all green again, with green shorts and green socks. Personally, I associate the jersey style with one of the best moments in my career, and I would like our players to be able to associate the new jersey with positive and successful memories in the future as well."
 The motto for the new home jersey, which is classically green, is "Show how green you are - and wear the SK Rapid jersey!" The new range is available now in the Rapidshop, and online at rapidshop.at!
Fotos: Red Ring Shots
New Home-Kit 2023/24
info.video-with-product-placement