28.11.2021
Profis, Verein
SK Rapid welcomes Ferdinand Feldhofer to Hütteldorf
The Green & White rumour mill has stopped turning in Hütteldorf, and managerial speculation has come to an end. Last weekend, SK Rapid and Ferdinand Feldhofer agreed on terms to work together. The Styrian takes charge as the new head coach of SK Rapid as of Monday the 29th of November, and he's signed a contract for the remainder of this season and the next, with an option to extend the deal beyond that.
The 42-year-old UEFA Pro Licence holder began his coaching career in October 2015 with SV Lafnitz, whom he led to the second-highest Austrian division in the 2017/18 season. In 2019, just before Christmas, Feldhofer was signed by Wolfsberger AC, whom he led to the UEFA Europa League. The Carinthians even remained on the European stage throughout the winter during his tenure after two wins against Feyenoord Rotterdam, among others, before the Styrian parted ways with WAC in March this year.
Ferdinand Feldhofer's thoughts on his new job: "It feels really good, it's a return to a familiar environment. After intensive talks with the Rapid executives, it became clear to me very quickly that we are totally on the same wavelength in terms of the football philosophy. I can't wait to meet my players in person and work with them on the pitch and beyond."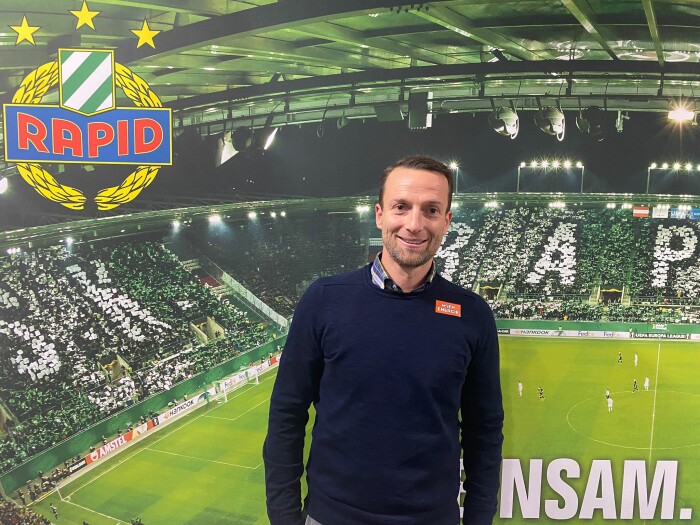 Zoran Barišić on the choice of the new Rapid head coach: "Since the premature separation from Didi Kühbauer, we have had very intensive days and held many talks with potential successors from home and abroad. The circle of candidates was very large at the beginning, but became smaller day by day. Some of them convinced us in meetings, but all in all, Ferdinand Feldhofer convinced me the most. He belongs to a new, modern generation of coaches, relies on innovative working methods and will take on his new challenge with great commitment and expertise. Ferdinand Feldhofer has already proven in his previous positions that he focuses on attractive football with a concrete idea and can also be successful with his concept. It was also very important to us that he fully identifies with our playing philosophy, which should run through the entire club in the future, and that he also wants to implement it," said the 51-year-old managing director of sport.
Ferdinand was already successful as a player with SK Rapid, and was part of the team that won the championship title in 2005 under then head coach Josef Hickersberger, qualifying for the group stage of the UEFA Champions League. "The fact that Feldhofer has a Green & White history as a player and therefore knows very well what makes our special club tick is a nice side aspect, but it was not a decisive criterion for the decision," explained Barišić , who added: "I am convinced that we have made the best possible choice with Ferdinand Feldhofer and I am looking forward to the cooperation, which should be as long-term as possible, although I am aware that he would already have had alternatives in other European countries. It's all the nicer that we can now approach the upcoming challenges together."
Ferdinand Feldhofer will work together with Matthias Urlesberger in the future, as he did during his time at SV Lafnitz and WAC. The 35-year-old, currently head coach of GAK's U16 team, will come on board as an additional assistant-coach, succeeding Manfred Nastl. The rest of the coaching staff remains unchanged with Thomas Hickersberger (assistant-coach), Jürgen Macho (goalkeeping coach), Alexander Steinbichler (athletics coach), Tony Prünster (rehab and individual coach) and Daniel Seper (video analyst and also assistant coach). 
Foto: GEPA