24.11.2019
Bundesliga, Spielbericht, Profis
Points shared after a fiery 1-1 draw with Sturm
Rapid headed into match day 15 on a sour note with the news of Philipp Schobesberger's cruciate ligament injury, which is set to sideline the midfielder for a lengthy spell. Before kick off on a cold Vienna evening, our players attempted to provide a little warmth with a t-shirt tribute to their stricken teammate, and the fans got the fire truly going with an impressive "tifo" adorning Block West . A clash with Sturm Graz lay ahead, always a feisty affair, but this time also a duel between two teams side by side in the Bundesliga table, with Rapid 4th and Sturm 5th at the start of the day.
With both teams gunning for the 3 points, the game began in all-out attacking fashion. For the guests, Balaj was the first to go close when a half-cleared cross fell to him in front of goal, Richi Strebinger throwing himself at the danger to make the stop (3.). Our side pushed forward well in the early phases, but were struggling for rhythm and tempo in a game full of stoppages and fouls. Christoph Knasmüllner's perfect pass into Taxi Fountas was a good example of an attack that was halted in its tracks. Glimpses of goal did come though, Kelvin Arase with a snapshot saved (10.) and Fountas advancing down the left and drilling a near-post strike which forced keeper Siebenhandl into action again (12.). 
As the game wore on, real chances became ever more scarce, but Rapid continued to try to apply pressure. Thomas Murg let fly from distance (16.) but his strike rose away from the target, before Arase and Stojkovic combined well on the right to pick out Ullmann just outside the area for a shot which had to be parried behind (28.). From the resulting corner, Stefan Schwab guided a header onwards towards the back post, and Christopher Dibon stooped low to head the home side in front (29.)! Murg then took aim from a set piece (40.), but a good effort only found the roof of the net, and so Rapid went in with a slender advantage at the break.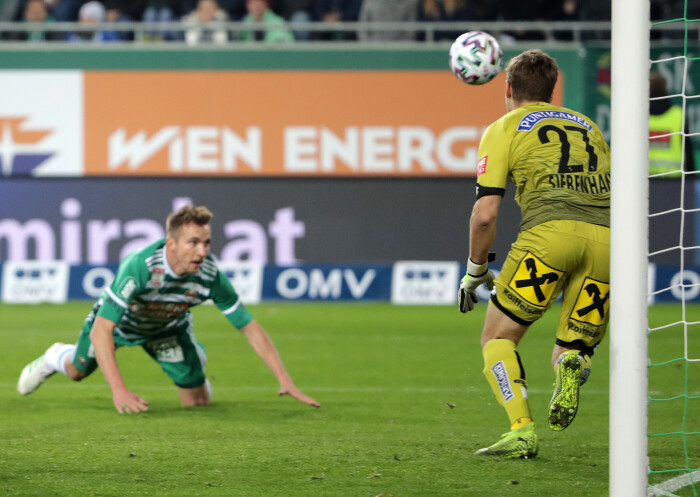 In the second period, the pattern of a game struggling to find any flow continued. More collisions, tough challenges and niggling fouls occurred all over the field, and they began to take their toll. Stephan Auer came on for Stojkovic at the break, and Rapid would end up using all three substitutes for injuries before the 90 minutes were up. Our boys in Green and White tried not to let that affect them though, and just as though they looked to establish some dominance, Sturm struck out of the blue. Despodov whipped in a cross which found ex-Rapid player Huspek, who slid home a volley high into the corner (55.). 
Mateo Barac was the next enforced switch, but at least it was a boost to see Mario Sonnleitner on home turf once more. Fountas went close soon after, following up a testing long range Schwab strike, although he collided with the keeper from an offside position in the end (60.). He stayed down, but luckily was able to play on, unlike the unfortunate Auer, who sustained an injury without anyone around him, and had to be replaced by Grahovac (75.). 
Nearly 20,000 fans were in attendance to witness this stop-start tie, and the home supporters were thankful for a brilliant Strebinger intervention, saving strongly from Balaj after an undercooked back-pass (78.). Arase then found the woodwork with a deflected cross (80.), before Fountas had the ball in the net in stoppage time, but he had pounced once again from an offside position, and so both sides had to be content with a point apiece. 
It was disappointment on the faces of the Rapid players after giving away the half-time lead, but on the plus side, we remain in 4th, ahead of Sturm, with a visit to LASK awaiting next Sunday (17:00 Kick off).
(tm)
Bundesliga, 15th round: SK Rapid - SK Sturm Graz 1:1 (1:0)
Bundesliga, 15th round:
SK Rapid - SK Sturm Graz 1:1 (1:0)
Allianz Stadion, 19.600 Attendance, Ref Altmann
Goals: 1:0 (28.) Dibon, 1:1 (54.) Huspek;
SK Rapid: Strebinger – Stojkovic (46. Auer / 76. Grahovac), Dibon, Barac (59. Sonnleitner), Ullmann – D. Ljubicic, Schwab – Murg, Knasmüllner, Arase – Fountas;
Sturm Graz: Siebenhandl – Sakic, Donkor, Avlonitis, Spendlhofer, Hierländer – Dominguez (83. Ljubic), Kiteishvili – P. Huspek (85. Jantscher), Balaj, Despodow (68. Lema)
Yellow Cards: Ullmann, Arase; Hierländer, Sakic