19.09.2021
Spielbericht, Profis, ADMIRAL Bundesliga
Battling away performance ends in Salzburg ends in defeat
Only three days after the bitter European Cup loss against KRC Genk, Rapid's next big game was just around the corner. There wasn't much time to regroup, but nevertheless full focus was on Bundesliga match day eight, when the team from Hütteldorf, led by head coach Didi Kühbauer, played host to defending champions and league leaders Salzburg. The former European Championship arena near the home of Mozart has proven to be a difficult place for Rapid to play in the past, but there could only be one clear goal this weekend: To head back to Vienna with points in tow!
 There were some changes in the team line-up. Pauli Gartler started in goal again; in front of him, our current captain Filip Stojkovic, Leo Greiml, Kevin Wimmer, Max Ullmann and Thorsten Schick were there to sort out the Red Bull strike force. After a strong European Cup debut, Emanuel Aiwu celebrated his Bundesliga debut in defensive midfield, aiming to keep the side balanced alongside Dejan Petrovic. Our offensive trio Christoph Knasmüllner, Ercan Kara and Marco Grüll were up top, hoping to make their mark on Salzburg's defensive clean sheet. 
 The game started very defensively from a Rapid point of view. Our team sat deep, and after winning the ball immediately started the transition phases. In the 9th minute, the Green and Whites had their first opportunity on the counter: A high ball came to Kara, who in turn passed to Grüll - the finish, however, didn't curl quite enough and ended up past the post. Both teams were well in the game, but there were no gilt-edged chances to score. Pauli Gartler was tested on several occasions, but skilfully fished several high balls out of the air. Fortunately, a tough collision involving Leo Greiml was only a fright, and after a short break our defensive bulwark continued (30'). Only six minutes later the next blow, Kara had to be treated after a tactical foul from Salzburg - but he was also able to carry on (36'). Shortly before the break, the Hütteldorfers had two  chances from set-pieces, but in the end they didn't seriously endanger the Salzburg goal (41', 45'). Apart from injury-related stoppages, there was nothing to record in the first half - our team, however, allowed very little and fought hard in every metre of the pitch. Half time; 0-0.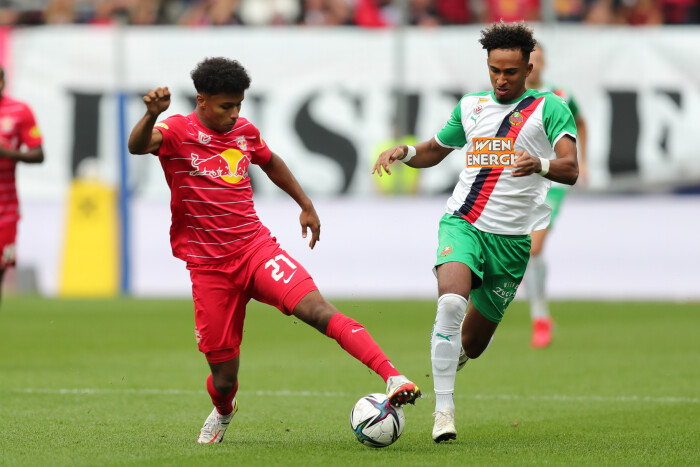 The second half started with a lot of pressure from Salzburg, but in the 52nd minute, the Green and Whites had their first really big chance: Kara fought off two Salzburg players in a 30-metre running battle, but his shot was unfortunately too close to the keeper. The next shot on goal came from our debutant Aiwu, who had a go from distance - unfortunately that one was no problem for the keeper either (58'). In goal, our number 25 Gartler then made several good saves and kept the scoreboard blank with two stops in particular. Kühbauer then reacted tactically, looking for new strength by bringing on Koya Kitagawa for Knasmüllner (65'). After winning the ball back well, Grüll got in front of the goal and hit a strong shot from the edge of the penalty area - but the goalkeeper was able to block the ball at the near post (68').
 Shortly before the Rapid quarter hour, VAR had to intervene after a possible foul by Kevin Wimmer. It was a lengthy decision, referee Hameter had initially decided on a goal kick, which was also the decision shown on the big screen in the arena. Then came the twist, Hameter took another look at the play, eventually went to check for himself, and finally decided on a penalty minutes later: chaos! The spot kick found the back of the net for 1-0 (79'). That was especially bitter, because Rapid's defensive performance had been very much respectable until that point. Shortly before the final whistle, Arase was brought on for Schick (90'). But in injury time the score was settled - Salzburg broke away at pace with Rapid players forward, and after a square-ball, the home team tapped-in for 2-0 (90').
 After a solid first half we had to leave Salzburg with a defeat, and accept a disputed penalty decision. It was a strong performance in defence which unfortunately went unrewarded on the day. Now we have to keep our heads up and concentrate on the next match, which follows on Thursday in the ÖFB Cup against Admira. Let's stick together!
 Fotos: GEPA