16.09.2021
Profis, UEFA Europa League, Spielbericht
UEL: Last gasp Genk goal makes for heartache in Hütteldorf
After suffering disappointment at home in the Bundesliga over the weekend, Rapid were ready for some of the magic of a European home match to help bring back that winning feeling to Hütteldorf in the first of the team's six UEFA Europa League group stage games. The nature by which Rapid reached these group stages felt like an achievement in itself, but it's not just about getting here, it's about what you can bring to the table on these special evenings against high quality opposition.
Head Coach Didi Kühbauer called upon Paul Gartler in goal for the visit of KRC Genk and their two metre tall top scorer Paul Onuachu, and the 4-2-3-1 from Saturday was gone in favour of a 4-4-2 with both Taxi Fountas and Ercan Kara up top. Filip Stojkovic replaced Thorsten Schick as the starter at right back, and new boy Emanuel Aiwu was given a position of considerable responsibility in the midfield four.
Despite the 18,000-strong home crowd being in fine voice, there wasn't a great deal to shout about in the opening minutes, as both teams cancelled out each other's threats. A searching run forward from Marco Grüll lifted the noise in the Allianz Stadium a notch higher in the eleventh minute, as he was chopped down to give Rapid a free kick. Nothing came of the ball in, but at the other end Genk were about to have their first taste of attacking action, as a low cross from the left found Onuachu, who didn't make good contact inside the area (13'). Things remained cagey, with the teams only really trading shots across the face of goal from first Bongonda, and then Max Ullmann (21').
Grüll tried his best to make something happen for the Green & White fans, and when his shot from the left of the area needed to be headed away (23'), the crowd responded, adding a touch of intensity to proceedings. Unfortunately Rapid couldn't capitalise, as all that came were yellow cards for Ullmann and Aiwu, and most of the through passes were aimed deep towards Kelvin Arase, who was marshalled away from the ball a number of times. A couple of Genk shots flew off target, and Rapid had a half chance from a corner kick, but as the whistle blew right on the 45-minute mark, neither keeper had been tested, and neither coach could feel aggrieved with the 0-0 scoreline.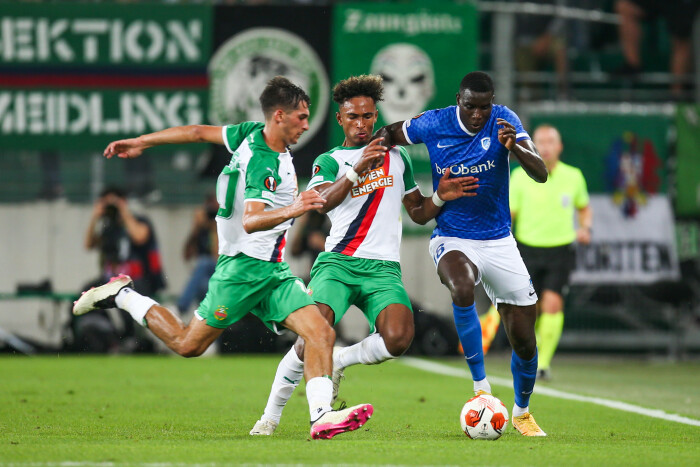 Genk began the second half with a series of corners, but some solid blocks showed that Rapid's defenders were ready to go after the break. Genk had brought on Ndayishimiye, and it was he who got Gartler moving first, although his shot from the edge of the area was over the bar (49'). The Green and White offence was also ready to get into the game, and Kara's cross picked out Fountas, who managed to force visiting keeper Vandevoordt into a dive, but failed to get enough power to test him (51').
Rapid then added a spring to the step as the players tried to up the tempo in response to Genk slowing things down wherever possible. Arase and Srdjan Grahovac were replaced by Schick and Dejan Petrovic as the hosts continued their efforts to shake things up (57'). The crowd were bouncing continuously, and were buoyed by the ball spending a bit more time in the Genk area, as well as some stellar defensive tackling, especially from Leo Greiml, but still out and out chances were hard to come by.
Kara had his first chance to break into a sprint just after the hour mark, but under pressure, his finish from an angle slid across the face of goal. A dipping strike from Genk's Ito then reminded Rapid that the more they pushed forward, the more dangerous the situation was at the back. Undeterred, Grüll opened his body to fire agonisingly wide (64') before Gartler made his first routine stop by gathering low from a corner (66'). The game suddenly burst into life as it had threatened to do, as first Genk thought they had tapped-in for 1-0, only for a VAR check to call it back for offside (69').
The cheer of relief was a huge one, but it was almost even greater when Fountas' daisy-cutter was spilled by the Genk goalie and Kara was inches away from winning the rebound (71'). That proved to be Fountas' last action, as he and Ullmann were replaced by Christoph Knasmüllner and Jonas Auer (74'). It was anybody's game at this point, but would the Rapid quarter-hour bring a winner?
Greiml had to be replaced by Kevin Wimmer after taking a knock in a challenge, but nonetheless it had been a fantastic night for Rapid's classy young centre back. The Green and White defence continued to hold firm against a Genk side packed with quality players, and it was a cruel blow then as Rapid broke forward three-on-two, only to be sucker-punched on the counter, as Onuachu side-footed in from a curling cross to break home fans' hearts deep into stoppage time (92').
It was the last meaningful moment of the game; the hosts were denied a hard-earned point in Hütteldorf, and will have to pick themselves back up and take the positives as the league and European calendar doesn't get any easier from here. Hard luck Rapid.
Fotos: GEPA